Mangolina Yurt or Ger, is portable, bent dwelling structure traditionally used for thousands of years by the nomads of Central Asia and is still a common sight in many countries. with its unique design, structure and practical features, the yurts are attracting interest from people in many parts of the worlds as an ecologically friendly and attractive living space that can be used for a variety of purposes. The yurt has a wooden frame, the assemble of which is made without the use of metal. It is iposed from theoutside, sometime in two layers, felt felted over which wound tissue that protects the felt fro rain and snow. Fabric yurt richly decorated with embroidery and applique. Particularly bright and distinct pattern adorned felt curtain entrance. The doors always face south. This feature allowed the nomadic yurt installation accurately tell time. Sunbeam, getting in yurt through the upper hole, sliding grating wall during daylight hours passed around the perimeter of the inner wall of the yurt. At the location of the solar beam the whole day from sunrise to sunset was divided into 29 time periods corresponding to the vertical frame tent poles. For simplicity time-stamp sometimes used the expression ? "when the sun seemed on the bed", "sun lit floor of the yurt," etc.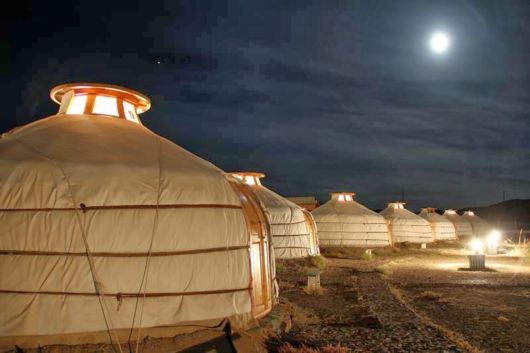 Yurt is easily transported, assembled and disassembled. The entire operation of disassembling it takes an hour, but in the assembling – maximum two hours. Such efficiency during assembling and disassembling is achieved by the fact that all parts of the yurt of any size has a characteristic modular system it worked out and tested by life itself for centuries. The skeleton is made up of walls interconnected folding wooden trellis "KHAN" which determine the size and capacity of the dwelling. Each grid, part of the common wall, consists of flat strips, overlapping oblique cell and fastened with rawhide thongs. Due to the fact that these rails are compressed or stretched like an accordion, it is possible to reduce or increase to the desired height or folded its tent during migrations.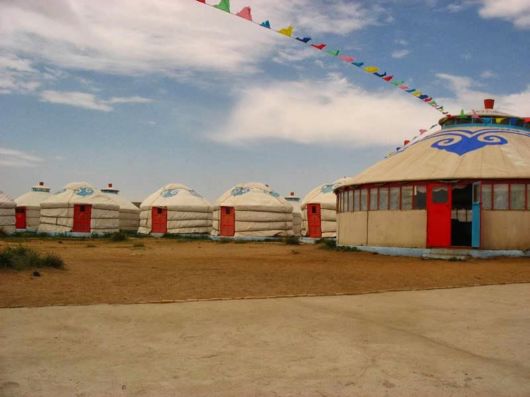 However, the outer covering of yurts can have many different designs and decorative elements, some of them very stylish. The interior decoration can be sustained in both the traditional and more familiar to European style. They are used in the construction of campsites, from the most basic to luxurious, built several sets of different celebrations, with separate standing tow-meter wide yurt connect passes etc. As rooms for meetings and business meetings. As separate banquet halls. All produts are made by and hand, without the use of modern technology.