These are some really unique postage stamps, from a stamp that looks & smells like chocolates to a cloth stamp to even a CD-ROM stamp!
This stamp was printed on silver foil by the government of Tonga: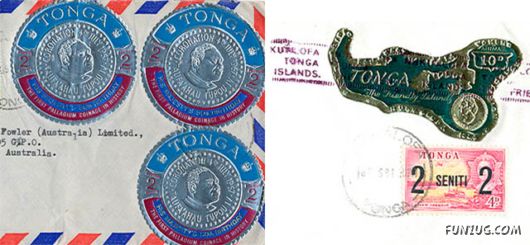 These stamps issued in Malaysia feature a variety of nocturnal animals and actually glow in the dark: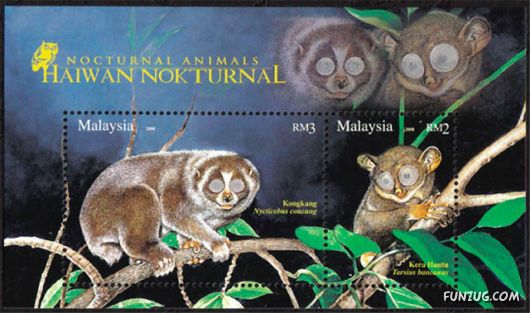 In 2004, Switzerland issued this wooden stamp made from 120-year-old fir trees: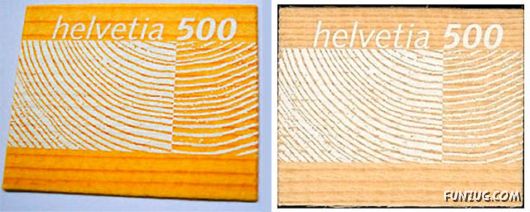 Switzerland also produced this embroidered stamp in 2000, celebrating the world-famous embroidery created in St. Gallen, one of the Swiss cantons: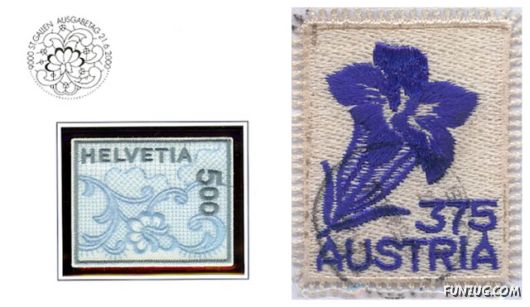 This Austrian stamp from 2005 is similarly made of threads, embroidered into the design of the Edelweiss, the well-known alpine flower. The stamp was issued in honour of the Austrian embroidery industry, which dates back to the eighteenth century. The stamp has a self-adhesive backing, but can even be worn if so desired
Austria Post also produced in the worldâ??s first stamp made of soccer ball material in 2008, to mark the UEFA Euro soccer tournament:

In 2006, Austria issued this curious stamp, which could even be said to be out of this world. The stamp contains 0.03 grams of dust from a meteorite found in Morocco two years earlier, which was fixed to the stamp with a special adhesive:
These cloth stamps from Grenada, the Gambia, Sierra Leone and Saint Vincent and the Grenadines, honour the humble teddy bear:

The Rock of Gibraltar is one of the world's most recognized natural features and it appeared on this Gibraltar stamp in more ways than one in 2002. The stamp's top layer is actually embellished with finely pulverized pieces of rock from the famous landmark: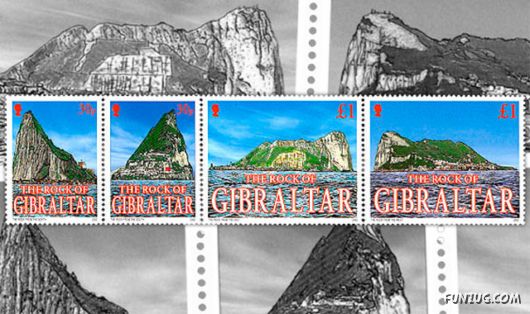 This 2007 stamp printed on thinly sliced cork is from Portugal, commemorating the country's cork industry, which produces around 30% of the world supply:

A Singapore souvenir set of $5 stamps from 2008 was covered in beads on a sheet shaped like a handbag: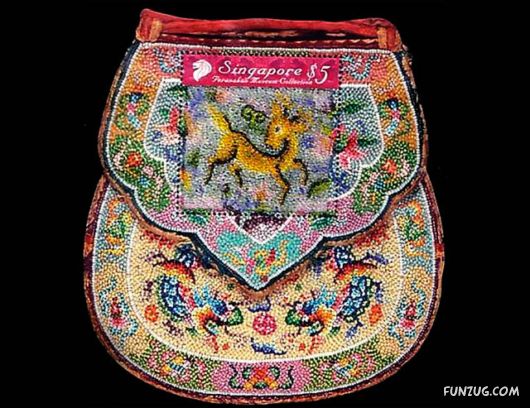 Several countries around the world have produced scented stamps offering a variety of different aromas. The small Himalayan nation of Bhutan was probably the first nation to issue this type of stamp in 1973. These stamps were perfumed to smell like roses: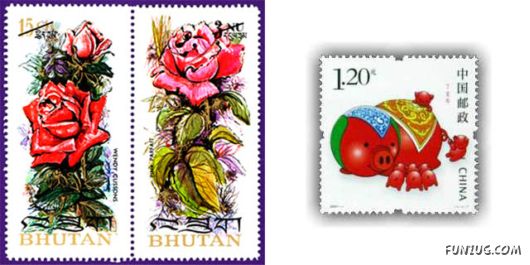 In celebration of the Year of the Pig in 2007, China really did issue a stamp bearing the aroma of sweet and sour pork (above, right). It is rumoured that the stamp's adhesive actually tasted a little like the famous Chinese delicacy, but this is far from established fact.
Issued to raise awareness of the dangers of forest fires, these Brazilian stamps smell of burnt wood:
Also from Brazil, where most of the planet's supply of coffee beans originates, this stamp is scented with the aroma of coffee, one of the country's largest exports:

Another country renowned for a product derived from beans is Switzerland, world famous for its chocolate. This stamp was sold in a foil-wrapped booklet, similar to most chocolate bars. However, the stamp merely smells like chocolate and apparently when licked tastes exactly like glue: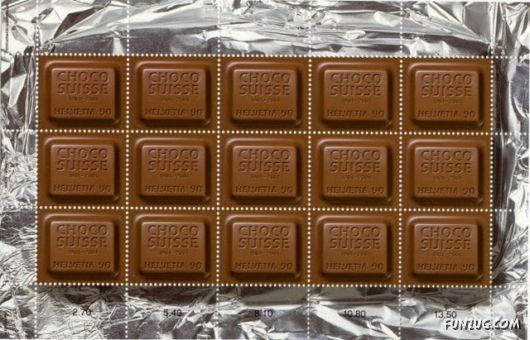 In honor of the centenary of the Nobel Prizes in 2001, the United Kingdom issued this stamp with the scent of eucalyptus. When the stamp is scratched, eucalyptus aroma, hidden in tiny capsules in the stamp's top layer, is released:
The stamp shown above right is giving off sandalwood scent; it comes from India.
Several countries have placed moving images on their stamps. This one from Austria includes forty eight images, which allow a three second movie to appear when the stamp is viewed from certain angles.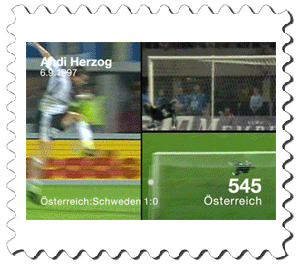 The small Himalayan nation of Bhutan is famous for its stamps, including the first ever stamp made of steel: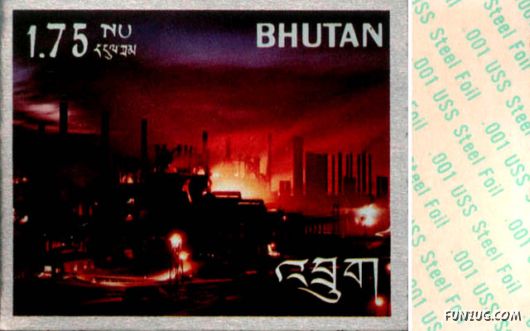 These embossed stamps, depicting famous world leaders, are printed on plastic: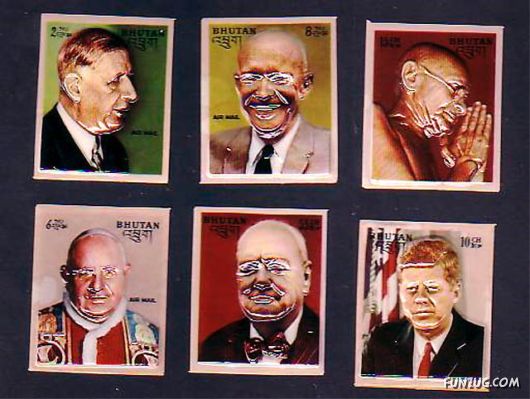 These stamps issued in 1973 by Bhutan are also real phonograph records. They contain traditional folk songs and an oral history of the kingdom, in both English and Bhutanese, and really can be played on a record player:
More recently, Bhutan introduced postage stamps that doubled as actual CD-ROMs. 'One is entitled Bhutan: In Harmony with Nature, the other :Bhutan: 100 Years of Monarchy' .