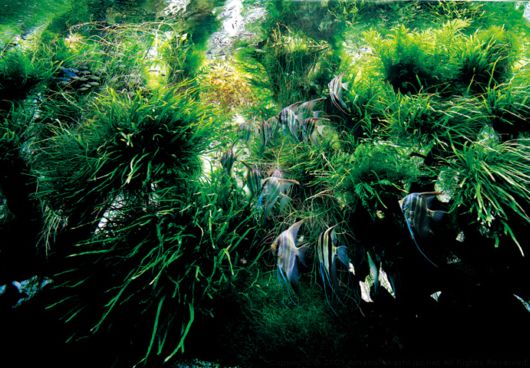 Japanese born landscape photographer
Amano Takashi
captures the most beautiful photographs of aquariums from underwater. Takashi is heavily influenced by nature and its complexity, and chooses to focus on the small details within nature and uses large format size cameras and film (up to 8×20 inches). More recently he has spent time educating people on his experience and knowledge of the natural world, and stresses the importance of looking after and preserving the natural environment.
Visiting the rainforests of Amazon, Borneo and West Africa as well as travelling across world to other places of natural outstanding beauty, Takashi has captured many impressive and beautiful moments. In this series of photographs titled ?the grand nature in a glass?, he captures the small ecosystems within the confined area of aquariums. Although they are confined, these photographs reveal the amazing complexity of their ecosystems.
These photographs almost look like scenes from Avatar.