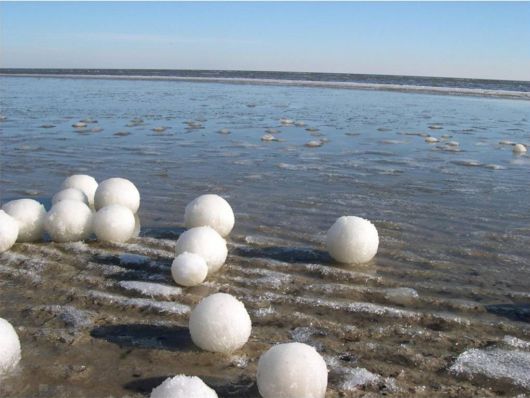 A snowball is a spherical object made from snow, usually created by scooping snow with the hands, and compacting it into a roughly fist-sized ball. The snowball is often used to engage in games, such as snowball fights. Snowball fights are usually light-hearted and involve throwing snowballs at one's friends or family. The pressure exerted by the hands on the snow is a determinant for the final result. Reduced pressure leads to a light and soft snowball. Compacting humid or "packy" snow, by applying a high pressure produces a harder snowball or iceball, which eventually can be considered harmful during a snowball fight.
A snow roller is a rare meteorological phenomenon in which large snowballs are formed naturally as chunks of snow are blown along the ground by wind, picking up material along the way, in much the same way that the large snowballs used in snowmen are made.
Unlike snowballs made by people, snow rollers are typically cylindrical in shape, and are often hollow since the inner layers, which are the first layers to form, are weak and thin compared to the outer layers and can easily be blown away, leaving what looks like a doughnut or Swiss roll. Snow rollers have been seen to grow as large as two feet in diameter.