Marvelous oasis Lake Yueyaquan, as island of fertile land covered with greenery, and framed on one side a crescent-shaped lake. Earlier this miracle of nature stretched tired caravan. The is called Yueyaquan which translate as " New Moon" is a beautiful part of Gobi Desert, China. It is 6 km from south-west of the city of Dunhuang, Gansu Province. The city has long served as the gateway between China and the West. Crowned the already picturesque composition tallest pagoda in the traditional Chinese style architecture. From thousands of years, traders who traveled along the Silk Road used ancient oasis in the midst of the Gobi Desert. It is difficult to overestimate that importance of this palace for the desert, The Gobi Desert covers an area of 12,95,000 square kilometers, therefore Yueyaquan oasis is the jewel of the desert.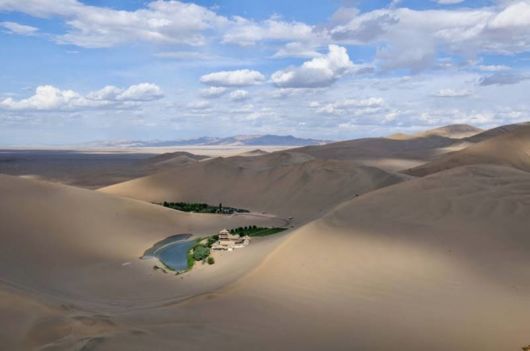 Many hiking tails in this region leads to the lake. Travelers can enjoy the beautiful natural scenery, and at the entrance to town by souvenirs. See like as oasis – A rarity. But many come here not only for those to feel the medieval traveler on the Great Silk Road. This natural wonder is under threat and may eventually disappear at all. Like Venice, which threatens, to submerge only oasis on the lake threatens Yueyaquan draining. Forty years ago a dam was built here, which was to simplify the management of agriculture in the region, however, suffered significantly as a result of the desert ecosystem. An Yueyaquan lake ? which, according to scientist 2000 years, gradually began to shrink in size. Depth decreased from 4 meters and half. Surface area of the lake was reduced by a third.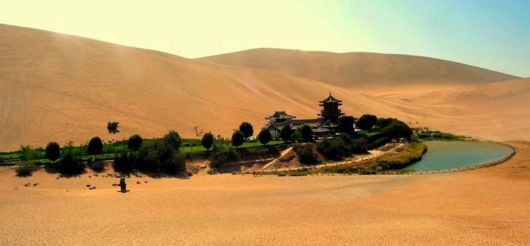 Lake Yueyaquan for its clear and clean water travelers called sapphire, lost in the vast expanses of sand. To keep this sapphire, in 2006 the Chinese government decided to create a series of prohibitions for the locals. So, in the lake district is prohibited drilling, agricultural activities and limited the number of people living in the territory. The authorities hope that these measures will help to keep unusual lake, which is included in the UNESCO World Heritage List.