These terrifying trees are unlikely to attract children keen on climbing them.

With its haunting frame and looming arms, one particular beech looks like it has just leapt out of a set for the smash-hit movie Lord Of The Rings.

The spooky specimen, suspected to be an oak, was spotted by Charlotte Laurie on a quiet country lane at Boxted, near Colchester, Essex.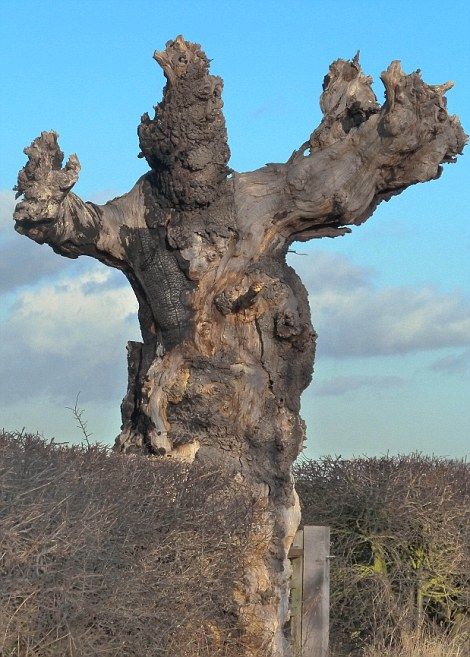 Scare-tree: The enormous beech, resembles the Ents that feature in the Hollywood blockbuster Lord Of The Rings, that attack Isengard and manage to flood it
Artist Laurie, known as Busky, spotted the monstrous tree and said it appeared to be marching across fields to terrorise the roads.
Busky, 84, who lives nearby, said: ?It looks like a really grumpy old woman.
?It?s a wonderful thing to look at. The head is down and the arms are stretched out, it?s a wonderfully old tree.
?But I?m not quite as old as the tree!?
If the ghost-like shape of the tree was not spooky enough, Miss Laurie said her neighbour often spots a small owl on it on her way home from work.
The Hammer Horrors tree, which sits on Sky Hall Hill, is not the only terrifying tower of timber in the area.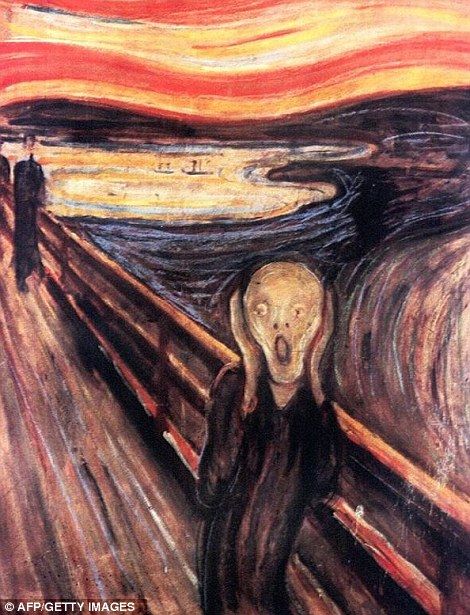 The face, which has been named 'Nature's Scream' by David Garnham, left, who spotted it, has been compared to Edvard Munch's famous painting, 'The Scream'
A gruesome tree in the grounds of Stowlangtoft Hall, near Bury St Edmunds, Suffolk, became an overnight sensation last summer. The tree?s gargoyle-like features were snapped by David Garnham and the 70ft beech quickly made national headlines.
He believes the bizarre tree – which also appears to have a twisted tongue forking from its mouth – shares an uncanny resemblance with Edward Munch's classic Scream painting.
Mr Garnham, a maintenance technician, said: 'I was going to get it blown up to A3 and donate it to the residential home but you can just imagine one of the old ladies waking up and thinking 'the Grim Reaper's come for me'.
'It really does show nature's true beauty and also says a lot about what the imagination can conjure up.
'It's a bit like the enchanted forest – where it moves towards you but stops when you look at it. I can't imagine too many children wanting to go climbing up that tree.
'I've called the photo 'Nature's Scream' because I think it does have an uncanny resemblance to Edvard Munch's classic work.
'I've known about it for a while but when I was taking my mother to work the other day, I pulled over and took a photograph of it.
'In the light of the day it looks peculiar but it came out on the photograph even better – its like a gargoyle and really is twisted into an incredible form.'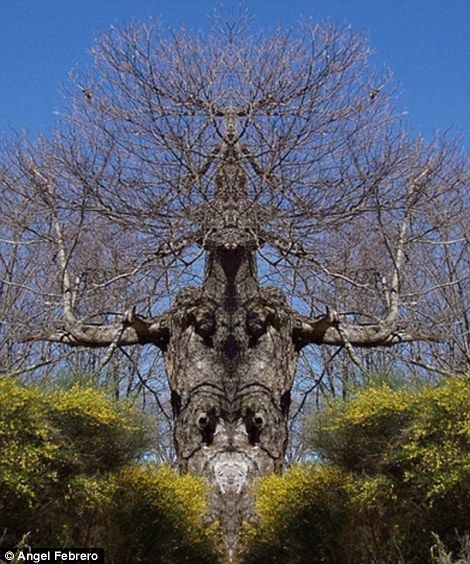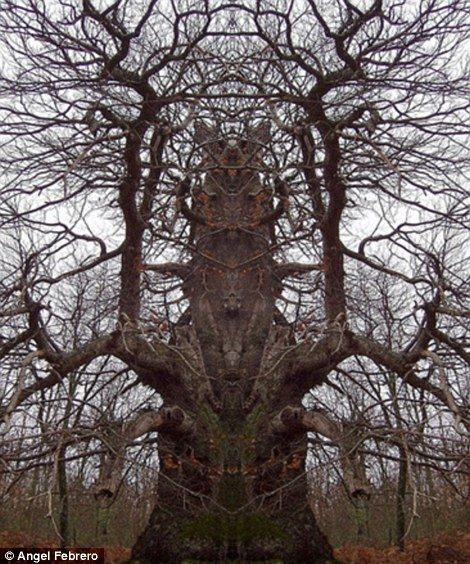 The alluring posture of these trees was taken in Extremadura with the series of branches befitting that of a spider
Meanwhile, photographer, Angel Febrero, captured a pair of trees in his native Spain that resemble spiders.
The manipulated symmetrical snaps were taken on the island of Extremadura, with the extended branches on either side much like the insect's legs as it preys on its victims.