Huanglong is located in the northwestern part of China's Sichuan province. The reserve is located 50 kilometers north of the city of Chengdu, in the northwestern part of Sichuan province. All buffer zone extends deep into China to 40,000 hectares. In this region, rich in many rare and endangered species that are listed as endangered, among them – the giant panda and the Sichuan golden snub-nosed monkey. In fact, the name of Huanglong means "Yellow Dragon Valley" in the local language.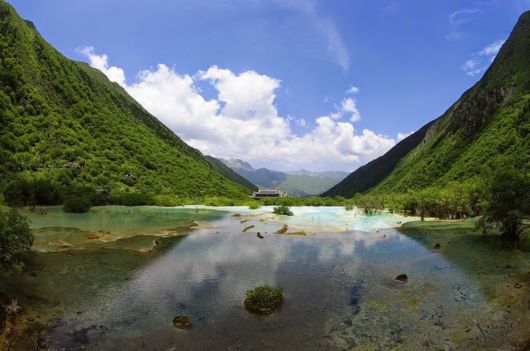 The greatest number of such facilities are concentrated in the gorge Huanlungou. Located in the Gorge Waterfalls Chzhaga Mouna, the largest in China drop height falls from a height of 93 meters and has a width of 40 m main attraction Huanglong – travertine terraces, which focused on the segment of the valley of the same name in length 3.6 km, which includes snow-capped peaks and the easternmost glaciers in China.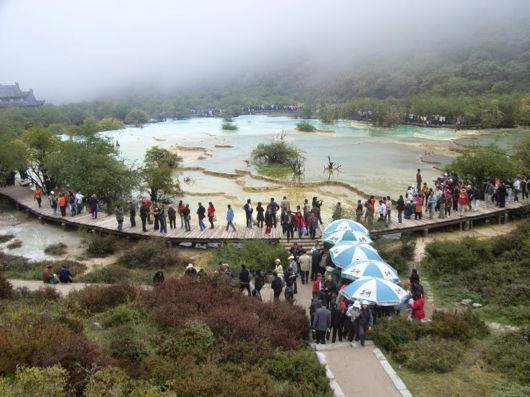 Travertine landscapes are the result of thousands of years of processes, during which glaciers flowing from the water penetrates into the ground. Gradually developed numerous underground streams, dissolved limestone mountain.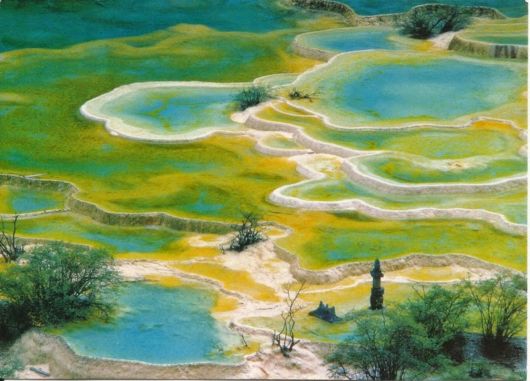 In Huanglong River starts Fujian, notable mainly for its direct course and zigzag tributaries. On both sides of the valley framed by pine forests adjacent to the deciduous trees and shrubs. Clearing, covered with a green carpet, full of white, blue, red and purple flowers.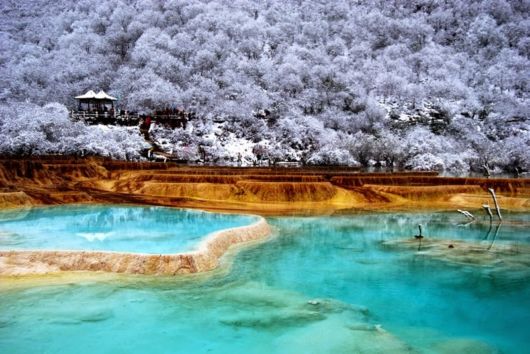 Huanglong was observed since ancient times. A pair of small stone pagodas found in reservoirs at the beginning of the valley, which were built during the Ming Dynasty (1368-1644) and attracted a large number of parishioners. Most of the terrain is extremely important in the local Tibetan religion, culture and folklore. There are many legends associated with various natural objects Reserve. One of them says that once a huge yellow dragon flying over the valley dropped his scales, and it is here formed a long slope of picturesque cascades.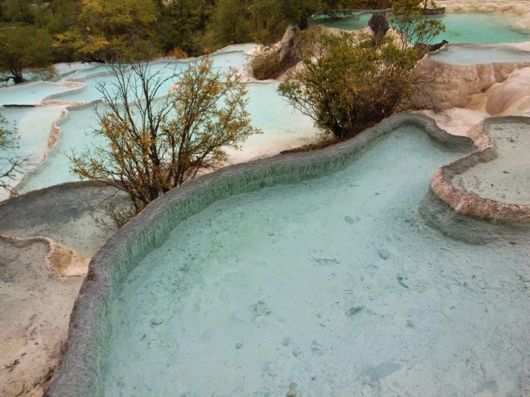 In 1992, Huanglong Nature Reserve was included in the World Heritage List of UNESCO. Within the reserve, there are over 3,500 lakes, but they are mostly shallow, gentle winter they are covered with frost, ice and water at this time of year is of special, turquoise-blue tint. Huanglong is especially beautiful in autumn when the blue to emerald lakes fringed golden rapids rampage added warm red and yellow colors.