Watermelon snow, also called snow algae, red snow, or blood snow, is Chlamydomonas nivalis. according to the majority of people can only be in a fairy tale or a colorful dreams, but this assertion is refuted in the Sierra Nevada Mountains, which are located in California. On this mountain range at an altitude of three thousand meters above sea level stretches fabulous snowfields red. Here, at altitudes of 10,000 to 12,000 feet (3,000?3,600 m), the temperature is cold throughout the year, and so the snow has lingered from winter storms. Compressing the snow by stepping on it or making snowballs leaves it looking red. Walking on watermelon snow often results in getting bright red soles and pinkish pant cuffs.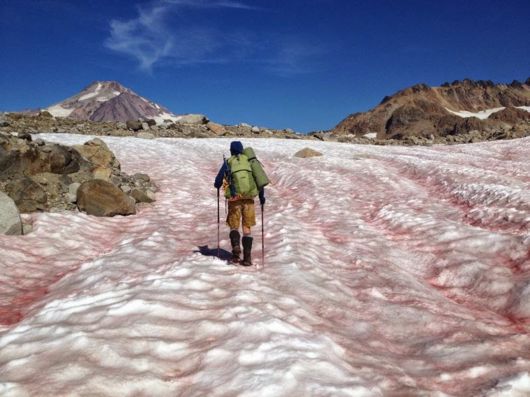 The first accounts of watermelon snow are in the writings of Aristotle. Watermelon snow has puzzled mountain climbers, explorers, and naturalists for thousands of years, some speculating that it was caused by mineral deposits or oxidation products that were leached from rocks.
In May 1818, four ships sailed from England to search for the Northwest Passage and chart the Arctic coastline of North America. Severe weather made them finally turn the ships back, but the expedition made valuable contributions to science. Captain John Ross noticed crimson snow that streaked the white cliffs like streams of blood as they were rounding Cape York on the northwest coast of Greenland. A landing party stopped and brought back samples to England. The Times wrote about this discovery on December 4, 1818.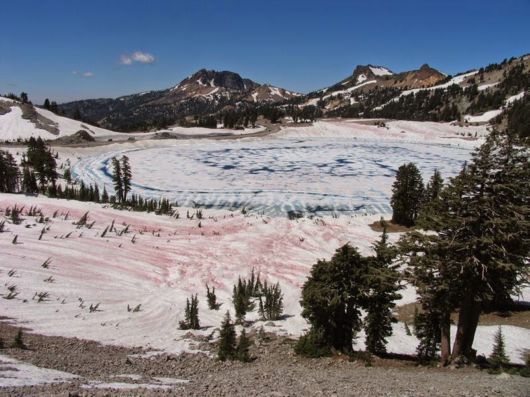 "Captain Sir John Ross has brought from Baffin's Bay a quantity of red snow, or rather snow-water, which has been submitted to chemical analysis in this country, in order to the discovery of the nature of its coloring matter. Our credulity is put to an extreme test upon this occasion, but we cannot learn that there is any reason to doubt the fact as stated. Sir John Ross did not see any red snow fall; but he saw large tracts overspread with it. The color of the fields of snow was not uniform; but, on the contrary, there were patches or streaks more or less red, and of various depths of tint. The liquor, or dissolved snow, is of so dark a red as to resemble red port wine. It is stated, that the liquor deposits a sediment; and that the question is not answered, whether that sediment is of an animal or vegetable nature. It is suggested that the color is derived from the soil on which the snow falls: in this case, no red snow can have been seen on the ice." Three days later a follow-up article concluded that the coloration was caused by meteoric iron deposits: "…iron being found to be the colorist of all metallic as well as vegetable matter." It was not until the end of the nineteenth century that the unusual phenomenon was finally attributed to high concentrations or "blooms" of microscopic algae.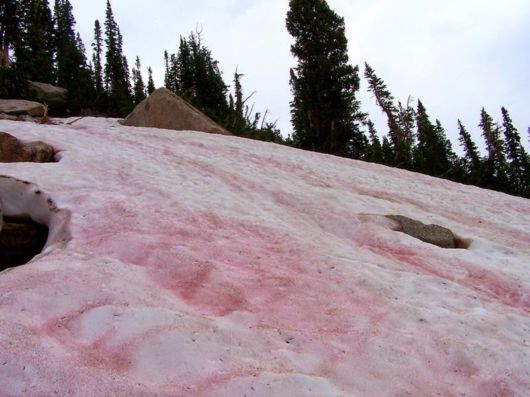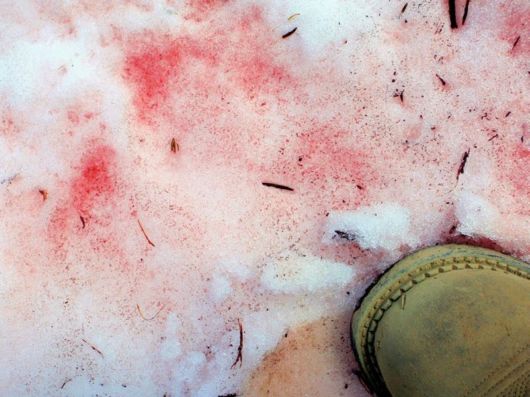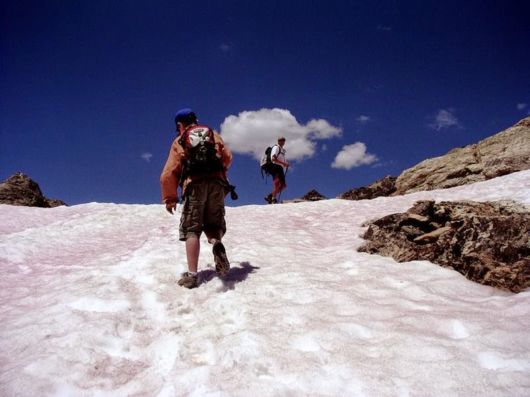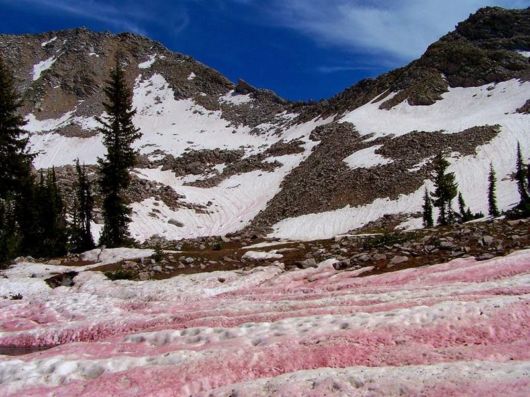 Waves of Watermelon Snow.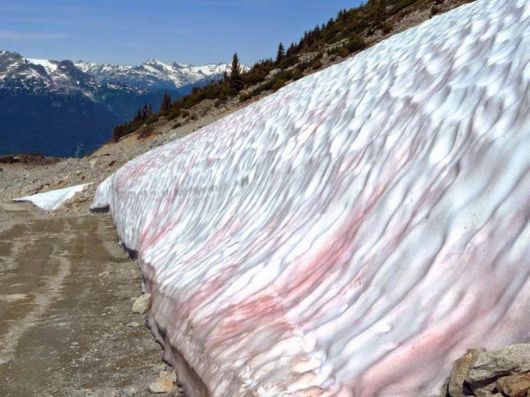 Watermelon snow on Seventh Heaven Road.