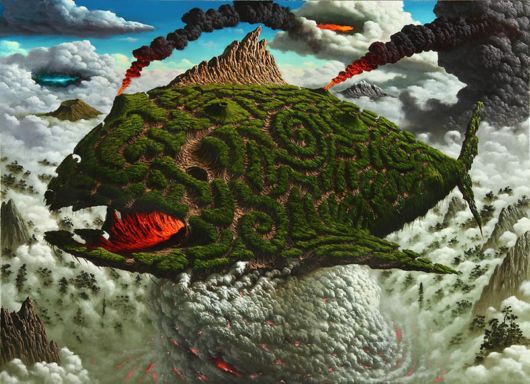 Fulvio Di Piazza creates whimsical paintings of anthropomorphized landscapes with an extraordinary level of detail and depth. In Ashes to Ashes, the artist?s work follows a dramatic new direction of fiery volcanic imagery. Twisted figures rise through mushrooming clouds of soot and smoke with faces comprised of burnt debris, their bodies as vulnerable and combustible as pyres. Smoldering peaks loom in the distance specked with glowing cinders and embers, as lava flows from black soot-covered craters like the life?s blood of the earth.
For this series, the artist was inspired by the 1980 book Entropy, written by an American economist named Jeremy Rifkin, in which he associates thermodynamic activity with sociological patterns of economic and environmental decline. Although the author was widely criticized for misunderstanding the laws of physics, Di Piazza was interested in the conceptual parallels, regardless of the lack of scientific merit.
There is an underlying pessimism to the imagery in this exhibition, yet Di Piazza finds hope in the dismal?theorizing that matter is eternally indestructible due to its ever-changing nature, constantly shifting states and transforming into different types of energy. He also points out the interesting dichotomy of ash, being the remains of matter consumed by fire as well as the beginning for a new cycle of matter. This interpretation signifies the potential for renewal beyond the end of days. Once this world has burned, perhaps the proverbial phoenix will rise.