From healthy granita to indulgent sundaes, we?ve scoured the land for the recipes that will cool you down in the most delicious of ways…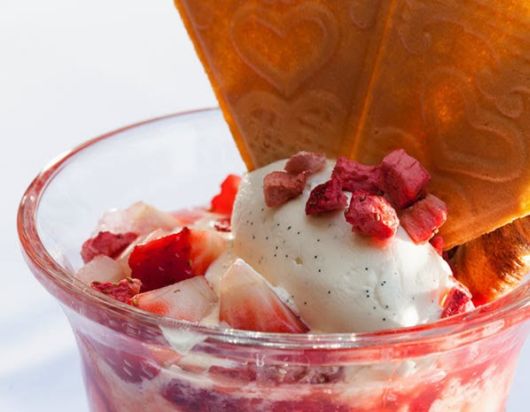 Fish Market-By Rosie Birkett-Now that the weather is finally getting warmer, it?s time to start thinking about frozen delights. But rather than heading to your nearest shop and picking up a carton of your favourite cookies-and-cream ice-cream, why not have a go at making your own ice-creams and sorbets? Many of these recipes can be made without an ice-cream machine too, so there?s no excuse for not giving them a go.
Banana sundae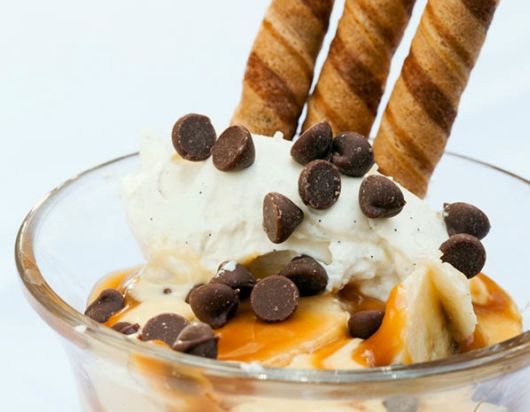 Fish Market-By Rosie Birkett-The ice-cream sundae that kids? dreams are made of, though most adults will appreciate its charms too?
10-minute strawberry ice-cream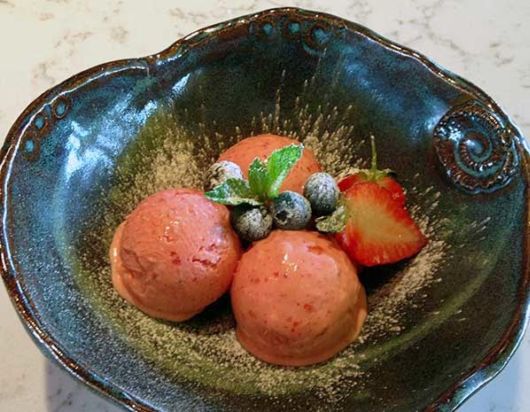 Sushisamba/Duck & Waffle-This super-speedy recipe is easy to throw together if you have last-minute guests arriving ? just be sure to time things so it?s going into the freezer just as they arrive. Serves 6 Ingredients 500g fresh strawberries 250g double cream 100g caster sugar Method Cut the green tops from the strawberries and place the strawberries in the freezer overnight or for at least 8 hours. Put the frozen strawberries and sugar in the food processor and blend for 5 minutes, scraping the sides back into the mix every minute. Add the cream to the mixer and blend for 1 to 2 minutes longer until the mix is smooth (there will still be some small pieces of strawberry but this is fine). Make sure you don't over mix the last stage as it will whip the cream too much. Pour the mixture into a container and store in the freezer until ready to use. This ice-cream must be used within 2 hours of making as it will set to hard because of the high water content from the strawberries, and cannot be refrozen after first use. Garnish with fresh berries, a sprig of mint and icing sugar.
Skye Gyngell?s date-and-sherry ice-cream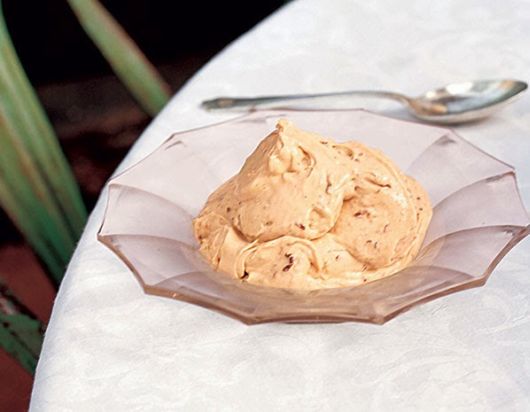 Jason Lowe (How I Cook, Quadrille Publishing)-This simple custard-based ice-cream has a wonderfully rich, caramel flavour and a soft, silky texture. Pedro Ximénez is a luxurious, complex and sticky variety of sherry, tasting of dried fruit ? raisins, prunes and dates, which it is paired with here. It?s never worth making ice-cream in small quantities, so this recipe will provide enough for two meals for four. Eat within a couple of days of making. Serves 8 450ml double cream 150ml whole milk 1 vanilla pod, split lengthways 6 large organic free-range egg yolks 120g caster sugar 120g good quality dates such as Medjool 100ml Pedro Ximénez sherry Method Pour the cream and milk into a heavy-based saucepan. Scrape the seeds from the vanilla pod and add them to the creamy milk with the empty pod. Place over a low heat and gently bring to just below the boil. Take off the heat and set aside to infuse for 15?20 minutes. Take out the vanilla pod. Beat the egg yolks and sugar together in a bowl, using a whisk, until pale and thick. Gently reheat the creamy milk and pour slowly onto the whisked egg yolk mixture, stirring with the whisk as you do so. Return the custard to the clean saucepan and place over the lowest possible heat. Using a wooden spoon, stir gently in a figure-of-eight motion until the custard thickens ? this will take up to 10 minutes. The custard is ready when it is thick enough to coat the back of the wooden spoon. At this point immediately remove from the heat and strain the custard through a fine sieve into a cold bowl. Leave to cool completely. Meanwhile, stone the dates and chop the flesh as finely as possible; place in a bowl. Warm the sherry very slightly in a pan and then pour over the chopped fruit. Set aside to macerate. Once the custard is completely cool, pour into an ice-cream maker and churn according to the manufacturer?s instructions. When the ice-cream begins to set, add the date and sherry mixture and continue to churn for another 10 minutes. Transfer the ice-cream to a freezer-proof container and place in the freezer until needed. Scoop into pretty glass dishes to serve.
French-style rich dark chocolate ice-cream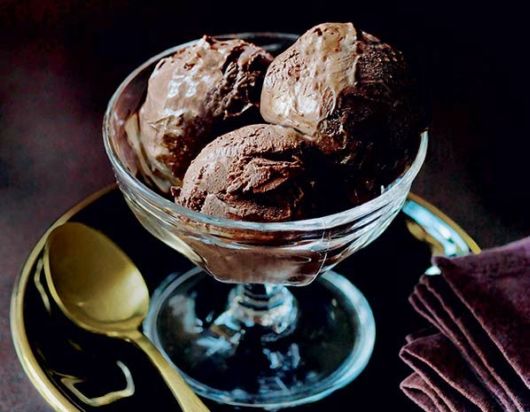 Sweet Paris by Michael Paul (Hardie Grant)-Here?s an easy recipe for a really rich, sensationally creamy, French-style glace, which will get people queuing for more. It?s a lot easier if you have an ice-cream maker but, if you don?t, just be prepared to do a bit of stirring. Serves 4 Ingredients 125g bittersweet dark chocolate 1 vanilla pod or 2 teaspoons of vanilla extract 225ml whole milk 5 egg yolks 75g caster sugar 1 tbsp cocoa powder 200ml double cream Method Using a sharp knife, carefully chop the chocolate into small pieces about 5mm in size and put to one side. Next make the custard base: cut open and scrape the seeds from the vanilla pod, then add them along with the pod to the milk in a saucepan. Bring slowly to the boil, then leave aside for a few minutes to cool and for the vanilla to infuse. In a mixing bowl, beat together the egg yolks and sugar until thick and pale in colour. Fish out the vanilla pod (if used) then slowly pour the hot but not boiling milk into the mixture, stirring until it is well mixed. Pour the mixture back into the saucepan, add the cocoa powder and heat very gently while continuing to stir with a wooden spoon until the custard thickens ? but be careful not to bring it to the boil. When the custard coats the back of the wooden spoon, remove the saucepan from the heat. Stir in the chopped chocolate pieces. Keep stirring until all the chocolate has melted. Leave to cool. When it?s completely cool, lightly whip the cream and fold into the chocolate mixture. Churn in an ice-cream maker if you have one. If not, freeze in a metal bowl or suitable container, and stir every 15 minutes while freezing to stop ice crystals forming. Finally, if you used an ice-cream maker, spoon into a container and freeze until firm.
Honey ice-cream with honeycomb and toasted almonds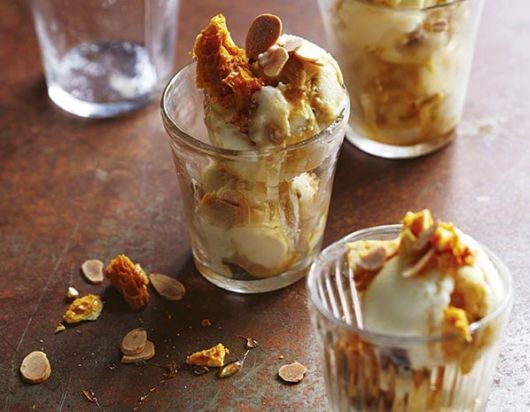 Ruby Violet's Ice-cream Dreams by Julie Fisher (Hardie Grant)-This recipe contains no eggs, so is ideal for those with an egg intolerance. Serves 4 For the ice-cream 500ml double cream 250ml whole milk 150g local honey 40g flaked almonds For the honeycomb 150g granulated (raw) sugar 50g local honey 1½ tsp bicarbonate of soda Method Heat the cream and milk in a saucepan. Once boiling, remove from the heat and add the honey. Stir well to mix and leave to cool down to 4C within 90 minutes. Meanwhile, toast the almonds in a dry frying pan over a medium heat, until lightly coloured, but not burnt. While the ice-cream mix is cooling, line a baking tray with a silicone mat and make the honeycomb. Spread the sugar over the base of a saucepan then add the honey and 1 tablespoon of water. Bring to the boil while stirring gently to allow the sugar to dissolve. Once the temperature reaches 150C, quickly add the bicarbonate of soda and whisk until it is just mixed in. Do not overmix. Swiftly pour the foaming syrup on to the prepared baking tray. Do not spread or disturb it, as this will cause it to deflate. Let it stand until cool to the touch ? for about 10 minutes. Break into pieces and transfer immediately to an airtight container to preserve the crispness. To use the honeycomb, scatter a handful of small pieces into the ice-cream maker 5 minutes before the end of the churning time; alternatively, ripple through once the ice-cream is churned. Serve the ice-cream with the toasted almonds and more honeycomb pieces.
Sunset in Amalfi (Tramonto in Amalfi)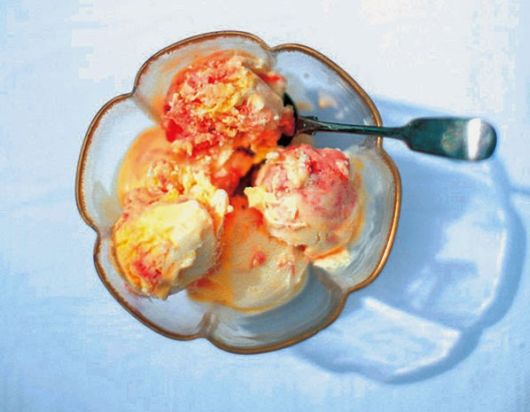 The Amalfi Coast: A Collection Of Italian Recipes-In this great recipe, lemon and orange ice-creams are swirled together and served with a strawberry sauce. Spectacular to look at and even better to eat! There is something splendid about rich custard ice-cream made with citrus fruits. Serves 4?6 Ingredients For the orange ice-cream zest and juice of 2 oranges 350ml milk 350ml double cream 6 egg yolks 225g caster sugar For the lemon ice-cream zest and juice of 3 lemons 350ml milk 350ml double cream 6 egg yolks 225g caster sugar For the strawberry sauce (makes enough for 6-8) 500g strawberries 50?100g caster sugar Method To make the orange ice-cream, peel the zest of 1 orange into long lengths using a potato peeler, omitting as much of the white pith as possible. Heat the milk and cream along with the orange zest in a pan over a medium heat to just below boiling point (if using a thermometer it should read between 75C and 80C. Meanwhile, beat the egg yolks and sugar together in a bowl until smooth. When the milk and cream have reached the correct temperature, add a ladleful of the liquid to the beaten eggs, stirring constantly. Pour this mixture back into the milk pan and whisk on a low heat, bringing the custard up to just below boiling point (85C). The mixture will thicken and should coat the back of a wooden spoon. Do not allow it to boil or it will separate. Remove the pan from the heat and mix in the juice of both oranges. Strain through a sieve into a bowl and stir in the finely grated zest of the remaining orange. Set this bowl over a larger bowl filled with iced water to cool the mixture quickly. As soon as it is cold, churn in an ice-cream maker. To make the lemon ice-cream, follow the method for making the orange ice-cream, substituting the orange zest and juice for lemon zest and juice. To make the strawberry sauce, hull the strawberries and cut any large ones in half. Tip into a large saucepan and add the sugar, to taste. Bring to a gentle boil and cook for 15?20 minutes, or until the strawberries give easily when squished against the side of the pan. Strain through a sieve into a jug and when cool store covered in the fridge, for up to 1 week. To make the Sunset in Amalfi, spoon the orange and lemon ice-creams into a container, together with a few tablespoons of the strawberry sauce swirled through ? you will soon see the streaks of sunset appearing. Don?t worry if it looks messy at this stage. Freeze overnight and serve with a little extra strawberry sauce.
Avocado-and-coconut sorbet
Uyen Luu-In south-east Asian countries such as Vietnam, avocados are usually found in sweet dishes like desserts and smoothies. Try this unusual recipe and you may be converted yourself? Serves 4-6 (makes 750ml) Ingredients 2 ripened avocados 520ml coconut water 5 tbsp condensed milk Method Cut the avocados in half, scoop out the flesh, leaving the skin and stone behind, and blend all the ingredients together. If you do not have a blender, place in a bowl and mash with a potato masher or fork until it is smooth. Churn in an ice-cream maker for 60 minutes. The churning time will vary according to ice-cream maker. Then freeze the contents for about 2 – 8 hours. If you do not have an ice-cream maker, blend it, freeze and then blend again. Repeat at least twice over 2 days. To serve as a shake or smoothie simply put these ingredients into a blender (with or without ice). Use approximately 4 tablespoons of condensed milk. If you do not wish to use diary, sweeten the mixture with sugar instead.
Mango kulfi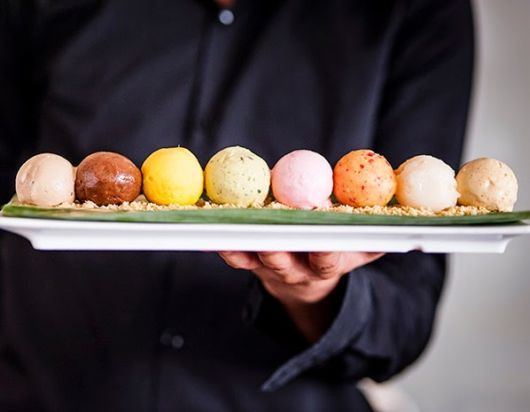 Karam Sethi-Mango kulfi The Indian dessert kulfi is an ideal recipe to try if you don?t own an ice-cream maker ? it?s usually made in a mould so it doesn?t require churning like regular ice-cream does. Serves 6 ? 8 Ingredients 5 litres whole milk 1kg sugar 1kg fresh Alfonso mango flesh, blended to a pulp 200ml whipping cream Method Reduce the milk in a pan over a low heat for 2 hours until thickened and then add the sugar. Leave to cool before adding the mango pulp and mixing well. Then mix in the whipping cream and transfer to the freezer for half an hour. Mix the frozen mixture well before transferring to a kulfi mould and placing back into the freezer for at least 6 hours or overnight – it should be quite firm. Serve with fresh Alfonso mangoes.
Blood orange granita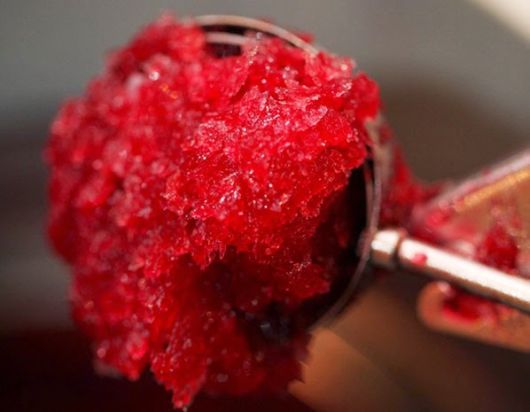 Bocca Cookbook (Bloomsbury)-Each 1.5kg of blood oranges will yield about 500ml juice, enough for two to three people, but make more, and keep it in the freezer for breakfast. It also makes an excellent cocktail with vodka added, or perhaps Campari, mixing two parts granita to one part spirit. Ingredients Blood oranges Caster sugar Method Juice the blood oranges, removing any pips but straining only through a colander or coarse sieve to do so, so some pulp remains. Add 120g of caster sugar per litre of juice and stir well until the sugar is fully dissolved (this will be quicker if the blood oranges are at room temperature to start with). Pour the liquid into a deep tray that will fit in your freezer (metal is best, as it will conduct heat from the granita fastest ? but this is only a question of time, rather than quality). Place it in your freezer, and check after half an hour. Once ice crystals start to form, stir every 15 minutes or so with a fork or sturdy balloon whisk until you have a satisfyingly thick slush. If it gets too hard, you can always thaw it a little before serving ? and it can be stored this way (frozen solid) for weeks. Serve on a hot day.
Peanut butter ice-cream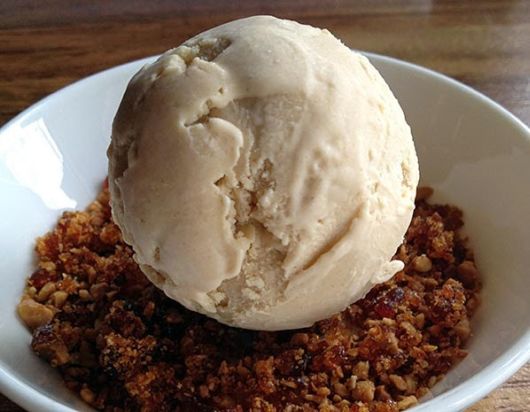 Master and Servant-You can use good shop-bought smooth peanut butter but the creator of this recipe, Matt Edwards, makes his own. Serves 4 Ingredients For the peanut butter 180g good quality unsalted peanuts 60g unsalted butter (softened) 10g sea salt 20g caster sugar Blitz all ingredients together in a food processor to a smooth consistency. For the ice-cream 450ml milk 375ml single cream 100g egg yolks 25g caster sugar 250g peanut butter pinch of salt Method: Warm the peanut butter in a pan and set aside. Heat the milk and cream in a pan until just below boiling point. Whisk the egg yolks, sugar and salt to a paste in a bowl. Keep whisking and pour on the hot milk and cream. Stir in the warm peanut butter until fully incorporated. Return to the pan and cook to 74C. Remove and chill. Churn the mixture from cold in an ice-cream machine. If you don?t have one, beat it every hour for four hours to avoid ice crystals forming.
Inspired?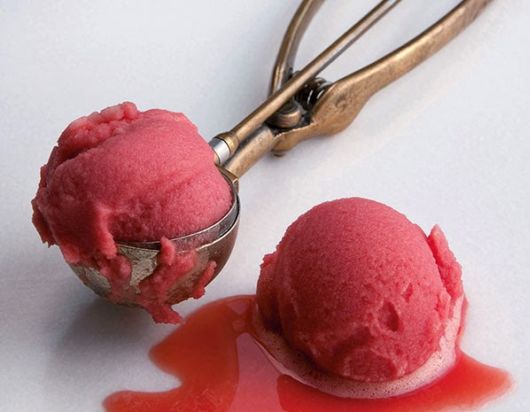 Now you?ve seen our selection of delightful recipes, why not have a go at making up some of your own? Try following some of the techniques laid out here and using seasonal or favourite ingredients. Don?t be afraid to get creative and experiment! And if you become really inspired and decide to take things a little more seriously, why not invest in..
he big daddy of ice-cream makers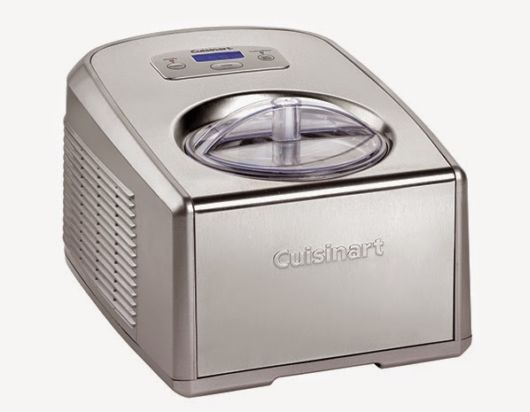 Cuisinart-You don't necessarily need to an ice-cream maker to be a whizz in the ice-cream department, but it certainly does help. You'll find that makers whip up the ice-cream successfully, giving it a welcoming fluffiness. Try making our recipes with the Cuisinart Ice-Cream and Gelato Professional (£250). While it's fairly heftily priced, automating the process frees you up in the kitchen to make other dishes and the results are, in our opinion, well worth it. The machine's footprint is quite sizeable, but with the flexibility to make Italian-style gelato, frozen yoghurt, sorbet or more traditional ice-cream in up to 1.5-litre tubs, in around 40 minutes, it offers the home ice-cream maker flexibility and quality results.