Biscuits can be quite a versatile ingredient. To whip up a delicious yet simple dessert, a packet of crunchy biscuits add the much needed taste and texture. Try your hands at making an eggless, no-bake sweet-dish like a biscuit cake or make fancy biscuit chocolate roll. If you want to go a notch higher, then make the lemon parfait with biscuit crumbs or strawberry cheesecake with a crunchy biscuit base for a gastronomic delight.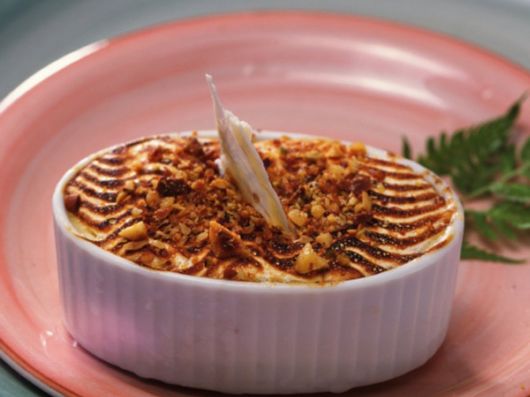 Biscuit Pudding:
A simple recipe that uses biscuits to make a flavourful pudding to fulfill all those sweet cravings, this dessert is simply divine.
Here?s the recipe.
Prep time – under 15 mins
Cook time -Nil
Yields – a 7 inch square pan
Ingredients needed
Tea biscuits / Marie biscuits- 30 biscuits or as required
Unsalted Butter- 100 gms (at room temperature)
Icing sugar- 1 cup
Cocoa powder- 3 tbsp
Milk – approx 1 1/2 tbsp-2 tbsp
Vanilla extract- 1/2 tsp
Coffee/ Espresso powder- 1 1/2 tsp
Water- 1 cup
Preparation
Prepare coffee decoction in 1 cup of boiling water. Filter it and leave it to cool.
Sift the cocoa powder and keep it aside.
Line a 7 inch square cake tin with cling film leaving a little extra on one side to fold over the top. Alternatively you can layer the whole thing in a square pan or glass dish without the cling film, if you plan to serve it directly from the tin. But with the cling film lining, it is easier to take the whole biscuit cake out from the pan and slice it as preferred.
Method
In a bowl, beat together butter and sugar until light and fluffy. You can use a wooden spatula or an electric hand mixer.
Add cocoa powder and continue beating until well mixed.
Add vanilla essence and mix well. Add milk little at a time and mix well. The consistency of the mixture should neither be stiff nor too watery. It should be easily spreadable, so adjust milk accordingly.
Now dip the biscuit one at a time in coffee decoction and arrange it in the pan. It doesn't matter, if the biscuits overlap.
With a spatula, spread the butter + sugar +cocoa powder mixture over the biscuits evenly filling all the gaps and corners. Repeat with another layer of biscuits dipped in coffee decoction and top it with another layer of cream.
Continue layering biscuits and cream alternatively until all the cream is over and the cream layer is the top most layer.
Decorate it with chopped nuts or silver ball or sprinkles, cover it that extra cling film, press it gently and keep it in the refrigerator to set.
When ready, lift the pudding out of the pan, unfold it and slice it into small pieces and serve immediately.
Note – The pudding will melt if kept outside for a long time. So keep it in the refrigerator and take it out only when required.
If you want it soft, keep it in the refrigerator to set. If you prefer it a little hard, keep it in the freezer compartment of the refrigerator. Both tasted great.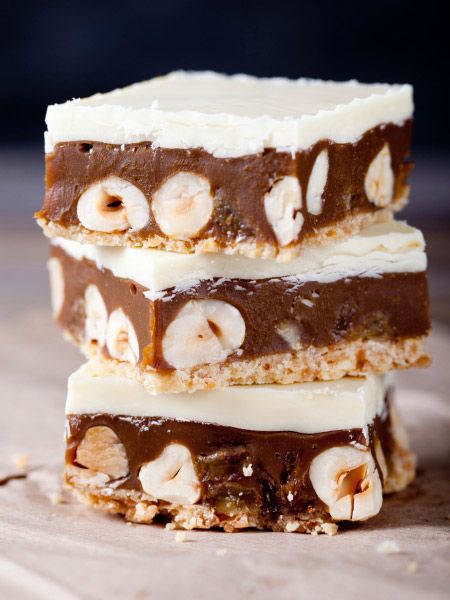 Eggless No-bake Biscuit Brownies:
This is the best dessert for vegetarians who do not need to compromise on their sweet cravings and can happily indulge with this eggless, no-bake biscuit brownie cake. The recipe is so simple that you will enjoy making this dish.
Here?s the recipe.
Ingredients:
20-25 Marie biscuits
3 tbsp unsweetened cocoa powder
1/4 cup roasted nut of choice (I used hazelnuts)
2 tsp sugar
1/2 of a 400gm tin condensed milk (I used low fat Milkmaid)
1. Break the biscuits into fours and powder coarsely. I left small bits of biscuits in this mixture to give the brownies some extra texture.
3. Add the cocoa powder to this and mix well.
4. Add the sugar to this mixture and mix again. If you prefer mildly sweet brownies, you can omit this but I found the sweetness level perfect with 2 tsp sugar.
5. Dry-roast any nut of choice and let it cool. I had some roasted hazelnuts handy so used that. Roughly 1/4 cup should do.
6. Chop it up coarsely and add to the mixture. Mix well.
7. Add half a tin of condensed milk to this mixture. Feel free to lick up the remaining condensed milk sticking to the tin!
8. Mix well with a sturdy spoon. I would advice against using a whisk at this stage because the mixture will be very very thick and refuse to cooperate. Show it who's boss! Mix well until all the powdery bits are combined with the wet ingredients.
9. Line a plate, pie dish, or baking tray with butter paper (or just great with some butter) and transfer the mixture to it. Press firmly with wet fingertips until the mixture is uniformly spread.
The colours all look different because of the difference in lighting. Bear with me. Whatever colour the brownies are, they will be delicious, I promise.
10. Refrigerate atleast for 4 hours or overnight if possible. This picture was taken after 2 hours of refrigeration because I was impatient. If you are like me, you will get more fudgy brownies that won't hold its shape when you cut it.
If you refrigerate longer, then they can be cut into perfect squares and taste delicious. This was taken the day after I made them.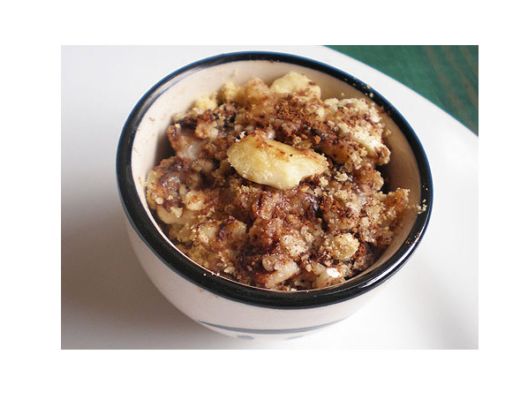 Nutty Marie Biscuit Dessert:
This is an instant dessert that is perfect to make when you have a bunch of unexpected but enthusiastic guests who love to experiment with food. It hardly takes any time and tastes delicious.
Here?s the recipe.
Ingredients:
Powdered Marie Biscuits – from 5 biscuits
Sweetened Condensed Milk / I used thickened milk- 4 tbsp
Coco powder – 2 tbsp
Chopped Cashewnuts – 5
Butter – 1 tsp just to grease
Method:
1. Grease the container with butter.
2. Layer the powdered marie biscuits into the container and press it till it is even. It will be 1 inch in thickness if you are using 5 biscuits.
3.Pour the condensed milk covering the powdered biscuits. I didnt have condensed milk and that didnt stop me from trying it….so what I did was I thickened the milk with 1tsp of sugar added and used it, no compromise in taste.
4.Next layer is the coco powder. Sprinkle it until the condensed milk layer is totally covered. Then lay the chopped cashewnuts on the top of the coco powder layer.
5.Bake it for 10mins at 180deg C. It came out just fine in my oven itself…so am sure it would come out well in any oven Cool it and serve.
I refrigerated it for 10mins as I like it chilled. Now what are you waiting for, just scoop out and enjoy……Isnt that a quick dessert?!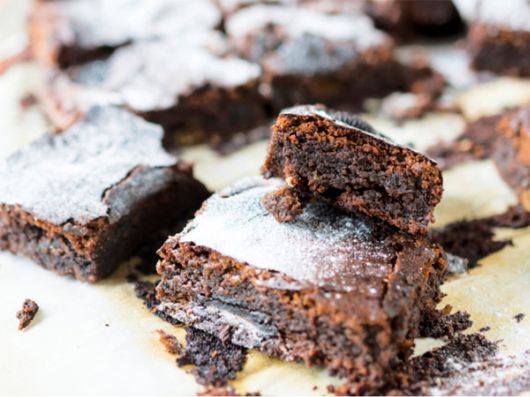 No-bake Chocolate Biscuit Cake:
We love all kinds of cake but this no-bake chocolate biscuit cake is a wonder we can?t get enough of. Its rich taste and crunchy texture are just perfect.
Here?s the recipe.
Ingredients needed
Marie Biscuit – 15
Cashew nuts – 1/4 cup (chopped)
Raisins – little less than 1/4 cup
Cocoa Powder – 1 tbsp
Unsalted Butter – 1 1/2 tbsp (melt it over a bowl of hot water)
Condensed milk -2 1/2 tbsp
Sugar -2 tsp
Milk -1 tbsp (optional)
Vanilla essence – 1 tsp
Keep all the ingredients ready. Break the biscuits and powder it coarsely in a blender.
Add Cashew nuts and raisins, sugar and vanilla essence.
Add cocoa powder, condensed milk and melted butter.
Make a dough just like chapati dough and shape it into a cylinder. If you are not able to make a smooth dough, you can add little milk, otherwise it is not needed. Wrap it tightly in a butter paper and keep it in the refrigerator for 1 1/2 hours. (not in the freezer)
After 1 1/2 hours, remove the butter paper and cut the chocolate into rounds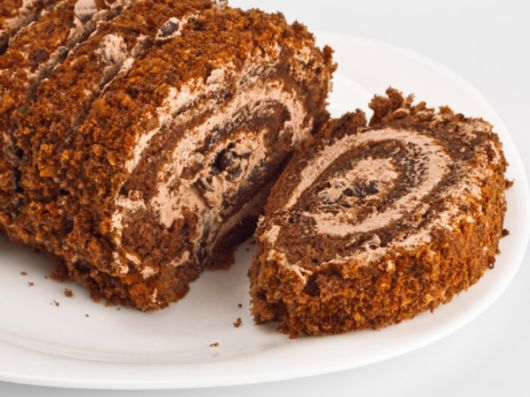 Biscuit Chocolate Rolls:
These delectable chocolate stuffed rolls are ready in under 20 minutes and make for a great tea-time snack. The recipe is easy, and the result so appetising that we can?t stop salivating.
Here?s the recipe.
Prep time: 20 min
Cook time: 0 min
Yield: 7
Main Ingredients: marie biscuit cocoa dessicated coconut
Make a powder of 12-14 marie biscuits, add a tbsp of powdered sugar, 1 1/2 tbsps cocoa pwd and mix well. Slowly add few tbsps of milk, little at a time, to form a pliable dough (like chapati dough). Keep aside. In another bowl, add 1/4 cup dessicated coconut pwd, 1/2 cup powdered sugar, few drops of vanilla essence or pinch of cardamom pwd and mix well. Add 1 1/2 tbsps of melted butter and mix well to form a sticky textured mixture.
Roll the biscuit cocoa dough into an elongated shaped roti (thicker than a chapati). Spread the coconut-sugar mixture all over. Slowly roll the biscuit-cocoa roti to form a roll. Seal the ends and if the dough tends to break in between, lightly press to enclose and continue rolling. Wrap in an aluminum foil and set in fridge for 2 hrs. After its set, remove the foil and slice with a knife into 1/2″ thickness pieces and serve.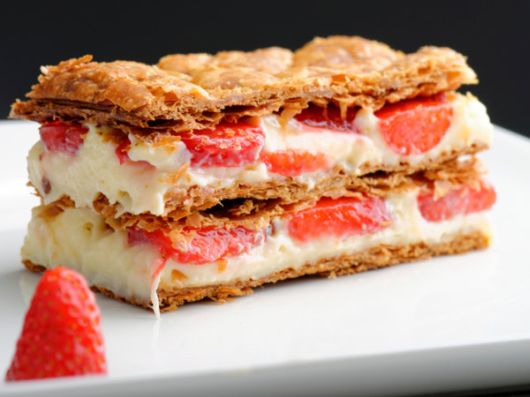 Biscuit Custard Pudding:
This is a unique recipe made with custard powder and salted biscuits that are assembled together to make a lip-smacking sweet snack.
Here?s the recipe.
Ingredients:
Vanilla flavoured custard powder – 5 tbsp
Milk – 3 cups
Sugar – as required [I used 4 tsp]
50-50 or Krack Jack Biscuit – 1 packet [I used Krack Jack]
Coffee decotion – 2 tbsp [optional but recommended]
Chocolate / Choc Semiya / Choc Sauce – as required to cover the top layer
NOTE : If you are not familiar with making filter coffee decotion this is for you to make coffee decotion without filter :Take 1/4 cup hot water and add 1.5 tsp of instant coffee powder (Bru, Nescafe sunrise works best) and mix well.Use this as coffee decotion it to dip ur biscuits.It works almost like filter decotion.
Method:
1.In a small bowl add the custard powder to little milk and dissolve till the custard powder combines with milk into a smooth liquid without any lumps. Keep aside.[This step should be done with out keeping in stove] Keeping in low flame, heat the remaining milk , add sugar.
2.Now add the custard milk. Stir slowly, well and continuosly.The mixture gets thickened very fast so be very careful. Stir for 2-3 mins switch off and cool down. The consistency is little thicker, but still should be in flowing consistency as shown below. Now dip each biscuit for a second and arrange it in a square plate/tin and layer the base of the plate with krack jack biscuits dipped in coffee decotion for first layer.
3.Above the first layer spread a generous spoon of prepared custard then layer another set of biscuits dipped in coffee decotion.Repeat this with another layer then alternatively stack up with biscuits and custard. Build 3-4 layers repeating the same process.Then grate chocolate/ add chocolate sauce or readymade choc semiya(which is what I've done) over the top layer biscuits, covering up the whole cake.
4.Refrigerate it for few hours (about 2-3 hrs). Remove from the fridge about 5-10 minutes before serving.Cut into desired squares/pieces and serve immediately.
The crunch in the biscuits with the creamy custard…Yumm! Sure to be kids favourite too.My Notes :
The amount of custard in each layer purely depends on your choice. I liked mine just covered, if you like custard then add it more generously covering the biscuit layer completely.
Build about 3-4 layers, not beyond that, as it will not hold shape making it hard to cut into desired square pieces.
Tastes best when served immediately after taking it from the fridge.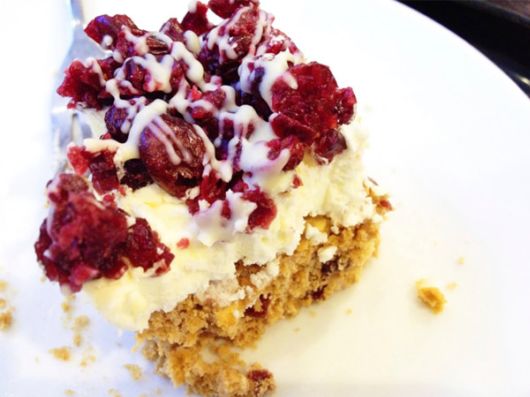 Instant Strawberry Cheese Cake with Biscuit Base:
This instant cheese cake recipes uses marie biscuits to make a crunchy base that sets easily and tastes yum.
Here?s the recipe.
Ingredients:
1packet of strawberry jelly (Rex jelly)
1 box of plain cheese spread
½ box of vanilla ice cream
1 cup of fresh strawberry crush
2 – 3 biscuits, powdered (Marie biscuit)
1 tbspn melted butter
Grated chocolate, fresh strawberries and some fresh cream for garnish
Method:
1. The contents of the jelly packet are in powder form. Add the contents to one cup of water to make the jelly and let it settle for 15 minutes.
2. Take a glass or plastic bowl and add the cheese spread and jelly mixture along with ice cream.
3. Whisk these ingredients with an electric whisker. (Use only an electric whisker to avoid turning the mixture watery).
4. Keep the bowl on a tray of ice for five to ten minutes while you pour the strawberry crush in the mixture and incorporate it.
5. Mix the powdered biscuits with one tbspn of melted butter to make a proper setting crust.
6. In a cake tin, put the powdered biscuits and set it well with your fingers to make a proper levelled crust. Now, pour the blended strawberry mixture. Refrigerate for three to four hours or till it sets and becomes firm.
7. Garnish with grated chocolate, strawberry pieces and a dollop of fresh cream.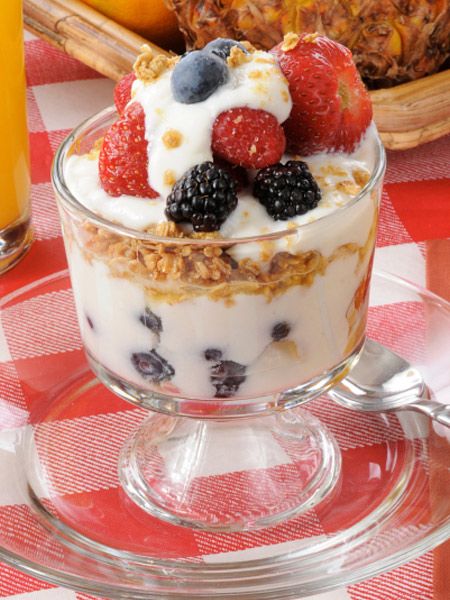 Lemon Parfait:
This yummy citrus-infused dessert that?s mixed along with butter and biscuit crumbs gives you a mouthwatering dish.
Here?s the recipe.
Melt butter in heavy small skillet/saucepan. Once it is melted, add sugar?
Stir until bubbling, about 1 min. Mix in the biscuit crumbs. Stir until colour deepens, about 3 mins. Turn out onto a plate and let it cool completely?
Stir condensed milk, lemon juice and lemon peel in a large bowl to blend?
Fold the whipped cream into the lemon mixture?
Place 1/4 cup of lemon and cream mousse in the serving dish, using a pastry bag. Top each with 1 tbsp crumb mixture, then 1/4 cup of mousse. Top parfait with remaining crumb mixture?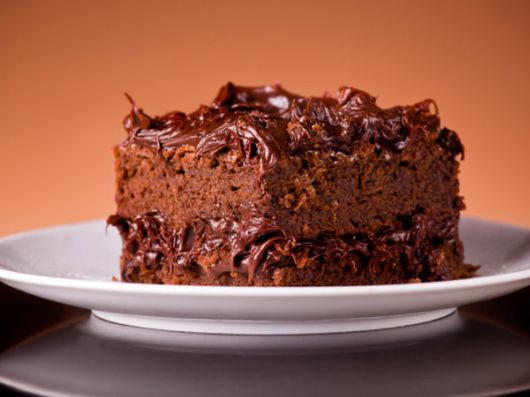 Chocolate Truffle Biscuit Cake Recipe:
This delicious dessert is layered with crunchy biscuits, chocolate truffle and cream which makes for an easy dessert.
Here?s the recipe.
Ingredients
1 small packet nice biscuits
1/2 cup (100 ml.) fresh cream
1 tbsp powdered sugar
For the chocolate truffle
1 cup chopped dark chocolate
1/4 cup fresh cream
To be mixed together for the soaking syrup
1/4 cup water
1 tsp orange squash
1 tsp rum (optional)
For the topping
1/2 cup chocolate vermicelli
Method
For the chocolate truffle
Put the cream in a saucepan and bring it to the boil.
Add the chocolate and mix well using a whisk till it resembles a smooth sauce. Remove from the flame.
Stir over a bowl of ice to cool quickly.
Divide the truffle into 5 equal portions and keep aside.
How to proceed
Mix together the cream and sugar and whisk till soft peaks form. Keep aside.
Arrange 3 biscuits on a serving plate and sprinkle some soaking syrup in order to make the biscuits moist.
Spread an even layer of one portion of the chocolate truffle over the biscuits and top with a portion of fresh cream.
Repeat to make 5 more layers.
Cover the top and the sides with chocolate vermicelli and refrigerate till firm.
Cut into thin slices and serve chilled.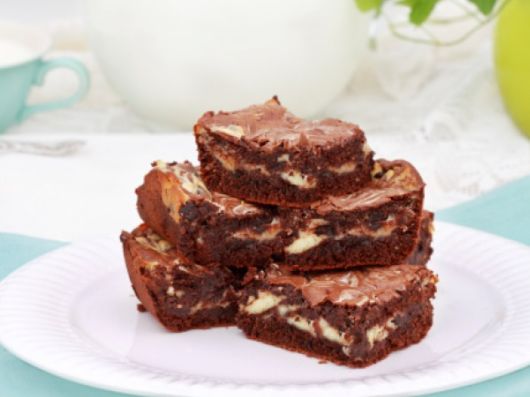 Chocolate Cream Pudding with Biscuits:
This choco-cream pudding is a rich mix of milky cream base topped with crunchy biscuits that offer a balance of flavours that's nothing short of lip-smacking.
Here?s the recipe.
Ingredients
Milk -1 kg
Custard powder – 6 tbsp
Sugar – 1.75 cups
Fresh Cream – 200 g
Vanilla essence – 1/2 tsp
Marie biscuit – 12-14 pieces
Coco powder – 4 tbsp
Liquid chocolate for decoration
Method
Boil milk in a pan and add sugar. Now, add the custard powder in a little milk.
When the milk becomes thick, switch off the fire and cool it.
Add coco powder to the custard. Mix well and make a smooth paste.
Add 2 spoons of sugar in the cream and whisk slowly.
Now, the pudding is ready to be set.
Take a serving dish.
First, arrange a Marie biscuit on it.
Pour out the custard over the biscuit.
Now, arrange another layer of biscuits and pour another layer of custard.
Pour the layer of fresh cream over this and refrigerate.
When cream has set, decorate with liquid chocolate.
Put it back in the fridge and serve chilled.