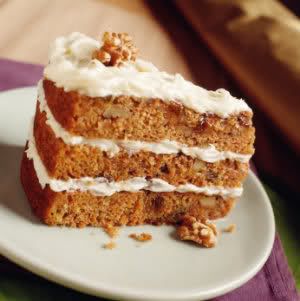 Serves: 8
Preparation Time: 15 minutes
Cooking Time: 1 hour
Total Time: 1 hour 15 minutes
Oven Temperature: 180° c – 360° f
Ingredients
180 g self raising flour
350 g caster sugar
1 tsp baking powder
1 tsp ground cinnamon
3 eggs
220 g grated raw carrot
¼ tsp salt
300 ml sunflower oil
for the frosting:
180 g cream cheese
180 g melted butter
220 g icing sugar
½ tsp vanilla essence
Method
1. Preheat the oven
2. Sieve together 175g self-raising flour, 1 teaspoon baking powder,
1 teaspoon cinnamon and 1/4 teaspoon salt.
3. Put 300ml oil in a large bowl and beat with 350g the sugar.
Beat in 3 eggs one at a time, then fold in the dry ingredients
and stir in 225g grated carrot.
4. Place the mixture in the tin, level off the top, and bake for 45 mins.
Then turn the oven down to 170C/325F/gas 3 for a further 20 mins.
When it's done, take the cake out of the oven and cool in the tin for 5 mins.
Then remove from the tin to cool on a wire rack.
5. While the cake is cooling, beat together the 175g cream cheese and 175g butter
and add 1/2 teaspoon vanilla essence.
Gradually add 225g sieved icing sugar until the mixture is stiff but spreadable.
6. When the cake is cool, split it in half horizontally and use the icing
to sandwich it back together and cover the top.