U.S. artist Phillip K. Smith III has created a striking and original piece of installation art called Lucid Stead in the desert near Joshua Tree, California that has been turning heads due to the graceful and beautiful way in which it interacts with its environment.
To create the striking piece, Smith took a 70-year-old homestead cabin and ripped out parts of the walls, replacing these strips with mirrors. These long mirrors, along with the mirrored windows, serve to make it look like the building isn?t all there ? as if it?s deteriorating into the desert. At night, after the building has reflected the stunning desert sunset, the mirrored windows are illuminated by LED panels of different colors, giving the building a new, more alien appearance. The pieces creates the illusion that you?re observing the real-life manifestations of an impossible surreal piece of artwork.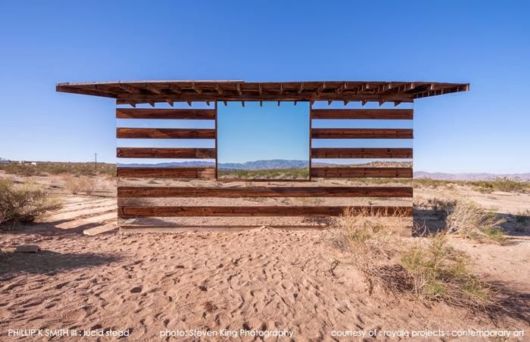 Smith describes the artwork in his own words; ?Lucid Stead is about tapping into the quiet and the pace of change of the desert. When you slow down and align yourself with the desert, the project begins to unfold before you. It reveals that it is about light and shadow, reflected light, projected light, and change.?