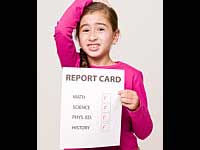 Long nights, tiring days and a painful mind was what most school children and teens were going through the whole of last month. With board exams, school examinations and college exams , most kids and teenagers were in a frenzy, studying their level best to achieve a great number on their certificate.
It is almost time now for the results to be announced and for almost all kids, teenagers and parents it is a time they are griping their teeth anxiously waiting for the what the outcome might be, which is 'the results'!

There will be tears of joy when you see your child looking at her/his marks card and if something bad has to happen (God Forbid ) here is what you should do, for your child.
1. Failure is a stepping stone to success. Tell your child that you still love him/her and that failure is not the end of the road for there is always a next time to achieve something greater.
2. If your child has failed in the examination, show some support even though this kills you too. Being there by the side of your child and encouraging him/her , helps them learn from their failures.
3. Don't impose your ideas and rules at this period as the child is already in an unstable mind frame and imposing ways to study might just hinder his thought that he/she is hopeless and good for nothing. Just be there and comfort your child if he/she has failed in the examination.
4. Make you child understand that failure is a part of reality and some day or the other we all have to accept it. Listen to what he/she has to say as this is the time when you need to be a patient parent for the situation is very delicate.
5. If your child has failed in the examination, do not make the mistake of cheering them instantly thinking that they will get over it. This situation takes time to heal and it will only fade away if you are close to your child, helping him/her get over this period of failure.
6. If your child has failed in the examination, never leave them alone at any given point of time as they are capable of doing something stupid.
7. As for parents, no doubt you feel let down after your child has failed in the examination. But, if you think you are not good in handling the situation, ask for help, which the best is from a psychologist!
Go slow on your children and take one step at a time during this examination period.