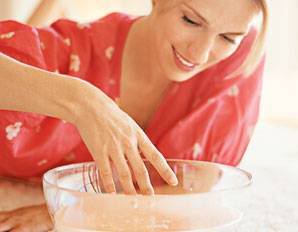 Many People today suffer from dry hands and have a hard time finding creams and lotions that will be of some help. Here are some simple tips for softer hands that work's well during winter, after a tedious dish wash and other similar work. Follow the guidelines and see the difference yourself.
* Take 2 tbls. sugar, baby oil and liquid soap. Pour sugar and baby oil, enough to cover hands in the palm of your hand. Rub hands together, as you would rub when you apply a lotion. Do this for a few minutes, then pour on a little liquid soap and wash clean. Your hands will feel very smooth.
* Rub one spoon of sugar, lemon juice and fresh cream into your hands till the sugar completely dissolves. This will surely be of some help.
* Mix 1/2 cup of warm milk, 2 tsp sugar, 2 tsp plain yogurt and a few drops of lavender essential oil. Soak your hands in this mix for about 5 minutes. Scrub your hands gently and do a massage.
* Solution made of salt and lemon also slough off dead skin cells. Brush the solution with an old toothbrush. Do this twice a week. This method will not only give you soft hands but also remove discoloration.
* The easiest method would be to apply a rich hand cream or petroleum jelly (Vaseline or generic) at night and wear gloves over them while you sleep. This locks the moisture in. Waken with softer hands.
* If your hands become rough after a hard day gardening, pour a small amount of salt in the palm of one hand, then apply olive oil and rub hands together. Rinse off under warm water. Next, cover your hands with cotton gloves. This will work well for feet too.
* For chapped winter hands: Grind 1 cup of uncooked rolled oats in a mixer until you have very fine powder. Place it in a large bowl, and then rub your hands in the powder gently. This will remove dry skin. Rinse with cold water and apply any hand cream. This treatment is cheaper then the expensive hand cream and yes, it does work better.
* Hands become rough while you wash your dishes. Do not worry for there is a remedy even for this. Add a little almond oil to dishwater. The water will soften rough skin while the oil seals the moisture. Spraying your hands with a mist of vinegar after the wash will also be of some help.
* To remove cooking smell from your hands. First rinse them with vinegar and then wash thoroughly with soap and water.
* A quick massage of 10 minutes with olive oil or dove lotion will also work wonders.