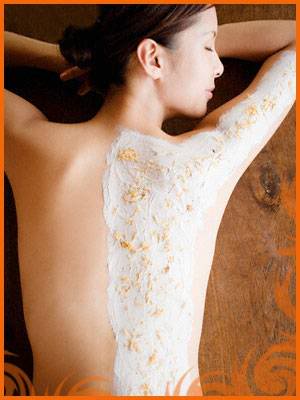 Treating Dark Elbows and Knees Naturally
Rub lime juice over the discolored area and leave for 15-20 minutes. Soak a towel in hot water and scrub firmly. Repeat this for 2 weeks.
Mix half teaspoon of lime juice with 1 teaspoon of coconut oil. Apply and wash in the same way with a hot towel. Repeat this everyday for better results.
Rough Palms – Herbal Cure for Rough Palms
Take 1 teaspoon of sugar and 1 teaspoon of any oil. Massage between both palms for a minute and rinse after 10 minutes.
Take 1 teaspoon of sugar along with 1 teaspoon of limejuice and rub between palms for a minute or two and wash after 10-15 minutes.
Beauty Tips – Treating Rough Hands and Feet
Add corn flour to hot water and soak hands and feet in it for 5-10 minutes before sleep.
Make a paste out of roasted onion by smashing it. Apply this paste on cracked heels and wash after 20 minutes.. Continue this for one month and you will see the difference.
After a bath massage Mustard oil well into hands and feet when your body is still moist. Wash with water and pat with a towel to dry.
Add half teaspoon Vinegar to half a cup of curd. Massage feet and ankles well with this mix and wash after five minutes.
Mix Candle wax with Mustard oil and heat. Now apply this gently on the cracked areas of the heels. Wear socks over this, leave overnight and wash in the morning.
Body Lotions and Masks for smooth and soft skin
Body Lotions – A body lotion is a low to medium viscosity preparation intended for application on external skin and body, usually after bath. Many lotions, especially hand and face creams can be classified as cosmetics and not medicine. Its main purpose is to smoothen and soften the skin.
Given below are some beauty tips and ways to prepare body lotions.
Mix 1 table spoon of limejuice with 1 table spoon of Glycerin and 1 table spoon of rose water. Mix well and store it in a glass bottle. Apply daily half an hour before a bath or apply at bedtime and wash in the morning before bath.
In Winter season, right after a bath while the skin is still wet, rub some Baby oil into the skin gently to avoid dryness.
Make a paste with 2 tablespoons of oats and 1 tablespoons lime juice and milk. Apply on the body and wash after 5 minutes before a bath.
Take 1 cup of fresh rose petals with half a cup of milk. Add 1 teaspoon of gram flour and some Rose water. Make a paste and apply on arms and legs before bath. Wash after 10 minutes.
Mix 1 teaspoon Vaseline with 1 teaspoon Glycerin and leave overnight. This is good for dry skin and also during winter season.
Mix 1 teaspoon of Vaseline with 1 teaspoon of Vitamin E oil and 1 teaspoon of Glycerin and apply over the entire body. Have a bath after an hour repeat this for a week or two.
Home Made Mask for Hands and Feet :
Ingredients:
Papaya – Half cup
Pineapple – Half cup
Avocado – Half cup
Honey 4 tablespoons
Bran 1 cup
Procedure – Make a paste out of the above ingredients and apply till elbows for hands and ankles for feet. Wash after it gets dried up. This helps to get soft and supple skin.
Nail Warts – Treating Nail warts
The daily application of Cauliflower juice for 5-10 minutes will reduce the warts.
Slice a Garlic pod at the end and rub gently on the wart for 5 minutes every day for a week or two.
Apply the juice of a raw potato and massage very gently with a piece of cotton wash after 5-10 minutes repeat everyday for better results.