Love, say the poets, makes the world go round. Love is the most powerful force there is, and when in throes of true love, you are floating somewhere in the clouds, unbound to earth. Indeed, love has been the inspiration behind countless works of art, books, movies, plays and musical pieces. Some, it seems, would build a monument to their love, to declare it with stone and mortar.
Castles seem to be a supreme statement of true love, built with great hardship and expense, to serve as a romantic home taken out of a fairy tale, and to live in it happily ever after. The irony is, that many of these castles built for love were also the homes of tragedy. Here are the stories of 10 legendary castles, built for love.
1. Boldt Castle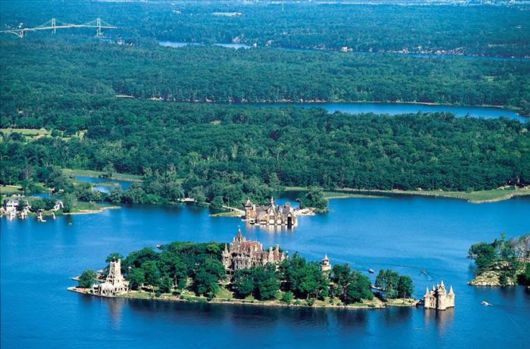 An aerial shot of Boldt Castle on the Saint Lawrence River, near Alexander Bay, New York. This castle estate was built on 5 acres by George Boldt as a gesture of love to his wife, and was supposed to be given to her on Valentine's day, 1905. Unfortunately, a recurring theme with castles built for love is that tragedy also accompanies them.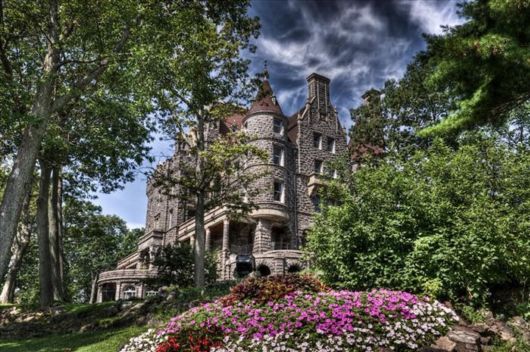 Castle Boldt resides on the beautiful Heart Island and remains a monument of love to this day, the love of George C. Boldt for his wife, Louise.
According to Boldt Castle history, ?Beginning in 1900, the Boldt family spent summers in the 1000 Islands at the Boldt Families Wellesley House near Mr. Boldt?s Wellesley Island Farms while 300 workers including stonemasons, carpenters, and artists fashioned the six story, 120 room castle, complete with tunnels, a powerhouse, Italian gardens, a drawbridge, alster tower (children's playhouse) and a dove cote. Not a single detail or expense was spared.?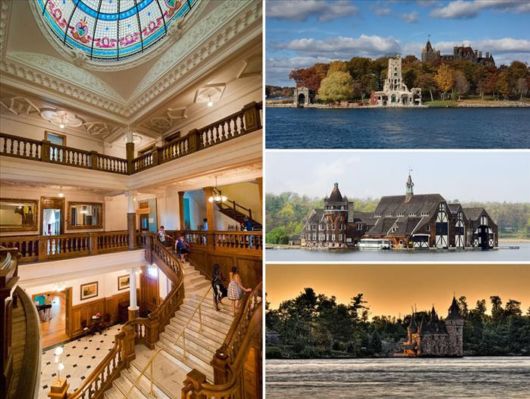 'Man plans and God laughs'.
Boldt Castle was planned to have eleven buildings, the most grand and luxurious castle in the Thousand Islands. But tragedy struck a year before it was completed, when Louise died. George, his heart broken, ordered the construction to stop, and never again returned to this island.
The castle and its buildings stood alone, abandoned, for 73 years, abused by weather and vandals. In 1977, the castle returned to real ownership when it was bought by the Thousand Islands Bridge Authority for staggering price of…. $1. Since then, loving hands have restored it.
On the left: The staircase. Upper right: Main gate and Alister tower.
Middle right: Yacht house. Bottom right: Sunset reflecting off the Boldt castle powerhouse.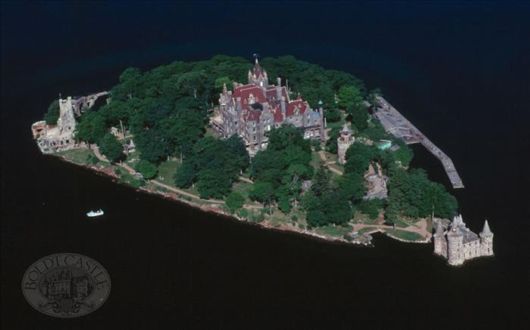 Boldt Castle is an amazing architectural achievement, and includes a yacht house, the Alster tower, the power house and legendary castle with 120 rooms. It has all you dream about in a romantic castle, and to this day lucky couples get married there.
2. Casa Loma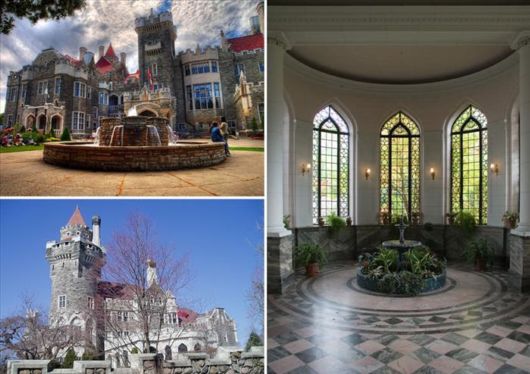 Casa Loma (Spanish for: "House on the hill") was built by Major-General Sir Henry Mill Pellatt who promised his wife Mary a 'sprawling castle'. The castle was built in 1911 and no expenses were spared by Sir Henry. It was considered very modern at the time and cost over $5 million to build and furnish. Just so you understand, that amount today would be the equal of $65 million.
Despite the expense and beauty of the castle, the couple lived in it for only 10 years, until they lost their fortune in the depression that following world war I. Sir Henry was forced to auction $1.5 million in art items and the furnishings for only $250,000.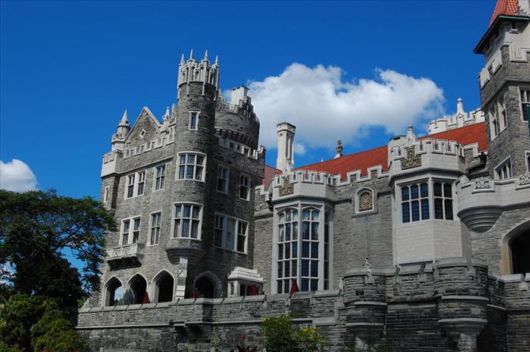 300 workers constructed this love castle, which boasts 98 rooms spread over 3 stories. It used to hold the title of largest private residence in Canada. Inside was ?an elevator, an oven large enough to cook an ox, two vertical passages for pipe organs, central vacuum, two secret passages in Sir Henry?s ground-floor office and three bowling alleys." Wow.
After the couple left the castle it became a hotel for a short while in the 1920s, then a night spot.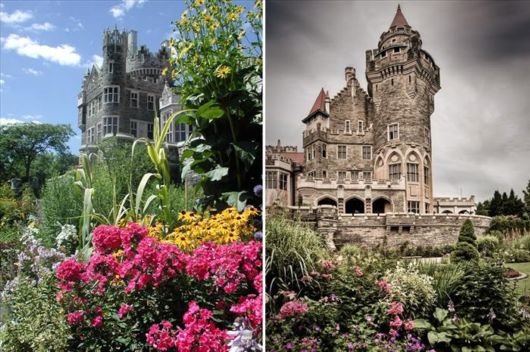 Today, Casa Loma is a museum and a popular landmark destination for tourists. The exterior of the castle has been through restoration, and the castle is surrounded by 5 acres of beautiful gardens.
3. The Taj Mahal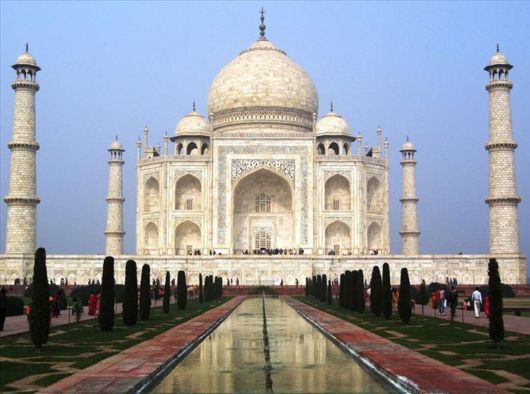 We all know the beautiful Taj Mahal in Agra Uttar Pradesh, India. While it was definitely built for love, it was the memory of love that it was really built for, as the 'favorite wife' of Emperor Shah Jahan, who had this mausoleum built in her honor.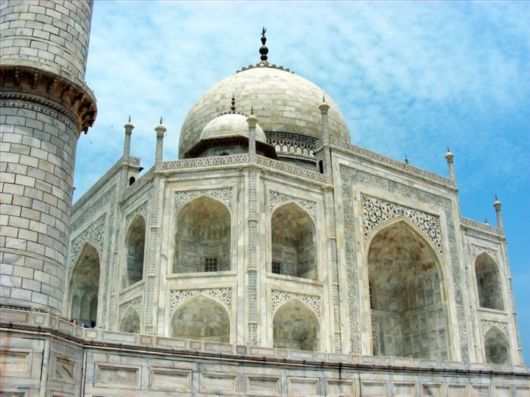 A side view of the Taj Mahal. The dome and 4 standing minarets were all built out of pure white marble. The emperor wanted this to be the most glorious monument ever built for a woman by a man. We can't really say he failed.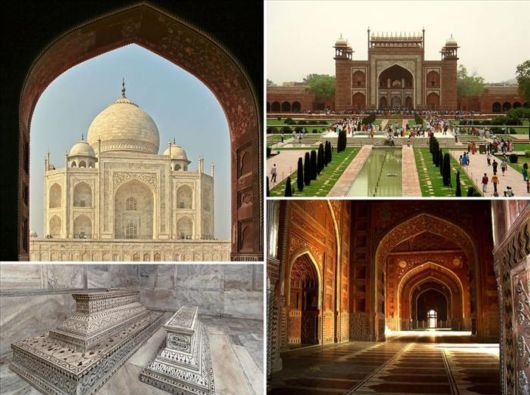 The inside of the Taj Mahal, as well as the outlying buildings, were mostly built out of red sandstone. In building it, the architects combined different architectural styles, including Indian, Persian and Islamic. But the heart of the 'castle' remains the tomb and the memory of lost true love.
4. Kellie's Castle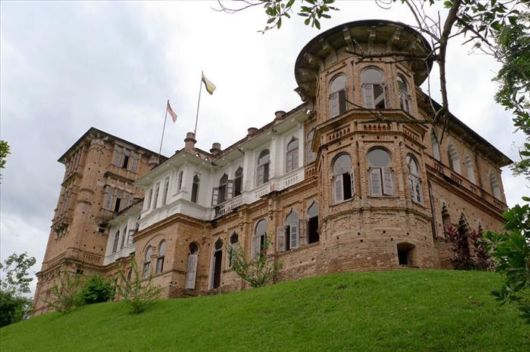 The oldest castle in Malaysia, Kellie's castle was built for the love Scottish planter William Kellie Smith held for his Scottish wife Agnes. In 1903, William brought Agnes to Malaysia and into the castle.
But Agnes was not happy there, for she missed her homeland terribly. In 1915, she gave birth to a baby boy, which is when Kellie made the mistake of expanding the castle, a move that turned a beautiful castle into a sad story.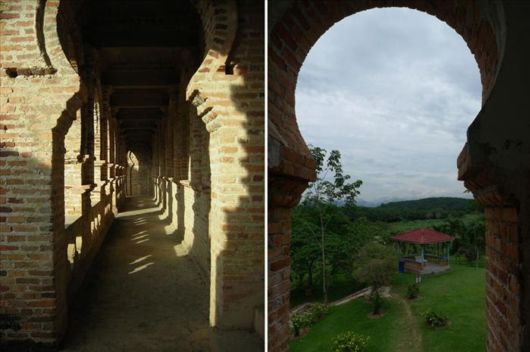 During this further construction and in celebration of his new son, William decided to combine 3 different architectural styles: Indian, Greco-Roman and Moorish. Almost immediately after construction on this huge venture began, the Spanish flu erupted in the area, killing the lion share of the 70 construction workers he hired, while scaring off many of the survivors. To please his Indian workers, William had a Hindu temple built near the castle, and so the workers were mollified and restarted construction.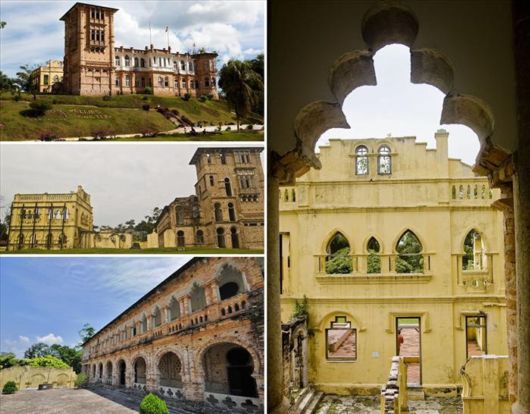 Although the construction continued, many of the workers spread stories about the castle being 'cursed' and 'haunted'. When William left for England to buy a crane for the castle tower, he caught pneumonia and died shortly after. Following his death, the workers fled the site and the building was left uncompleted. Many claim this spot is haunted and it attracts paranormal groups every year.
5. Thornewood Castle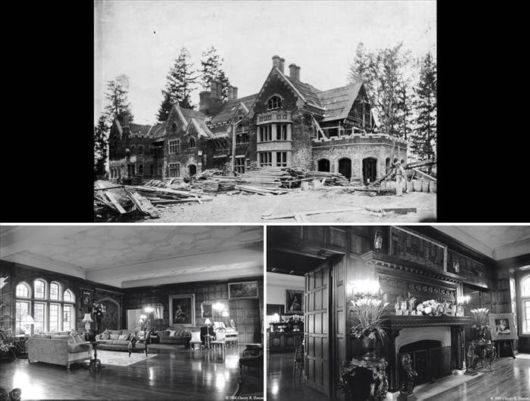 Thornewood Castle was indeed built for love. It resides in Tacoma, Washington. This castle was not built for a new bride or a dead one, but by Chester Thorne for his wife of 20 years.
For its beautiful interior, it has been used in the film 'Rose Red', based on a Stephen King story.
Top photo: Construction of 'rose red', 1910. Lower left: Interior living room.
Lower right: Interior fireplace in living room.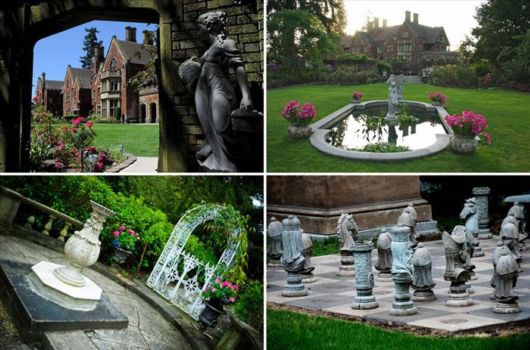 The gardens of Thornwood are stunning, and were originally built for Anna, the wife. She used to call the sunken English garden her "secret garden". This chess set remains from those days as a silent testament to the true love between this man and wife. This is one castle of love that did NOT suffer a tragic ending, for which we are grateful.
6. Taj Lake Palace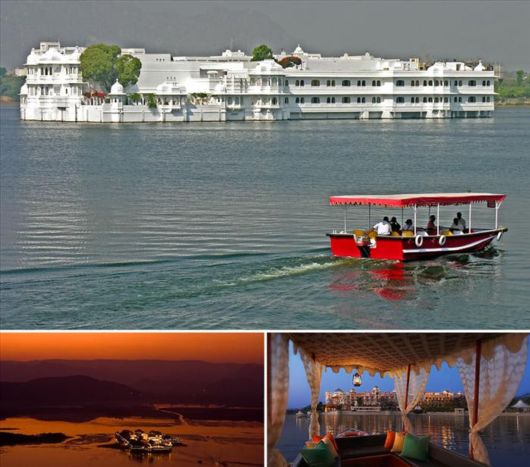 Some castles are built for romantic love, while others were built for a more… amorous type of love. Take for example the Taj Lake Palace in Udaipur. The construction of the palace began as a rebellious act by a stubborn prince.
According to the palace history, it had "Glowing moonlight. Gentle lakeside breezes. A whole entourage of courtesans. What young prince could resist? Certainly not Maharana Jagat Singh II. Legend has it that the young prince indulged in moonlight picnics with the ladies of the Zenana on the lake island palace of Jag Mandir. A pleasurable pastime â?? until his father found out. With that option closed to him, there was only one solution. He built his own pleasure palace on a different island in Lake Pichola."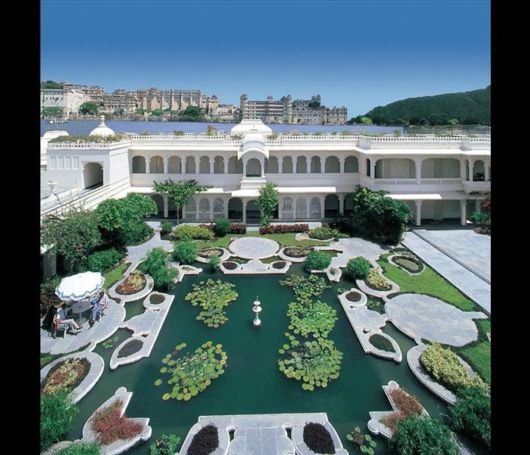 The Lily Pond from an exterior view point of the Taj Lake Palace. Construction began in 1743 and finished in 1746. So this amazing lover's nest was indeed built for love, but some would just call it passion instead. Today it is one of the most romantic hotels in the world.
7. Torrechiara Castle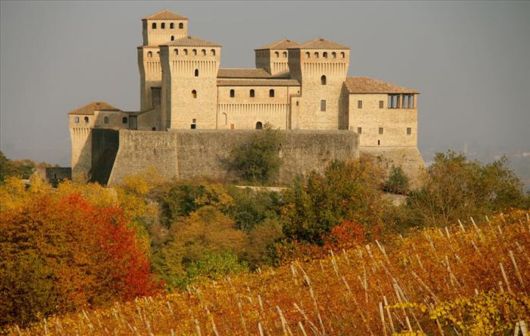 This huge solid stone castle was built in Northern Italy, 1448 to 1460. It was built by a count, Pier Maria II Rossi, who built it out of love for Bianca Pellegrini. It was called Torrechiara. In 1985, scenes from the movie Ladyhawk were filmed there.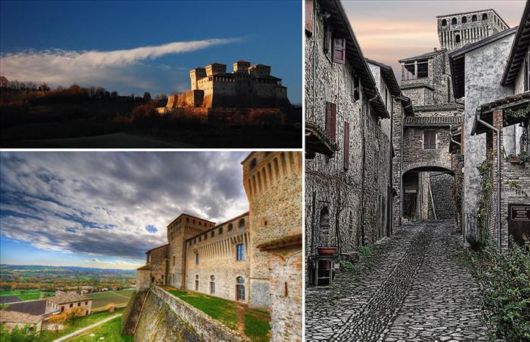 Out of the four towers of the castle, one is called the 'Lily Tower' (Torre Del Giglio) and bears the coat of arms of the count's lover Bianca. This was an amazing love nest, and is famous for its 'Golden Chamber', a known erotic chamber in Italy, decorated with paintings of women looking for their lover, entwined hearts marked with the lovers' initials and joined by a ribbon on which is written 'Nunc Et Semper', or in English – Now and forever.
This castle also had no tragic ending, we're happy to report!
8. Layton Castle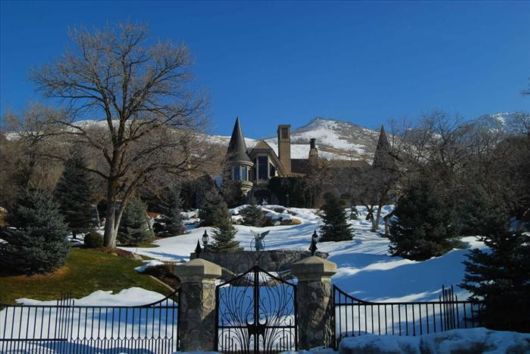 Layton Castle in Utah was built for SPURNED love instead of romantic love. The story goes that :"A man and his wife lived somewhere else before the castle was built, but the wife "e was always being told by her mother that her husband would never amount to anything and that she should leave him and marry someone richer. After a time she did just that and her new husband never amounted to much."
She moved to Utah and built herself a lovely home. But soon after she was remarried, the first, spurned husband came into a great deal of wealth and became very successful. Out of pure spite, he built this castle up on the East…almost in her backyard! This way, he could look out and see all the houses on the way to the Great Salt Lake, including hers.
Every time she stood at the kitchen window, she saw her ex-husband's beautiful castle.
Maybe the moral is that Sometimes you should give a person a second chance.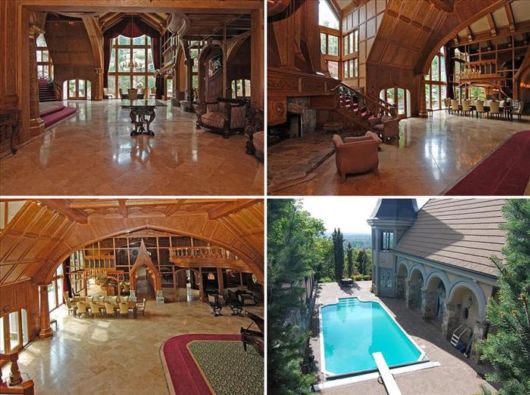 But there is also a love story behind this castle built for spurned love. Gary Willey was a man who one day met a beautiful dark haired lady named Lynda Roundy, and it was 'life at first sight'. The couple met, courted and traveled the globe, falling more and more in love. Filled with soft feelings, Gary vowed he would build her the most amazing home, including pools, tennis courts and a stable.
However, soon after construction began, Lynda lost her life to cancer. Despite this, the castle was completed and Gary dedicated the home to his love. In this sad alternative story, Layton Castle was built for love rather than spite.
9. Craigdarroch Castle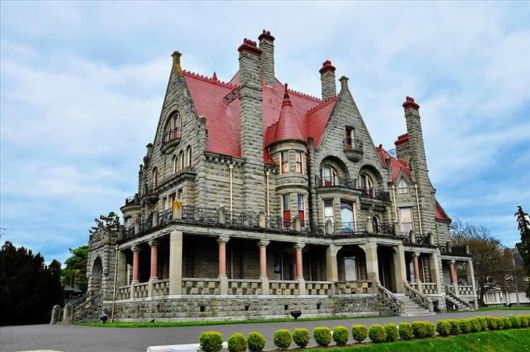 Craigdarroch Castle was built in Victoria, British Columbia, Canada. It was built by Scottish immigrant Robert Dunsmuir, who promised to build a new home for his wife Joan. He hired to architects to build it in 1887. Four months into the project, one of them died but the other carried on and finished building the castle. Robert himself died, unfortunately, in 1889, one year before the massive home was actually completed. The interior woodwork of the castle alone filled 5 railway cars from Chicago.
The original grounds of the castle encompassed 28 acres. It takes 87 steps to reach the tower on the top level, but once you?ve reached it, the view is impressive: Victoria Harbor to the west, the Strait of Juan de Fuca to the south, the Olympic Mountains and the San Juan Islands to the east, as well as the city of Victoria itself. The castle is over 20,000 square feet, spread throughout 39 rooms on 4½ floors. It has 17 fireplaces.
The exterior is constructed of marble, granite, sandstone, terra cotta, and Vermont slate in the Romanesque/Chateauesque style. It is now a historical museum that attracted 150,000 yearly visitors, and has seen its share of Hollywood fame, supplying a set for movies such as Little Women (1994), Spooky House (2000) and Cats & Dogs (2001).
10. Leeds Castle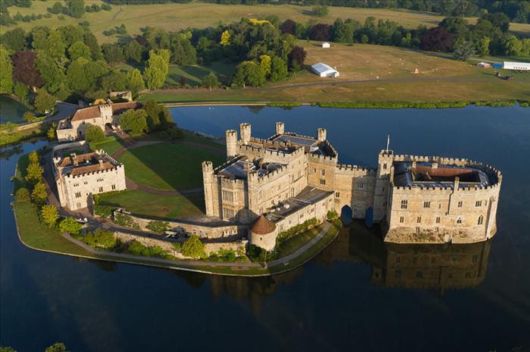 And of course, there is the famous Leeds Castle, built near Kent, England. According to 'InfoBritain': ?Leeds Castle was originally a Norman fortification,? but the castle has a ?stronger association with love than war. One of the most romantic kings in history, Richard II, gave Leeds Castle as a gift to his adored wife Anne of Bohemia. Richard was a sensitive man, who aspired to peace in a warlike age. To escape constant power struggles waged by aggressive nobles, he would spend fleeting dreamy hours at Leeds Castle with Anne."
The chronicler Jean Froissart describes how he presented a richly illustrated book to Richard at Leeds Castle in 1395. The king, Froissart wrote, was delighted when told that the book was ?about love.? A first edition of Froissart?s Chronicles remains at the castle. It is heartening that a building originally created for war should have slowly turned into a extravagant gift for the ladies.?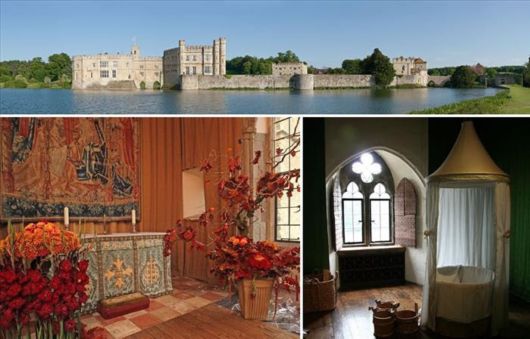 Leeds is a feminine castle, after Anne of Bohemia, it was owned by Queen Eleanor, Isabella of France (Kind Edward II's wife) and Margaret of France (King Edward III's wife). Years later, kind Henry V gave the castle as a gift to his wife Catherine de Valois.
The chapel shot on the left was built by King Edward I for the purpose of a daily Mass to be sung for his beloved wife Eleanor who died in 1290. Edward was a ruthless king, but he clearly loved Eleanor. It is fitting that evidence of this affection should be linked with Leeds Castle.