There are a wide range of local furniture markets in India. So many, that they delight buyers with quirky vintage furnishing options as well as relieve the monetary stress of designing a new home. Whether you have a budget that?s down-to-earth or a stringent passion for classic collections, the country has a whole list of furniture shops to meet your need, right on the streets. From Victorian lampshades & Portuguese paintings to sleek western sofas, you are going to be spoilt for choice. Hold on to that wallet, you!
1. Banjara Market, Gurgaon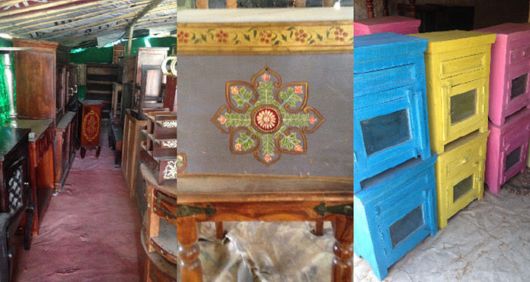 Named after the hippies or ?banjaras? who live here, this market in Gurgaon is a furniture shopper?s delight! The banjaras, who live here, have a give-and-take system of used and restored furniture. They have everything from bars, dining tables and cabinets to rocking chairs, wooden frames and even beds! The furniture here reminds you of something you'd find at Fab India or Homecentre, but you'd find it for half the price! Their clientele is spread across the city, and everyone, from diplomats, businessmen and housewives to expats, comes here looking for a bargain and a lucky find.
But don't be intimidated by the ridiculously high prices the banjaras quote. Because it's very easy to bring down a high figure, and sometimes, you don't even have to pay cash! Just an exchange of some clothes, furniture or small home décor items could also do.
Where: The road that connects Golf Course Road to the Ardee City road, in Sector 56.
How to reach: Drive to this place by car or get off at Huda city center & take an auto for about 2 km.
Tip: Park at a distance and walk to the shops; the more expensive looking your car, the higher the price quoted.
2. Chor Bazaar, Mumbai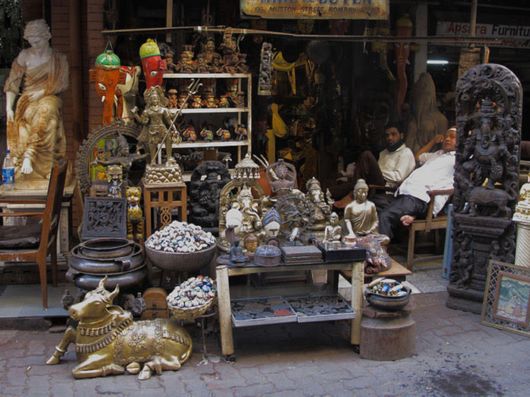 It is believed that if you lose something in Mumbai, you can buy it back from Chor bazaar. An eye for detail and intricacy will get you through the narrow by-lanes of the infamous Chor Bazaar. Every determined shopper enters this flea market armed with advanced haggling skills.
The market is located in the south of Mumbai, and is also called the Bhendi Bazaar. In fact, it is one of the largest flea markets in the country. If you can effortlessly filter fakes from originals, Chor Bazaar is the Mecca for all types of furniture and home decor that doesn?t make you feel penniless.
With a historical presence spanning over 150 years, you can find all types of articles here ? Bollywood posters, antiques, hardware, silver coins, engines, jewelry, clothes, vintage items, bronze items and the list goes on.
Where: Mutton Street, Near Bhendi Bazaar, Mohammad Ali Road, Mumbai
How to get there: Get down at C.S.T station and take a cab to Bhendi Bazaar
Tip: Visit early morning to score better deals. Also, it is closed on Fridays.
3. Oshiwara Street Market, Mumbai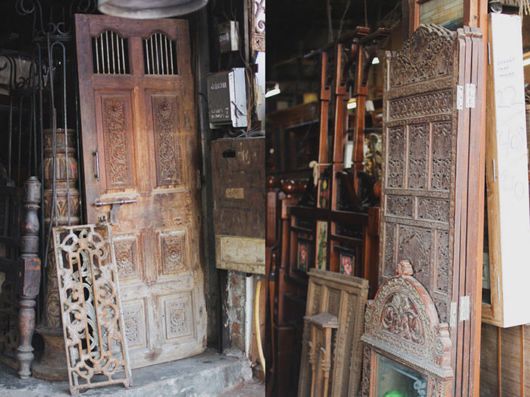 The half-a-century old Oshiwara furniture market is the best place to buy authentic wooden furniture. Each piece comes with an interesting story behind it. In fact, this is where ancient wooden furniture from old houses all over the country make their way.
Here you will find beautiful antiques, Raja Ravi Varma oleographs, chipped but dainty old china sets, painted chests and ottomans, all stacked high and low along the sidewalks.
The market is famed for both originals and replicas of furniture pieces that once graced the grand palaces of Kathiawar, Gwalior, and Bhopal.
You?ll spot a Jaipuri wardrobe right next to a European style painting, standing proudly beside a Mughlai lamp stand. The furniture that you will find is around 40-50 years old and if you get lucky, you could pick up some beautiful pieces at reasonable prices. The prices can range anywhere from Rs 5000/- for an old full-size cupboard to Rs 15000/- depending on the condition of the item.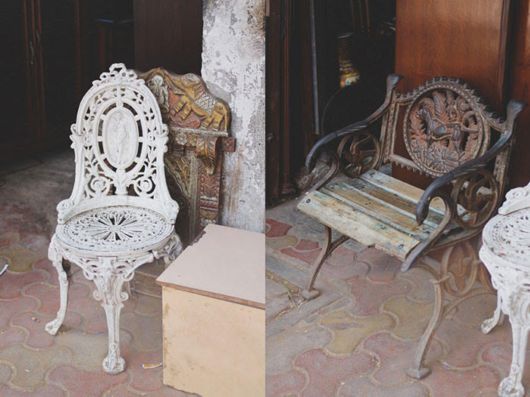 At times, a damaged piece could be patched up with a piece of plywood here and there; in this case you could get it even cheaper. You need to examine each piece carefully to ensure that you get a good bargain. The shop-keepers vouch that all the furniture is pure wood and will not get spoiled for years to come, so much so that they keep it all in the open even during the infamous Mumbai monsoons!
Where: Ramjanak Singh Compound, Oshiwara Bridge,S.V Road,Jogeshwari (W)
How to get there: Get down at Jogeshwari West station and ask anyone for the old furniture market
Tip: Point out glaring wear and tear to score a discount

4. Chincholi Bunder Link Road, Mumbai

There is a stretch of about 2 km between Malad and Andheri Linking road that is lined up with shops starting from Goregaon west till Oshiwara. These small shops offer great deals and house almost all varieties of furniture at affordable prices,
There are shops with intricate woodwork, cane furniture, contemporary furnishings like modular kitchens, chandeliers, statues and artifacts, upholstery, decorative items, and even made-to-order furniture. An added advantage is that they?ll deliver the furniture to your house (for an extra charge, of course). A few shops are closed on Wednesdays and most on Thursdays so do check.
Shopkeepers have expertise in ready-made as well as custom-made furniture which they deliver in about a fortnight. Bargaining is slightly difficult here, but not impossible and the rates are way lower than branded showrooms.
Where: Bangur Nagar, Goregaon, This stretch starts from Hypercity Mall going towards Oshiwara.
How to reach: Get down at Malad west Station & take an auto to Inorbit Mall, or take a bus to Bangur Nagar.
5. Jew Town, Cochin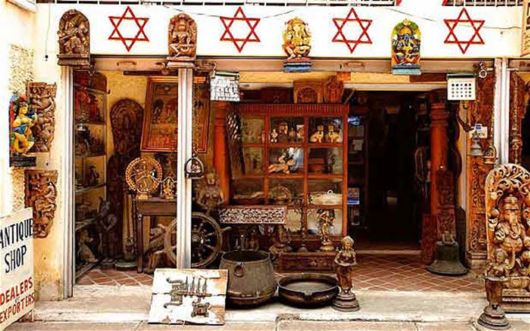 Indulge in some old-fashioned love to give your house a classic British era feel. In the Portuguese-style houses in Cochin?s Jew Town, find bronze vessels, hand-carved wooden coffee tables, wooden boxes from China, glass paintings and a host of other trinkets.
A number of vendors here specialise in antiques from the British era, with many of the glass and porcelain goods being sold from the homes of British India?s nobility.
Famous for its unique products, this market offers a huge variety of antique home décor items ? all sold by last surviving Jewish families. Jew Town still retains some of the old world charm and one may still find Jewish names on top of some of the buildings. It is also a cool place to hang out with a number of cafes and snack outlets adding to the place?s charm.
Where: The market is actually a narrow stretch, located between the Mattancherry Palace and the Jewish Synagogue.
How to reach: It is about 10 km from Ernakulam railway station.

6. Ravivari Bazaar, Ahmedabad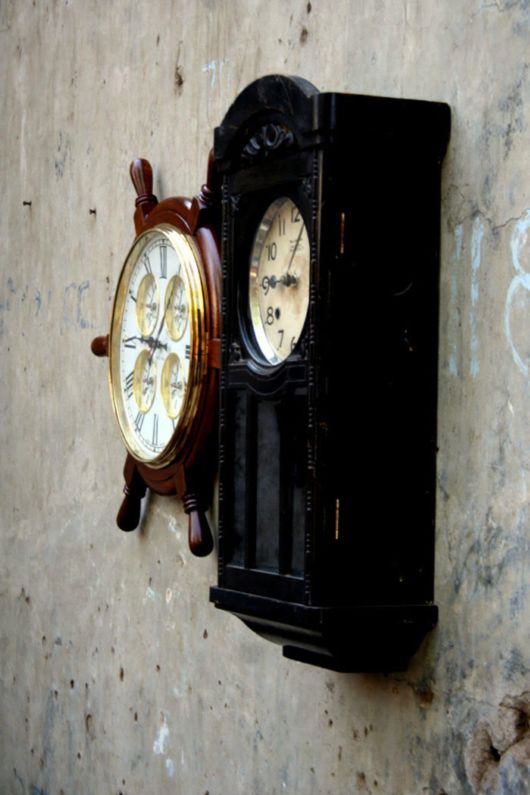 On the banks of the Sabarmati, you can hear vendors and customers bargaining all day long every Sunday. Almost 600 years old, Ravivari is known for a shopping experience at throwaway prices.
Also known as the Gujari Bazaar, they say you can buy anything from a needle to an age-old antique furniture piece here. One can find a bit of every household requirement here, from grandfather clocks to frames and coffee tables. Now, with parking facilities in place, shopping is so much easier.
Where: The market is located on the eastern banks of the river, near Ellis Bridge.
How to get there: It can be accessed by private vehicles using access streets leading from Ellis Bridge and Sardar Bridge.
Tip: Do not forget to bargain!

Open all day, only on Sundays.

7. Bajirao Road, Pune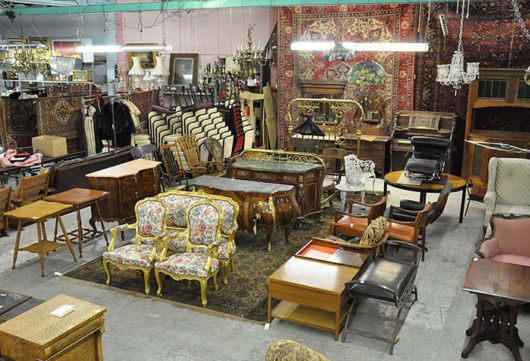 If your home is in need of a wardrobe or storage cabinet a bed or a dining table, Bajirao is your answer! With a wide variety and half the price as compared to brands, Bajirao Road is every Pune furniture shopper?s delight!
For those who like to design their own, they also have custom made furniture.
Where: Spanning across Puram Chowk and ending at Shaniwarwada Palace.
How to get there: You can reach Bajirao road or Puram Chowk by cab or private vehicle.
8. Turbhe Market, Navi Mumbai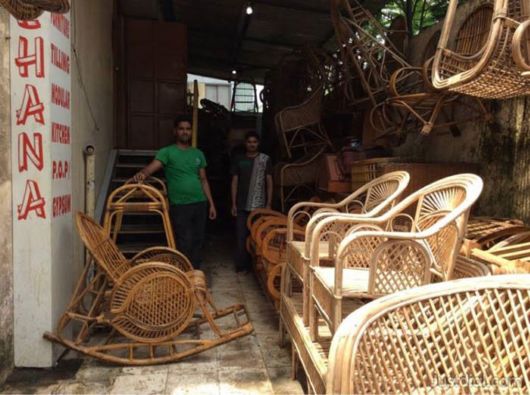 If you have just bought a new house and are looking to furnish it ? Turbhe Market is your one-stop shop. You can find everything from plywood, marble, painting materials, wallpapers, tiles, hardware, kitchen appliances, storage units and wardrobes here! The best part? All this, at wholesale prices. Most retailers in Mumbai source their products from the Turbhe Market. So much so that even furniture giant IKEA is going to set up its first store in Mumbai at Turbhe!
A shopper?s destination for quality home décor, hardware and kitchen appliances, tiles and painting materials for houses are also found here at a wholesale rate.
Where: Near Turbhe Railway station
How to get here: Catch a harbor line train from Thane for Turbhe or go there by cab from Thane or Vashi
9. Kirti Nagar Market, Delhi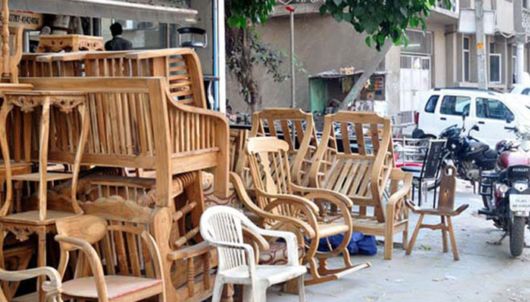 Asia?s largest furniture market, it houses over 500 furniture wholesalers and retailers, interior design boutiques, kitchen and bathroom brands, and traditional furniture makers within its fold. There?s nothing you cannot buy, or better still, have them copy, to suit your budget. Offices, restaurants, commercial spaces, houses, bedrooms, kitchens ? whatever the area, they have the furniture!
If you cannot find what you are looking for, furniture and home décor-wise in Kirti Nagar, then most likely it doesn?t exist! You can buy everything from sofa sets, dining tables, modular kitchens, cabinets, wardrobes, beds and couches, interior decorations and designer fittings to office furniture. Any design concept you may have finds a tangible shape in this Mecca of a market.
Where: In a part of Punjabi Bagh

How to reach: Get down at Kirti Nagar Metro station.

Tip: The market remains closed on Mondays.

10. Amar Colony, Delhi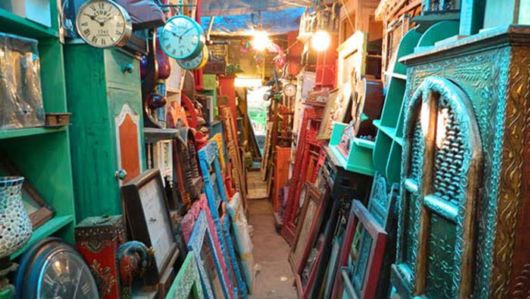 Amar Colony is famous for its eclectic furniture items and stocks an amazing variety at affordable prices. You can also ask the sellers to replicate furniture pieces on request. There are also varied antique furniture shops found here where you would surely be able to take home some prized possessions.
A market run by Sardarjis who live in nearby Lajpat Nagar IV, you'll also get a class on the differences between teak and sheesham.
You can find some amazing furniture pieces here, along with some perfectly usable second-hand items that people have thrown away. The shops here are spread over one particular street, interspersed between basements and the roadside. The good people here can also assist with a quick paint job or a fix-me-up.
Where: A suburb of Lajpat Nagar

How to get here: Get down at nearest metro station ? Moolchand.

11. Kitch Mandi, Bangalore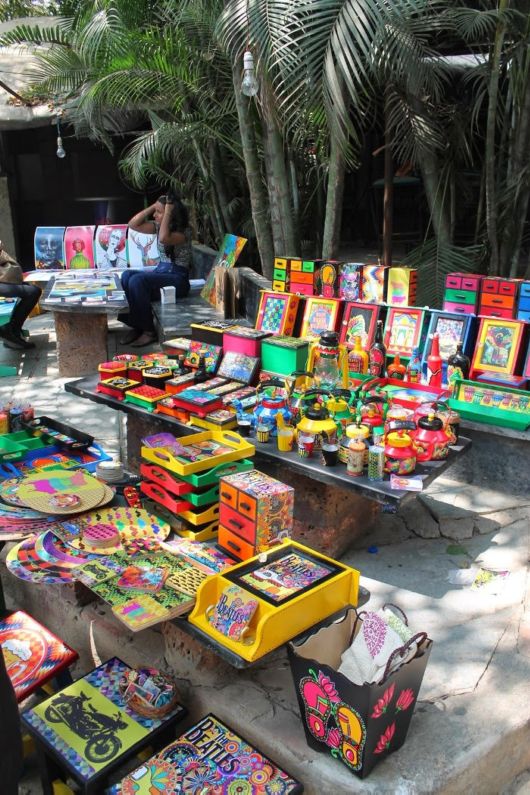 Kitsch Mandi is an art and design bazaar promoting new and upcoming designers in all creative fields. It is Bangalore's most vibrant home decor flea market. Bangaloreans are known for being the easy going people that they are. They can work, party and relax all in the same week, and this ease reflects in their lifestyle and their flea markets as well. This market is known for promoting the works of new and up-coming artisans, musicians and entrepreneurs. Sometimes you also get slightly damaged products from brands like Chumbak at half prices in special exhibitions held here. You?ll find an eclectic collection of home décor and furniture workshops, so the next time you get bored of the Commercial Street shopping sprees, you know where to head!
Where: Ramanna Maharishi palace grounds
Tip : You check out their Facebook page for all the details.