Our life is full of contradiction – sometimes vast areas remain virtually untapped human. This is what happened with a small island called Migingo, which is situated in African Lake Victoria, the size of island is 2,000-square-meter or 0.49-acre. The Lake Victoria, one of the world?s biggest bodies of fresh water, which 30 million impoverished Africans depend on for their survival, may be running out of these fish. According to a recent study, Nile perch stocks are down by nearly 70 percent, threatening a crucial industry worth hundreds of millions of dollars. Migingo island area can only be compared with the size of a regular football field, but the population of this island is only 300. Active development of these places started relatively recently – even before 1991, there were only rocky shores, greenly and reptiles zone. But in the adjacent waters vodilsya is very valuable fish species and large quantities of Nile Perch.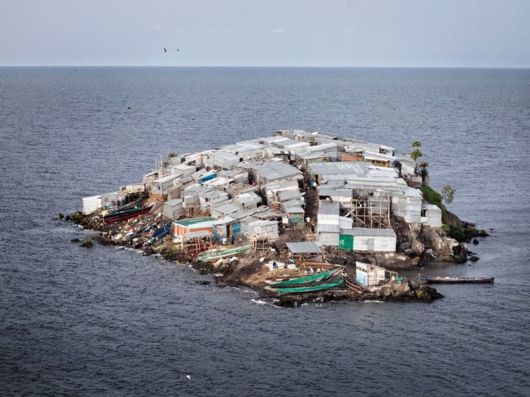 The story of this island is quite interesting, In 2008-09 this island was claimed by Uganda and Kenya, But territorial ownership of the island has been consistently shown on map and language of official as Kenya. The Ugandan protests revolve around the lucrative fishing rights, mostly for valuable Nile perch, and Ugandan waters come within about 510 metres or 1,670 ft of the island. In July 2009 the Ugandan government shifted its official position, stating that while Migingo Island was Kenyan, much of the waters near it were Ugandan, but continued to point out that Kenyan fisherman were illegally fishing in Ugandan waters which lie about 500 meters to the west of Migingo, the Ugandan flag was lowered, Uganda withdrew its military troops, and agreed that all its police officers would leave the island.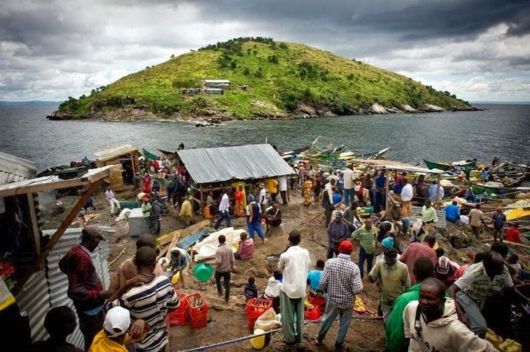 Today almost all the inhabitants of the island are somehow related to fishing – every day from coast to cast off more than a hundred boats with gear, and local bazaars conducted a brisk trade in freshly caught fish. Cash momentum on this small piece of land is just crazy and make millions of dollars, because perch are exported to the mainland and from there exported to EU countries. Despite the huge earnings by African standards – about three hundred dollars a day – the locals live in appalling conditions. Their shacks are built of metal sheets and wood, and life leaves much to be desired. But on Migingo has several bars, a pharmacy and even a beauty salon!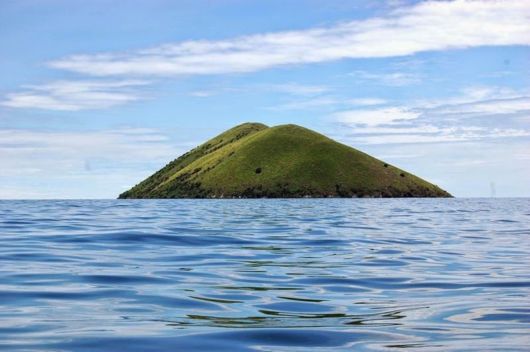 The much larger Usingo Island is 200 metres or 660 ft to the east of the small white rectangle that is Migingo, and Pyramid Island, the largest of the three, is 2 kilometres or 1.2 mi due south of Migingo and 11 kilometres or 6.8 mi north of the Tanzanian border in Lake Victoria. On detailed maps, all three islands have been shown on the Kenyan side since the 1920s, when the Kenya Colony and Protectorate Order in Council, 1926 awarded all three islands to Kenya. Today, it is still just a hazy bump on the horizon when seen from shore, though more than 300 people live there, mostly Kenyan fishermen. Migingo may be smaller than a football field but it boasts half a dozen bars, discos and brothels.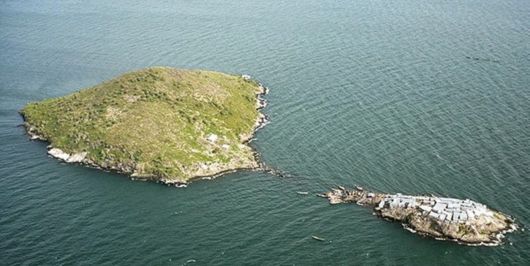 Migingo Island (R) on Lake Victoria that Uganda and Kenya claim ownership.
Two Kenyan fishermen, Dalmas Tembo and George Kibebe, claim to have been the first inhabitants on the island. When they settled there in 1991, it was covered with weeds and infested with birds and snakes. Joseph Nsubuga, a Ugandan fisherman, says he settled on Migingo in 2004, when all he found on the island was an abandoned house. Subsequently, other fishermen ? from Kenya, Uganda and Tanzania ? came to the island because of its proximity to fishing grounds rich with Nile perch. An unusual claim in 2009 by some Kenyan fishermen was that since none of the Nile perch breed in Uganda (the nearest Ugandan land and nearest Ugandan freshwater is 85 kilometres or 53 mile away), then the fish somehow "belonged to Kenyans".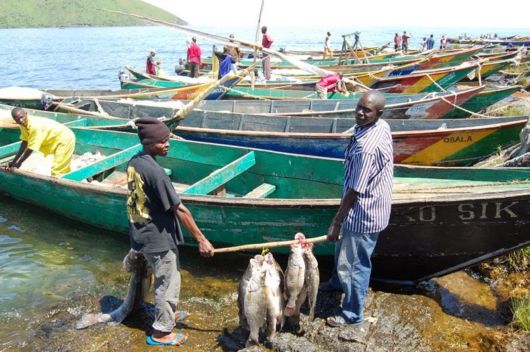 Local fishermen at the migingo island displaying their catch.