Locks of love are the padlocks fixed by loving couples, on to a fence or a pole or metallic chain/string alongside some wall etc at a public place, to symbolize their eternal love. A couple would hang a padlock after inscribing their name or initials on it and throw the key away so that their love is locked forever. Some couple use two inter-twined locks, each lock bearing their name/initials. Besides lovers, often family members and close friends also put such locks at these places, to lock their relationship forever.
The tradition probably originated from China where the love locks can be seen at several locations alongside the Great Wall of China and also in many temples and on the steps/paths leading to sacred peaks.
The tradition has spread around the World and is now quite prevalent in South Korea, Japan, Guam, Italy, Hungary, Latvia, Russia, USA etc.
Juyongguan, Sanbu and Badaling sections of the Great Wall, being close to Beijing, are the most popular sections of the Great Wall and thousands of locks of various sizes, attached to the rows and rows of steel chains along the wall, can be seen at these places.
The watch towers at these places are occasionally used as a venue for weddings. Loving couples announce their love for each other as they hang their lock, and then they throw away the key, in the hopes that their love will last for as long as the Great Wall stands.
I have tried to locate and placemark as many places as I could find on the World Wide Web. I am sure the romantic readers will now try to find more such places.
Here are some photographs taken at these locations;
Great Wall, Juyongguan, China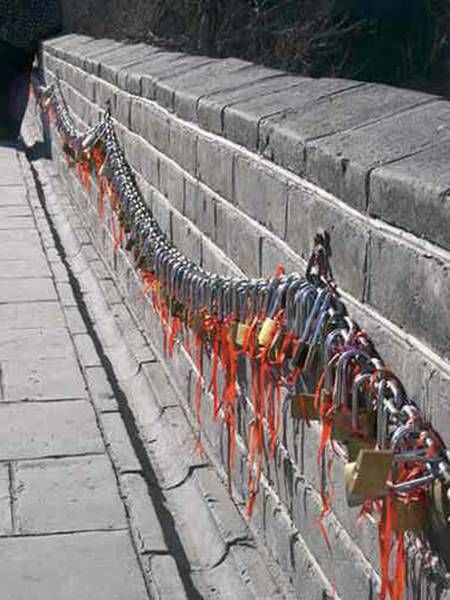 Great Wall, Sanbu, China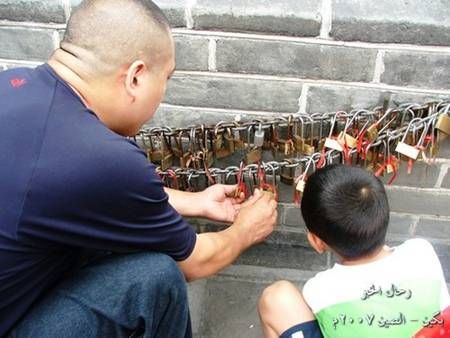 It may be worth noting that often family members and close friends, not necessarily lovers, also put such locks at these places, to lock their relationship forever.
Great Wall, Badaling, China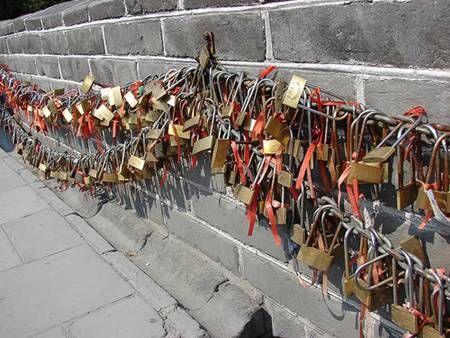 President Richard Nixon during his historic journey to China visited this portion of the wall alongwith his wife, on February 24, 1972.
Mt. Hua, Huashan, China
It is one of the, Five Sacred Mountains of Taoism. The mountain is famous for steep peaks which are very difficult to climb.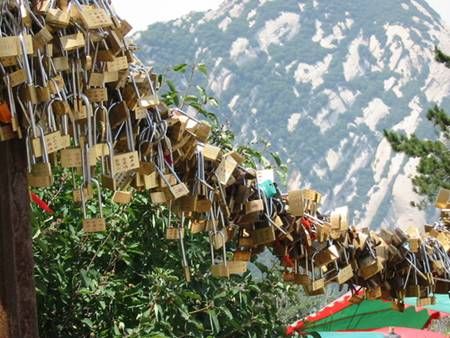 Puning Temple, (commonly called the Big Buddha Temple) Chengde, China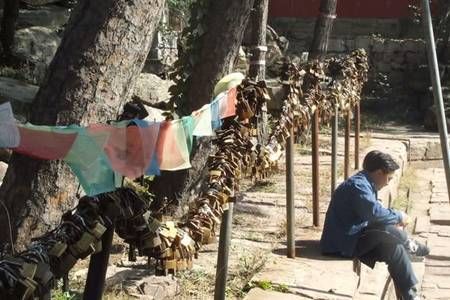 Mt. Putuo, Putuoshan Island, China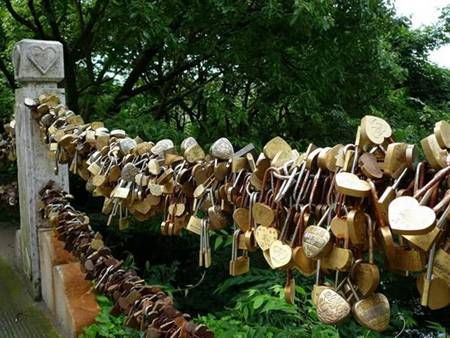 Mt. Tai, Taishan, China
The route to the peak of Taishan (Mt. Tai) has many temples. These temples and the railings along the route are the favourite spots for the loving couples to lock their lock of love.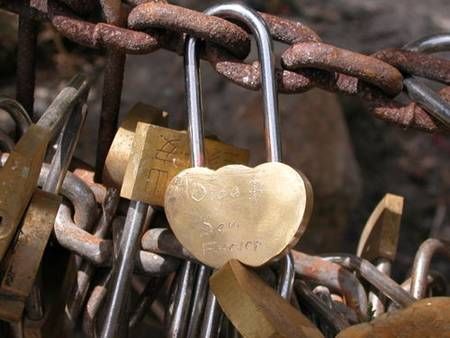 This image of lovelocks was taken on way to the peak of Taishan (Mt. Tai)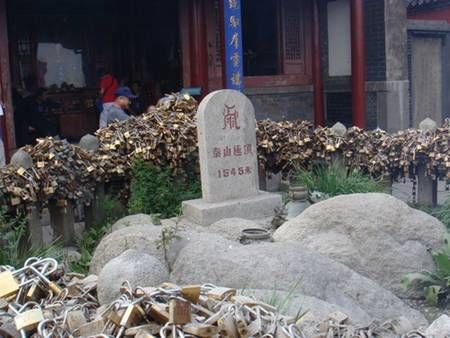 This image was taken near the famous Confucius Temple located on a peak of Mt. Tai
Wulingyuan Scenic Area, Zhangjiajie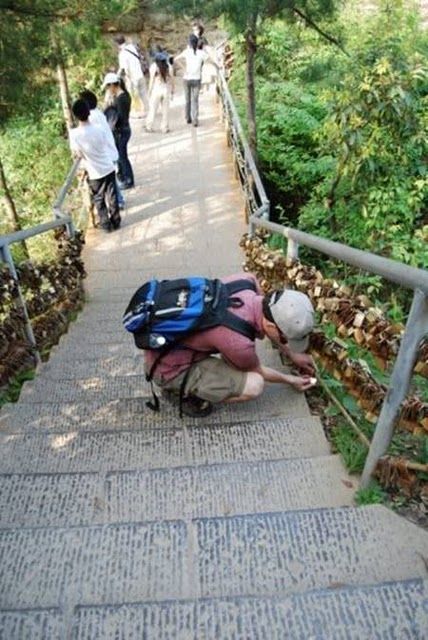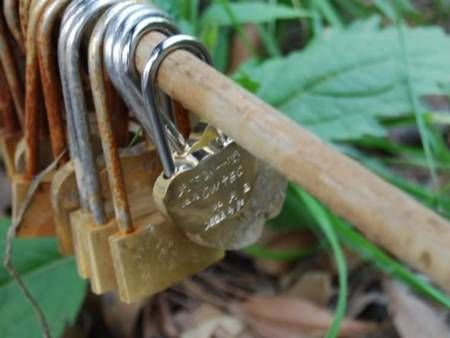 The path is leading to, reportedly the highest natural bridge in the world, often called heaven's gate.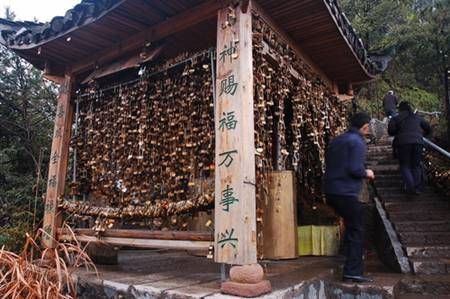 This one was taken at a nearby area.
Keila-Joa, Estonia
On the railings of a pedestrian bridge near the waterfall.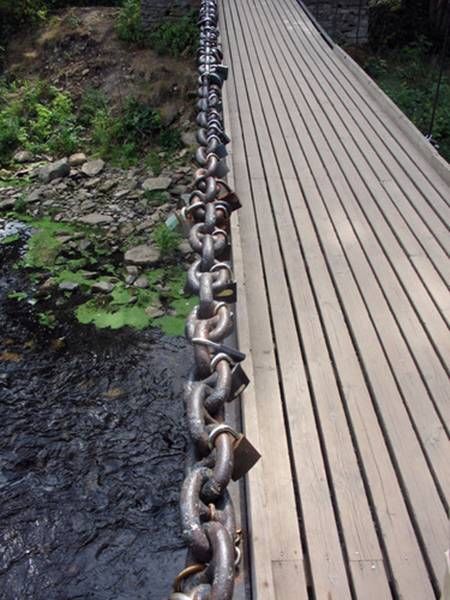 Two Lovers' Point, (Puntan dos Amantes) Tumon Bay, Guam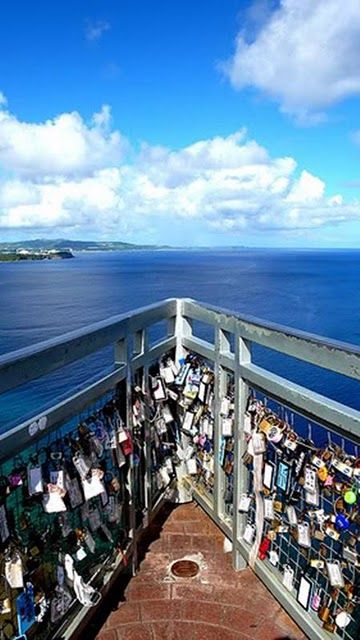 Szinva Terrace, Miskolc, Hungary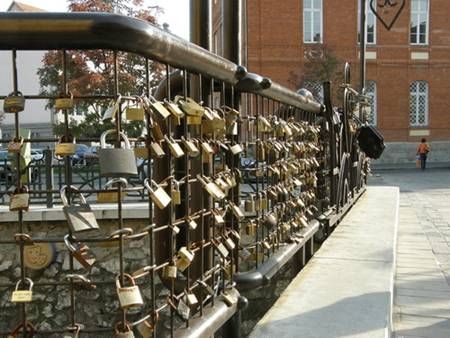 Pics, Hungary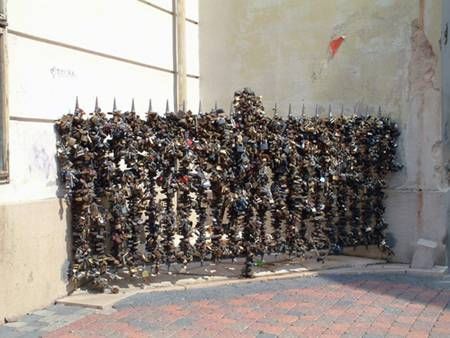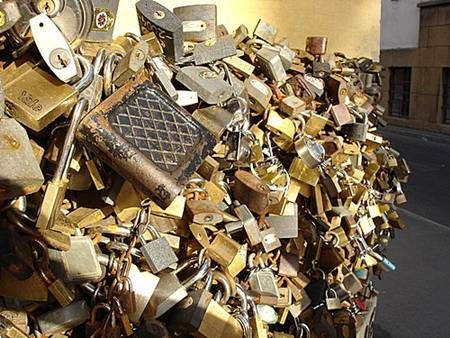 Tata, Hungary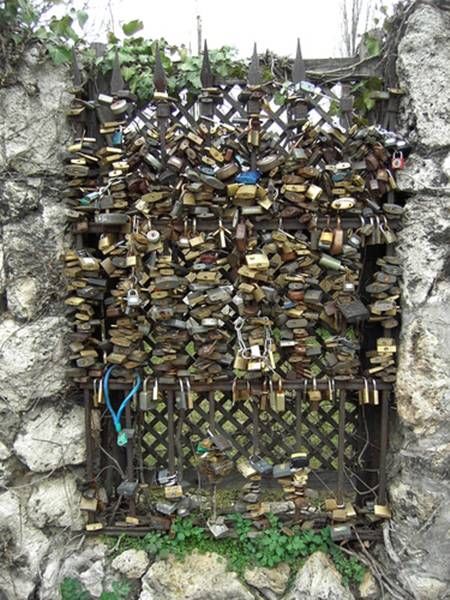 Bruneck (Brunico), Italy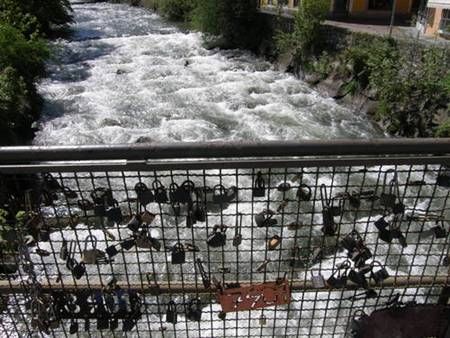 Ponto Vecchio, Florence, Italy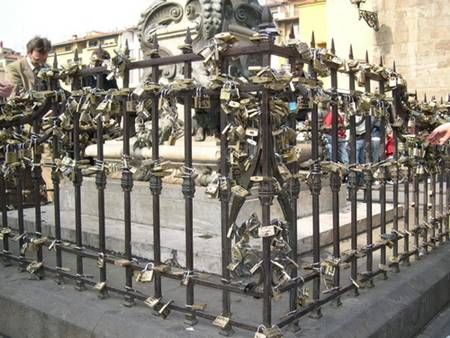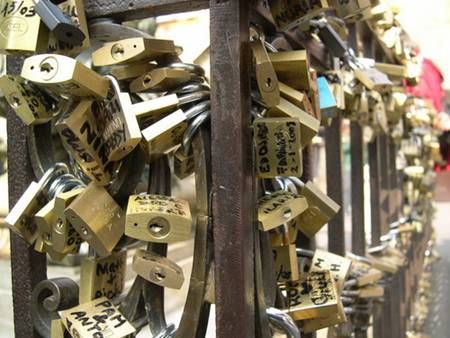 Ponte Aragonese, Ischia, Italy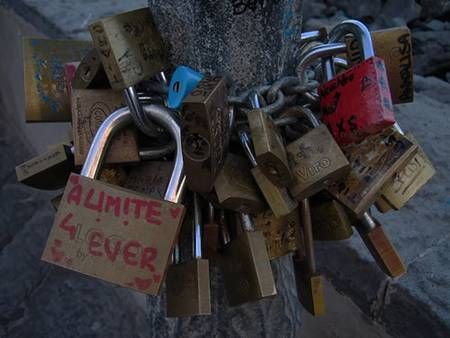 Parco Sempione, Milan, Italy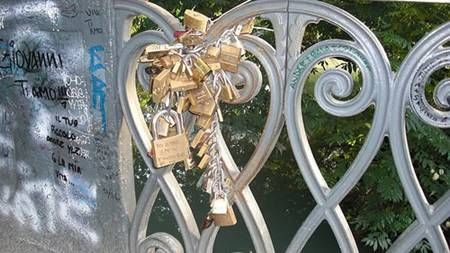 Napoli (Naples), Italy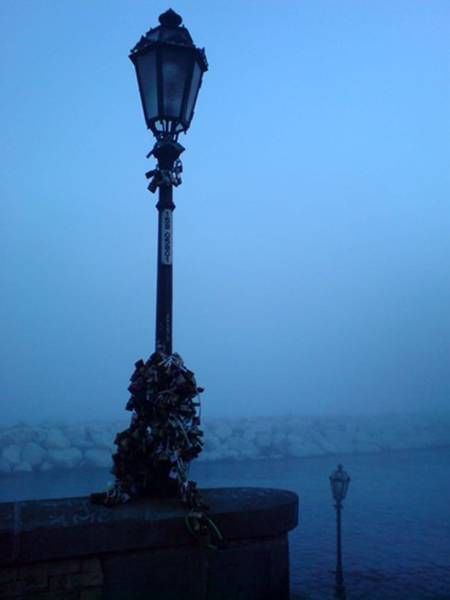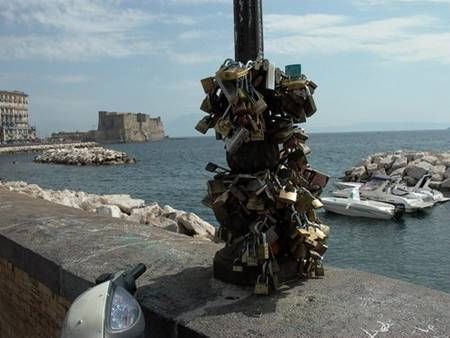 Via dell'amore, Riomaggiore, Italy
Ponte Milvio, Rome, Italy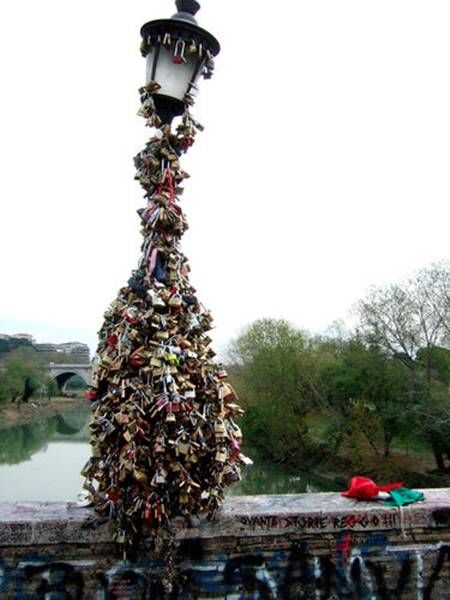 The condition of the pole due to overload can be clearly seen in this photo.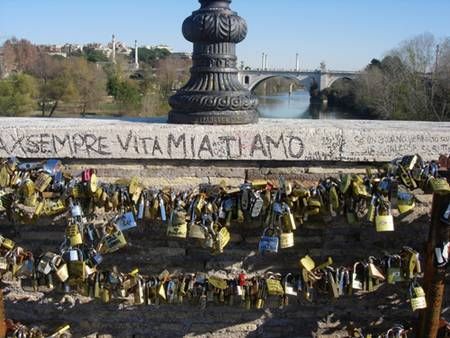 The photo shows the present arrangement, where in locks are put on a chain and not on the lighting pole.
Siracusa-Ortigia Bridge, Sicily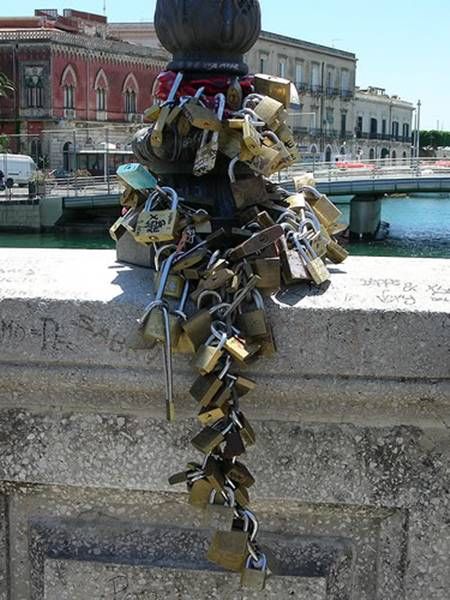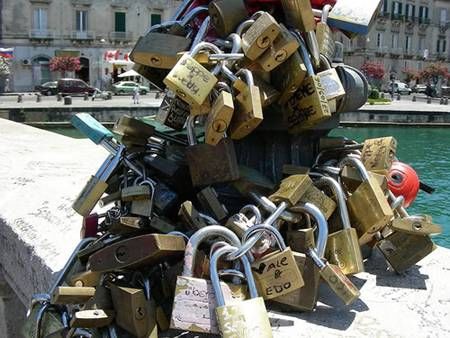 Riga Park, Riga, Latvia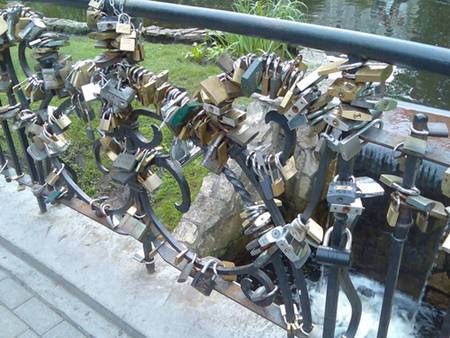 Luzhkov bridge, Moscow, Russia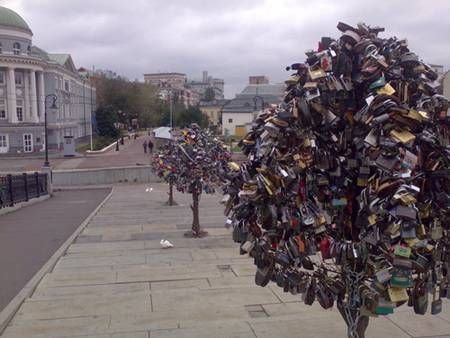 N Seoul Tower, Seoul, S Korea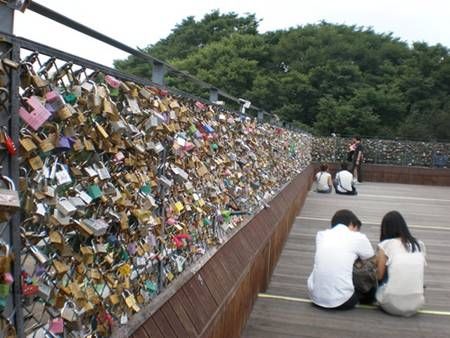 The lovelocks have almost blocked view beneath.
Lovelock, Nevada, USA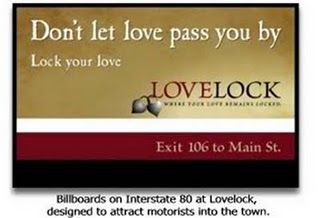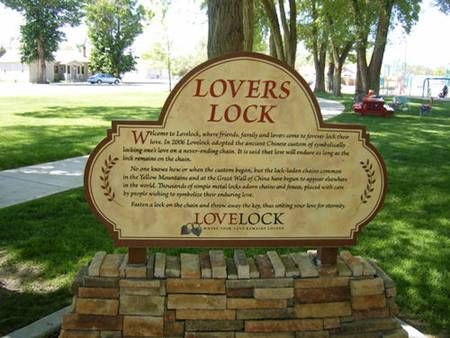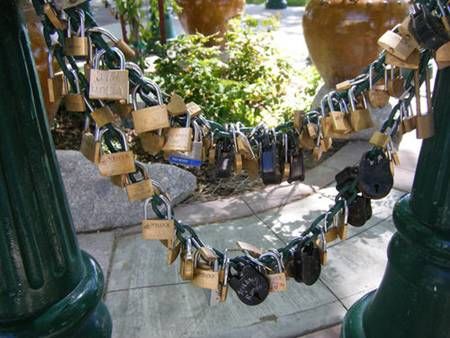 If there is any mistake, I apologies in advance. Please let me through this forum or by e-mail the correct name so that I can rectify the mistake. This Post