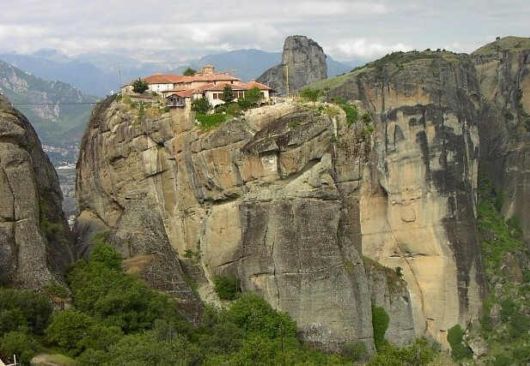 The word Meteora means literally 'hovering in the air' and of course brings to mind the word meteor. What created this rare geological phenomenon is one of the mysteries of nature and there are many theories though they remain theories and none have been proven.
But as amazing a marvel of nature as these giant rocks are the buildings on the top of these are a marvel of man and seem just as miraculous and make Meteora one of the most spectacular places to visit in Greece.
The area of Meteora was originally settled by monks who lived in caves within the rocks during the 11th Century. But as the times became more unsure during an age of Turkish occupation, brigandry and lawlessness, they climbed higher and higher up the rock face until they were living on the inaccessable peaks where they were able to build by bringing material and people up with ladders and baskets and build the first monasteries. This was also how the monasteries were reached until the nineteen twenties and now there are roads, pathways and steps to the top.
The two closest villages to Meteora are Kalambaka and Kastraki and these are where most people stay. The name Kalambaka comes from the Turkish word Kalembak which means beautiful fortress. The village of Kastraki in the shade of the rocks of Meteora is a popular destination for the rock climbers who can walk out the door of their hotel and be climbing in a few minutes.
-Agia Triada or Holy Trinity was founded in the 15th century and was the monastery used for the James Bond film "For Your Eyes Only";
-Varlaam Monastery was founded in 1517;
-Roussanou Monastery was founded in 1545;
-Monastery of Agios Nikolaos Anapafsas was built in the 16th century;
-Megalo Meteoro or Metamorphisis, the first church of the Transfiguration is the best known of the Monasteries and is built upon the highest rock;
-Agios Stefanos is the only convent in Meteora and has an unimpeded view of the plain towards Kalambaka;