The Landwasser Viaduct (German: Landwasserviadukt) is a single track six-arched curved limestone railway viaduct. It spans the Landwasser River between Schmitten and Filisur, in the Canton of Graubünden, Switzerland. Designed by Alexander Acatos, it was built between 1901 and 1902 by Müller & Zeerleder for the Rhaetian Railway, which still owns and uses it today. A signature structure of the World Heritage-listed Albula Railway, it is 65 metres (213 ft) high, 136 metres (446 ft) long, and one of its ramps exits straight into the Landwasser Tunnel. The Landwasser Viaduct has six arch spans 20 metres (66 ft) in width, resting on five high pillars. The railway line near the viaduct has a slope of 2 percent, and in plan a circular arc with a radius of 100 metres (330 ft). The southeastern abutment of the viaduct is located on a high cliff, and at that point, the tracks lead directly into the 216 metres (709 ft) long Landwasser Tunnel. The viaduct's masonry is approximately 9,200 cubic metres (320,000 cu ft) in volume and is jointed with limestone dolomite.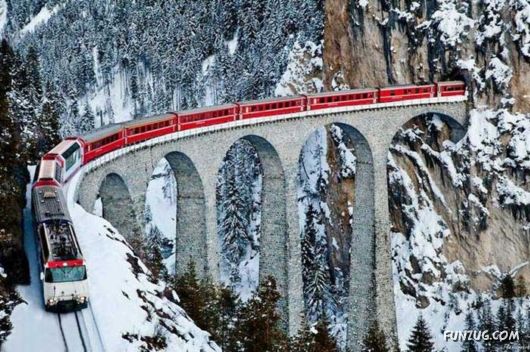 Location
The dark limestone-built viaduct forms part of the Albula Railway section between Tiefencastel and Filisur, and is at the 63.070 kilometres (39.190 mi) mark from Thusis.
To passengers on trains approaching the viaduct from Tiefencastel and Alvaneu on the Albula Railway, the viaduct becomes visible from quite some distance away. The first major feature to be reached on that approach is the Schmittentobel Viaduct, which itself is of considerable size. Then, while crossing the curved Landwasser Viaduct, passengers can observe the front of the train heading into the Landwasser Tunnel.
On the other side of the tunnel, the separate line from Davos Platz forms a junction with the Albula Railway just as both lines arrive in Filisur. Shortly before reaching that junction point, passengers on the Davos?Filisur line can experience a view of the viaduct from the northeast.