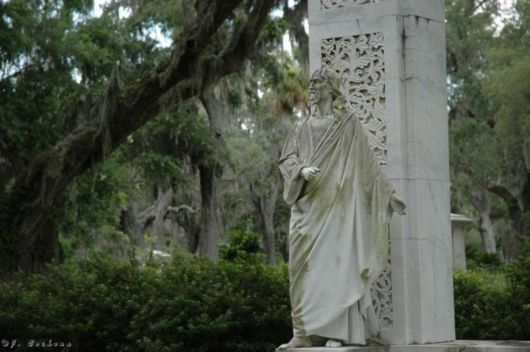 Confined within its boundaries and enclosed within its vaults, crypts and plots are a Pulitzer Prize-winning poet, politicians, plantation proprietors, publishers, soldiers and a songwriter.

Bonaventure Cemetery is one of the most beautiful, historical sites in Savannah, GA. Visited by many tourists every year, Bonaventure was made ever more popular by John Berendt's book and the subsequent movie entitled, ?Midnight in the Garden of Good and Evil.?
Bonaventure is the resting ground of fallen soldiers as well as many others, including Pulitzer Prize winning poet, Conrad Aikin and song writer, Johnny Mercer who wrote many timeless classics including ?Moon River?, ?Jeepers Creepers? and ?Fools Rush In?.
A statue made famous by the people who have visited the cemetery, is of a small girl. Gracie Watson is a girl who is buried in the cemetery. This life size statue is a supposed depiction of her. Many people who have visited the cemetery will leave presents or trinkets in her lap. Legend has it if the present is taken away, the statue of the girl will actually cry tears of blood and she will cry out into the night. Whether or not anyone has actually seen or heard this is yet to be discovered.
A second more frightening legend of the Bonaventure Cemetery is a pack of ghost dogs who roam the cemetery grounds. Allegedly, this pack of ghost dogs will actually chase people out of the cemetery. Although no one has ever seen the ghost dogs, it has been said that people can hear them breathing and barking as they are being chased. Whether you are a fan of ghosts or just a fan of historical sites, Bonaventure Cemetery is a beautiful and interesting place to visit.