Huacachina is a village in the Ica Region, in southwestern Peru. It is located in the Ica Province, near the city of Ica in the Ica District. Huacachina is built around a small natural lake in the desert. Called the "oasis of America," it serves as a resort for local families from the nearby city of Ica, and increasingly as an attraction for tourists drawn by the sports of sandboarding and taking dune buggy rides on sand dunes that stretch several hundred feet high. Huacachina has a population of 115 in 1999. The oasis features on the back of the 50 Nuevo Sol note. Legend holds that the lagoon was created when a beautiful native princess was apprehended at her bath by a young hunter. She fled, leaving the pool of water she had been bathing in to become the lagoon. The folds of her mantle, streaming behind her as she ran, became the surrounding sand dunes. And the woman herself is rumored to still live in the oasis as a mermaid.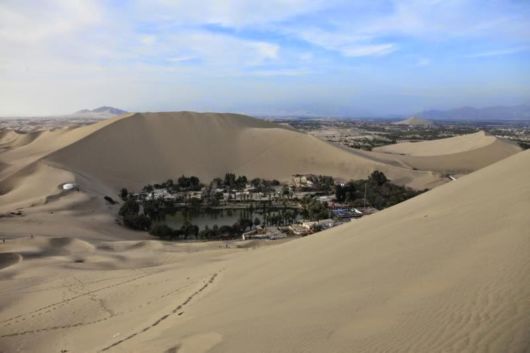 Currently, private landowners near the oasis have installed wells, in order to access the groundwater. This has had the effect of drastically reducing the level of water in the oasis. To compensate for this water loss, and preserve the oasis as an aesthetically pleasing destination for tourists, the city began a process of artificially pumping water into the oasis. More at Huacachina.
Huachachina, tucked in between sand dunes, flourished in the 1940s and 1950s as a getaway for the Peruvian elite and regained a certain prominence through tourism promotion campaigns in the 1990s. Today it is a backpacker?s paradise and a top destination for sandboarding and dunebuggy rides, but the lagoon?s own water supply needs to be constantly supplemented from other sources. A local legend has it that the lagoon was created when an inquisitive young hunter disturbed a beautiful princess while she was bathing. She fled, leaving the pool of water behind which became the lagoon.