Entice-ing: Ice palaces create multicoloured skyline at chilly Chinese festival celebrating subzero temperatures
These frozen wonders are part of a display at the 29th annual Harbin International Ice and Snow festival held in Harbin, near the Russian border in northeast China.
The palaces and sculptures are made from hollow blocks of ice and lit up using LED lights creating a multicoloured glow-in-the-dark skyline on the shores of the nearby Songhua river.
The festival features work by some of the country's best ice sculptors and attracts thousands of visitors from around the world who marvel at the wonderous creations, enjoy the fireworks over the City of Ice or appeal to their inner child as they take a ride on the ice-slides.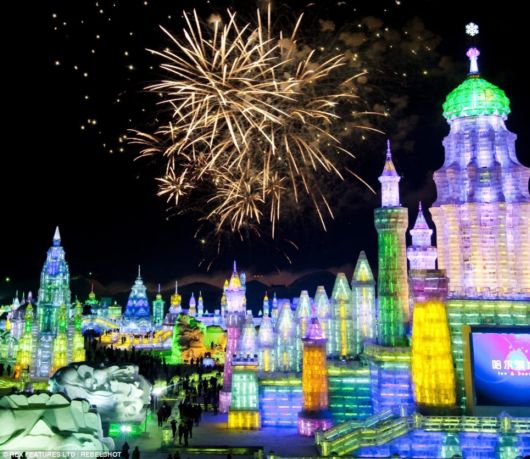 Subzero ceremony:
Spectators cheer as fireworks are set off to celebrate the opening of the 29th Harbin International Ice and Snow Festival earlier today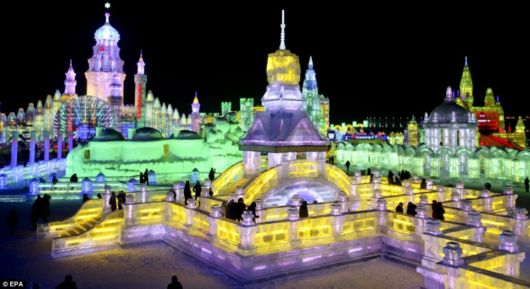 A Song-ha of Ice and Fire:
The ice constructions lighting up the dark sky of Harbin are created using ice from the nearby Songha river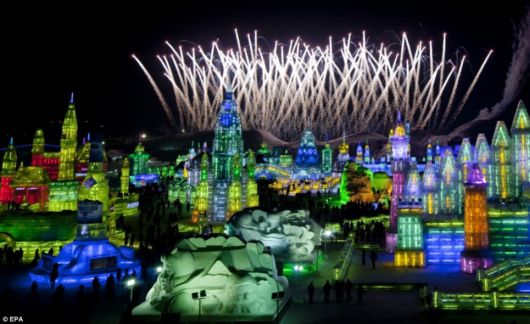 Winter is coming:
The three-month-long subzero festival is running for the 29th year having been restored in 1999 after a break throughout the cultural revolution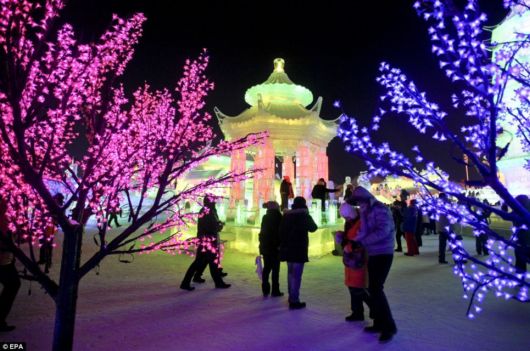 Winter is coming:
Visitors walk among large ice sculptures at the 29th Harbin International Ice and Snow Festival which opened today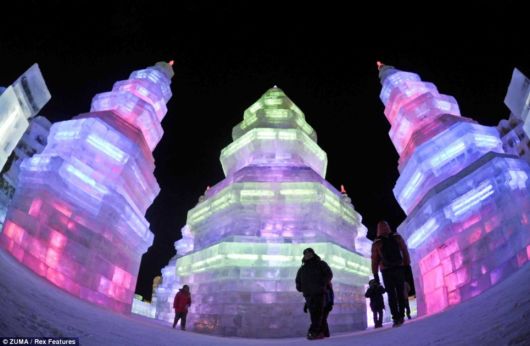 Cool tradition:
The very first festival is thought to have been held in 1963 in Harbin celebrating the local tradition of turning ice into lanterns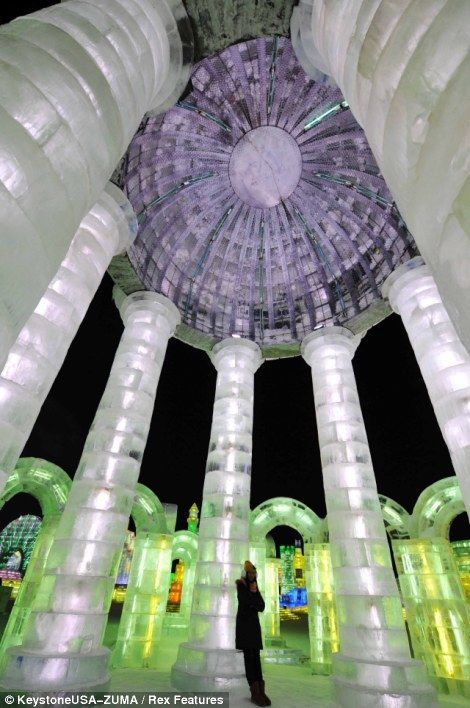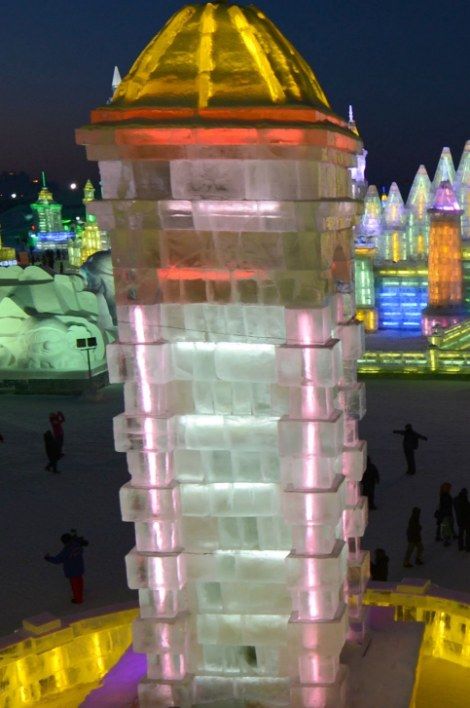 Towering blocks:
Sculptors from across China attempt to out-do each other with spectacular creations involving blocks of ice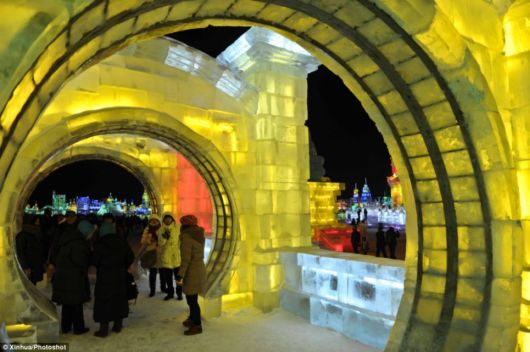 Frozen techniques:
Over the years the structures have developed and now visitors play inside the freezing houses, trek up ice stairs and swoosh down slides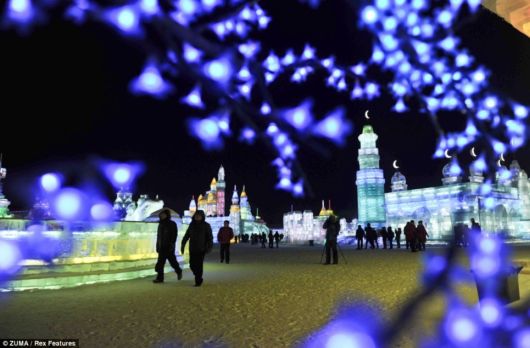 Bright side of the moon:
A palace decorated with frozen half-moons attract tourists attention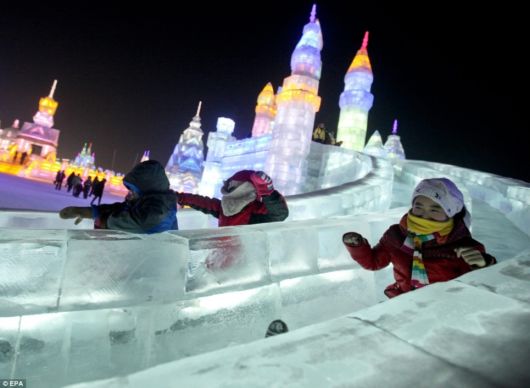 Slip and slide:
Young visitors enjoy riding on one of the large slides provided as a means of transport during the festival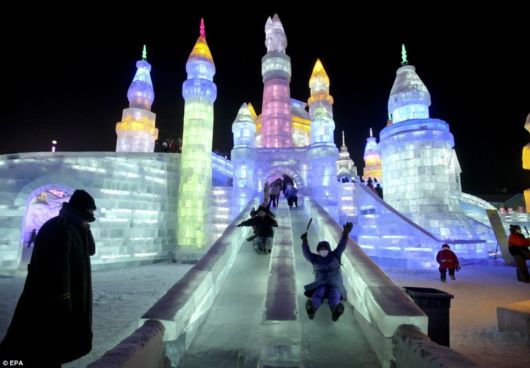 Dashing through the snow:
Spread out across three zones, the theme park features a range of snow-based rides, ice mountains and reproductions of some of the most iconic buildings in the world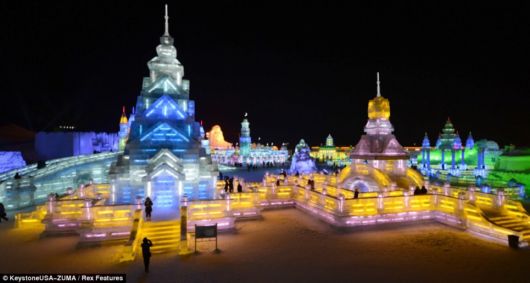 Vast Winter Wonderland:
The festival park has grown each year and hopes to break the record in 2013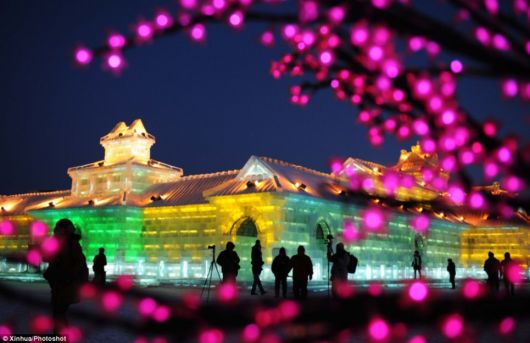 Let the light LED the way:
Visitors take photo of the night scenery of the Ice and Snow World during the 29th Harbin International Ice and Snow Festival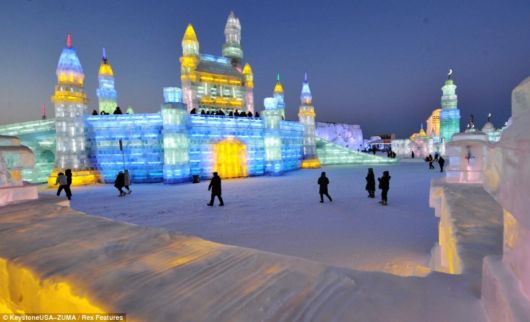 Whiter shade of pale:
Tourists flock on and around the ice palaces as darkness falls in preparations for the opening ceremony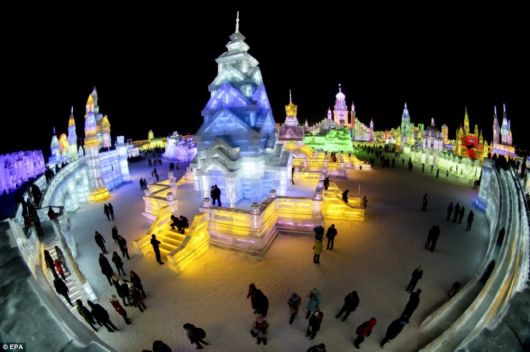 Fish-eye view:
A special lens captures the great buildings, many created using ice from the nearby Songhau river