ake Salar de Uyuni, also know as Salar de Tunupa, is one of the most interesting, unique and beautiful lakes in Bolivia. The largest salt marsh in the world. It has an area of about 10,582 square kilometers of the land in the region of Potosi and lies at an altitude of about 3,650 meters (internal plateau of the Central Andes). Salar de Uyuni is a part of the Bolivian Altiplano in North America. Altiplano, high plateau is formed during the uplift of the Andes mountains. On the Plateau occur as freshwater lagoons and salt water lagoon. It is completely surrounded by mountains and there is no source of any water leakage.
Some 30 to 42 thousand years ago, the area was part of huge prehistoric lake and lake Minchin, which once covered almost the entire south-west of Bolivia. Salar de Uyuni is estimated to have areserve of 10 billion tons of salt, while production is 19,700 tons per year, and it is extracted by conventional methods.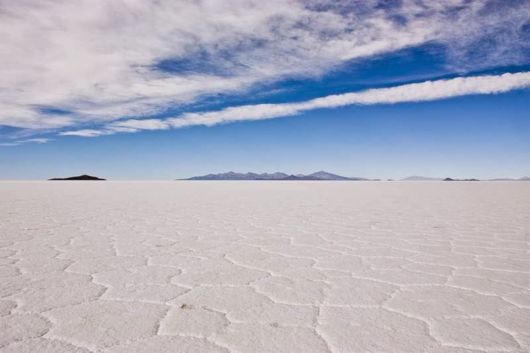 In dry season, salt flat expanse covered with dry salt, but in the rainy season, the vast expanses covered by a thin layer of water. This site was created as a result of the conversion of several prehistoric lakes. It is covered with a salt crust, speakers at a height of several meters. They contain 50 to 70 percent of the work's reserves of lithium and also contains large amount of sodium, potassium, magnesium and borax too. Salar de Uyuni serves as the main transport route through the Bolivian Altiplano and is a primary residence for several species of pink flamingos.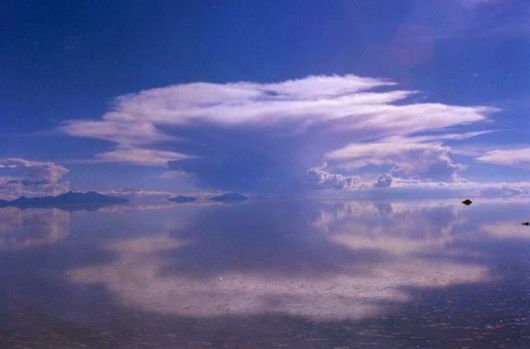 In the rainy season, from November to March, the lake-marsh Uyuni tuns into a hug mirror ? salt cell covered by a very thin layer of clear water, which reflects the sky, and i becomes quite clear, exactly, the horizon. Every year it attracts about 60,000 tourists from around the world. And no wonder, because this salt desert is considered one of the most beautiful places in the world.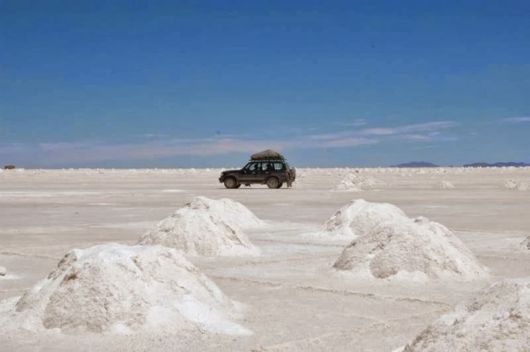 For these sites are characterized by large swings in temperature, at night it can drop below zero, and often in afternoon are swarm up to 40-50 degrees Celsius. Tourism and salt is main source of income. The attraction of tourist from all over the world , number of hotels have been built for accommodation. Due to lack of conventional construction materials, many of them are almost entirely build by salt blocks, just like walls, roof, furniture and sculpture too. The first salt hotel was built in 1995 in the center of the salt zone, and soon its became a popular for tourist destination. Later many more construction are made out of salt.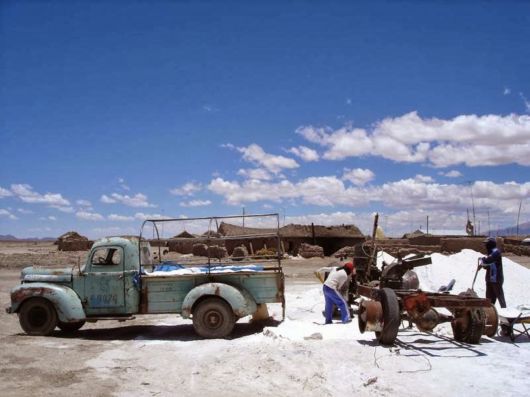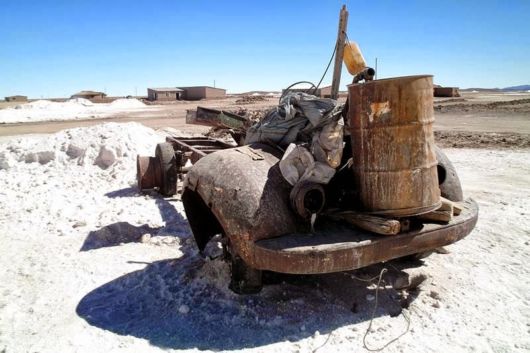 Hotel de Sal, Salar de Uyuni, Bolivia. The hotel was surrounded by miles of shallow water which covered the salt pan during and after the rains.