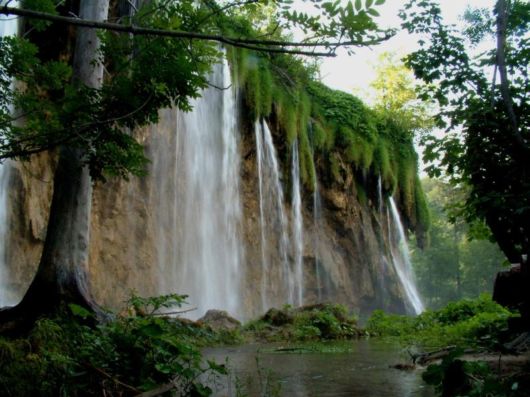 Beautiful Waterfall At Cherapunji which is the wettest place in the world.
Nohkalikai Falls is one of the most beautiful and photogenic falls I had ever seen. At 335 meters it is the highest plunge waterfall in India and the 4th highest in the World. Just a 10 minutes drive from main town of Cherapunji, the fall is located at another blunt end of the plateau. The gorge here is green and trees grow like a mini rainforest. From the edge of the cliff the waterfall looked like a white rope in a sea of green forests.
The water plunges 335 meters downwards and has carved out a waterhole. Strangely, the waterhole is as blue as the sky in winter and green in summer. In winter the water recedes to just a minimal amount, but in summer the falls are lavish.
The name Nohkalikai is derived from a tragic Khasi legend. Almost every beautiful or interesting place in North-East seems to have originated from a sad story. This is no different. A woman named Ka Likai remarried a man but her second husband became jealous for treating her daughter with so much love; perhaps more than him. One day while she was away at work her husband cooked the girl and served it to her. After she had eaten it, she was to go looking for her baby girl. Much to her dismay she found her daughter?s finger in a betel nut basket. Greatly saddened by this, she leaped off the fall and the fall came to be known as ?Nohkalikai? which is literally translated as, ?jump of Ka Likai.?
Getting a good glimpse of Nohkalikai Falls can be a hard bet during rainy season. Clouds could appear out of nowhere and ruin the whole show. But in autumn the view is nothing less than a grand spectacle.
Beautiful Waterfall At Cherapunji , Meghalaya State, India