In a land far, far away, in parts of the world considered uninhabitable for most, lie the prettiest of settlements known to man. From a volcanic crater in Japan to a hill-top monastery in India, from the oasis town of Peru to the molehill of Australia, natives in these parts of the world have survived by adapting themselves to their natural surroundings, completely hidden from the rest of the world.
Welcome to paradise.

1. Aogashima, Japan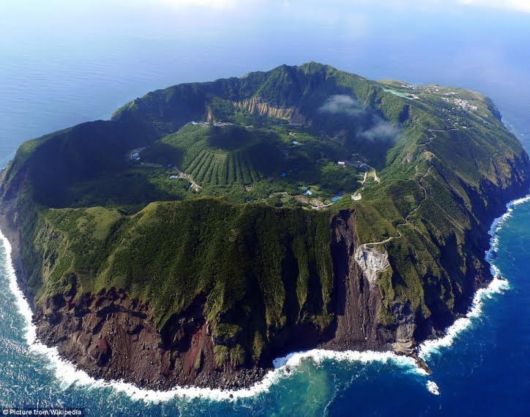 Located in the Philippine sea and administered by Tokyo, Aogashima is perhaps the only inhabited volcanic island there is. Living on this 8.75 sq. km island is nothing short of magic. Even though the last proper volcano that erupted here was in the 1780s, living on this island means a constant threat to life. Currently, it's home to 170-200 people.
2. Monemvasia, Greece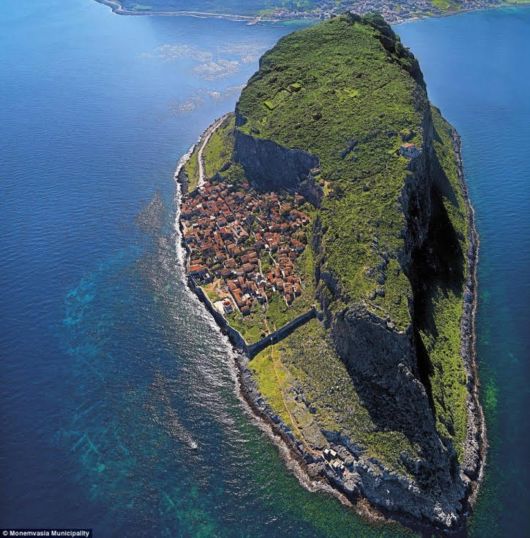 On a small island off the east coast of the Peloponnese lies Monemvasia. Only 947 sq. km, this little settlement is hidden away behind a massive rock face in Laconia in Greece. Apparently, the island was separated from the mainland in 375 AD because of an earthquake. But to make commuting easy, locals made a small walkway for easy access to the mainland.
3. Phugtal Monastery, India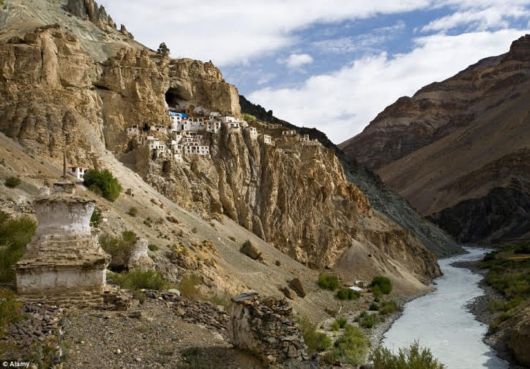 Oh, the beauty of India! The Phugtal Monastery or Phugtal Gompa is one of the most secluded monasteries in the world. Founded in the 12th century and made from mud and timber, it is located at the entrance to a cave on a cliff face in the south-eastern Zanskar region in Ladakh. It is also known to be one of the only Buddhist monasteries that can still be reached by foot. A stone tablet at the monastery is a reminder of the stay of Alexander Csoma de Kőrös at Phuktal between 1826-1827.
4. Isortoq, Greenland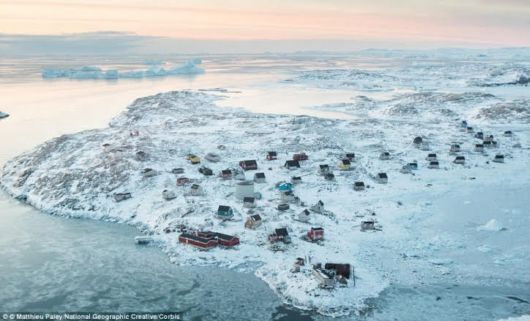 What I'd give to be here! Cut off from the rest of the world, in peace and tranquility, located literally in the middle of nowhere, this little village town has a population of only 64 people! Back in the day, the Inuit inhabitants would have to rely on only meat for food since the harsh conditions wouldn't allow for any green to grow. Times have changed now with a supermarket in the locality offering a variety of things. They even have a heliport now!
5. Gásadalur Village, Denmark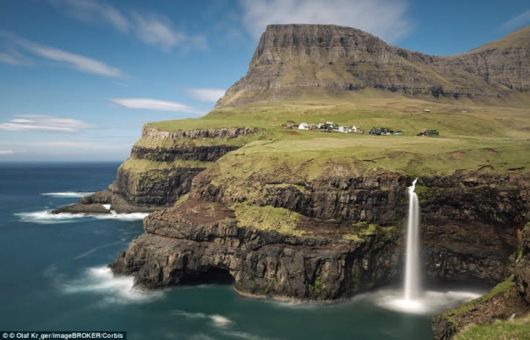 Located on the west side of Faroe Islands, the village of Gásadalur looks exactly like a scene from Game of Thrones. Only 16, very lucky, residents get to enjoy this stunning beauty of mother Earth.
6. Huacachina, Peru
Huacachina is a small oasis town in the barren desert of southwestern Peru. The palm trees and a serene lagoon has put this place on every travel lover's bucket list. The 96 residents running small businesses would welcome you with open arms in this surreal part of the planet.
7. Undredal, Norway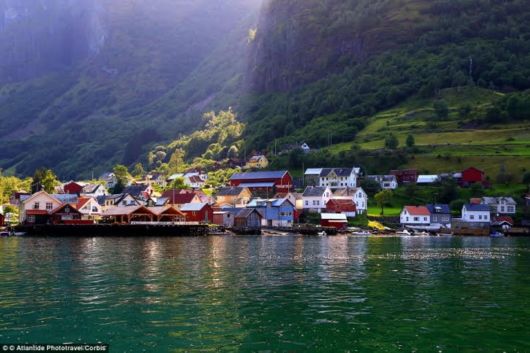 If I were to pick a place that looks more like a set of a Disney movie and less like an actual township, it'd be Underdal in Norway. Famous for its brown goat cheese and goat sausages, this little town hosts more goats than humans. That's right, there are 100 people and 500 goats in Undredal. Although a road connection has been made now, Undredal, right until 1988, was only accessible by boat.
8. Furore, Italy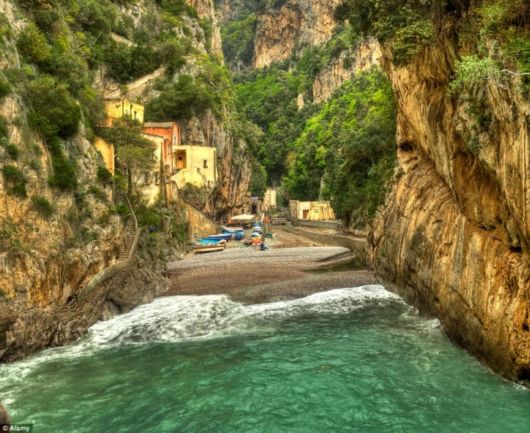 Furore just looks like a picture from an artist's imagination. Located on the breathtaking coast of Amalfi, Furore is an Italian village with colourful houses decorated with murals. An interesting story behind the colours – for the longest time, Furore was hidden from the eye of the traveller. Nobody knew about the beauty that existed. It started being dubbed as the 'village that doesn't exist'. Following these claims, the mayor of the town ordered the houses to be painted in bright, vibrant colours so that the beauty of the village could be spotted from the coastal road.
9. Coober Pedy, Australia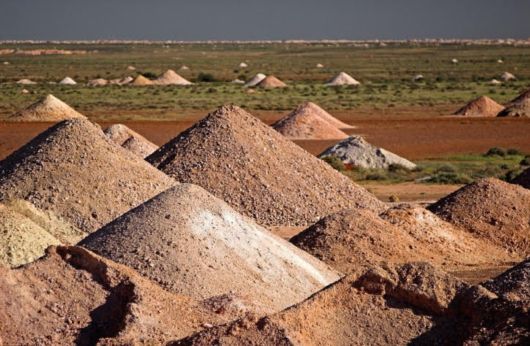 For those wondering where the village is, it is under the massive mole hills you see in the picture. The Aussies really know how to deal with things down under. They built an entire town concealed underground with a population of 1700-odd people. This was done to deal with the unbearable heat in Australia.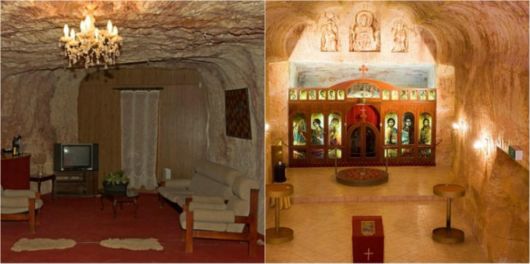 Coober Pedy is also known as the 'opal capital of the world' because of the precious opals that are mined there. The name Coober Pedy comes from the Aboriginal term – kupa-piti which funnily translates to 'white man's hole' in English.
10. Tristan da Cunha, Saint Helena
Tristan da Cunha is definitely the most remote village on this list, and also perhaps the most remote settlement known to mankind till date. The only way to reach this gorgeous place is by a six-day boat journey from South Africa, or as a part of an unforgettable month-long cruise through the South Atlantic Ocean. This group of islands is 2000 kms away from Saint Helena, 2,400 kms from South Africa and 3,360 kms from South America. Basically, right in the middle of the ocean.
300 people reside at the foot of Queen Mary's Peak, who farm for a living, and are totally cut-off from the world's bullshit. Lucky.
11. Anonymous village on the bank of Niger river, Mali
We won't be shy to admit that we know nothing about this place. We don't know what it's like, we don't know how many people live here, heck, we don't even know its name. All we know is that it exists, it is on the bank of the Niger river in Mali and that it puts you in a dilemma – should we call it Earth porn or poverty?