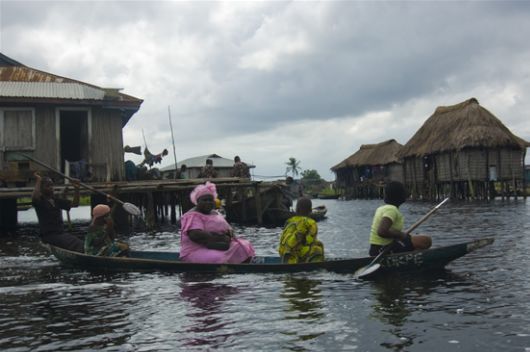 The village of Ganvie, in Benin, is the only human settlement in the world, built on stilts, in the middle of a lake, several kilometers from the nearest shore.
But people donâ??t just go ahead and build themselves a home, in the middle of a lake, they must have a serious reason. And the reason for the existence of Ganvie can be traced back to the 18th century, when a peaceful African tribe, the Tofinu, tired of running from the slaver tribe of Dom Homey, decided to build themselves a home, on Lake Nokoue.
The Dom Homey believed a terrible demon lived in the lake, and their ruthless warriors dared not set foot in its waters. The Tofinu had finally found their peace. But fast forward to present day,and the people of Ganvie are still reluctant to go on solid ground, although the threat of slavery is only a distant memory. Theyâ??ve ground accustomed to living on the water, and wouldnâ??t abandon their unique lifestyle, for anything.
Ganvie currently has a population of 30,000, all living in bamboo houses, built on stilts. Moving around the village is only possible in pirogues (boats carved from tree trunks), and even if someone wants to visit their next door neighbor, they have to row there. The Venice of Africa, as Ganvie is commonly referred to, has one and a half pieces of dry land. the complete patch of land is the site of the village school, while the half will be the cemetery, when the villagers import enough dry ground, from the shores.
This unique African village is completely sustainable, and the only time villagers go ashore, is when they want to sell their fish. Unfortunately, the pollution of Lake Nokoue, and the scams of so called tourist guides, plunged Ganvie back in to the obscurity it had managed to crawl out of, a few years back. Tourists stopped traveling here, and the beauty of this place remains a secret to many of us.