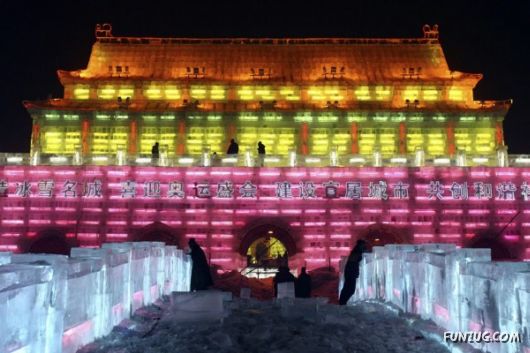 Harbin Ice and Snow Festival was established in the year 1985 and is held every year officially from January 5 that lasts for one month. Harbin is the capital city of Heilongjiang Province of People?s Republic of China. The main feature of this festival is the incredible ice and snow artwork which attracts not only the local people but also thousands of visitors from all over the world.

Harbin is located in northeast China and is accounted for its arctic climate that has ample natural ice and snow. The Ice City is thus famous for its exclusive ice and snow sculpture decoration ranging from the modern technology of lasers to traditional ice lanterns. According to the visitors of Harbin festival, the captivating Ice Lantern Festival is the adorable part of the overall event.
The Ice and Snow World of Harbin is one of the largest ice architectural parks in the world providing the visitors an entire new world. The ice and snow sculptures were derived with the inspiration from traditional Chinese fairy tales and world?s famous architectures like Great Wall of China, Pyramids of Egypt and so on.
The remarkable Snow Sculpture Exposition displayed in the snow world of the Sun Island Park is yet another notable site. It has the world?s largest indoor ice and snow art museum which opens to public from November every year.
The best collections of ice artworks in Harbin Festival are exhibited in places like ?The Sun Island Scenic Area?, ?Harbin Ice and Snow World?, ?Zhaolin Park?, ?The Ice Lantern Garden Party? and ?Yabuli International Ski Resort?.
The Harbin festival in China is one of the four largest ice and snow festivals in the world, the other three being Sapporo Snow Festival in Japan, Ski Festival in Norway and Quebec City Winter Carnival in Canada.