Here are 42 amazing places around the world that you absolutely need to visit in your lifetime. Some of these places are so incredible you will hardly believe they actually exist!.
1. Spiral Staircase, China.
This spiral staircase in the Taihang Mountains is an insane 91 meters high.
2. Palace Regaleira, Portugal.
Here is an interior view of the Palace of Regaleira which is located in Sintra, Portugal. The palace is made up of luxurious features such as lakes, wells, gardens, fountains and it?s main attraction is a romantic chapel.
3. The town of Blagaj, Bosnia and Herzegovina.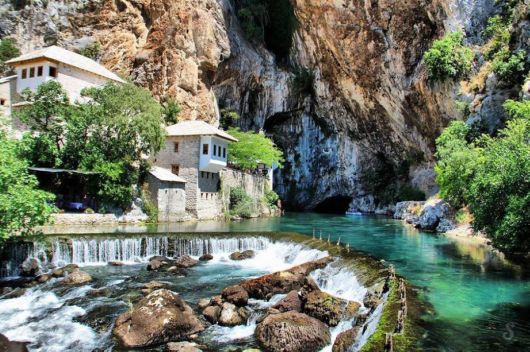 Blagaj is a small town / village located in the south-eastern region of the Mostar, Bosnia and Herzegovina. Pictured above is Tekija?s house which was built in the 16th century next to the Buna?s river.
4. The Săpânţa Merry Cemetery, Romania.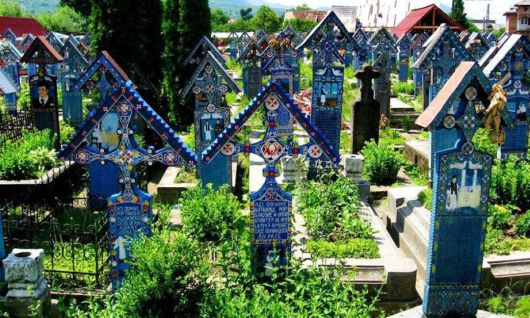 The Merry Cemetery is located in the village of Săpânța, Maramureş county, Romania. It is famous for its colourful tombstones made of wood and painted in bright colours. The tombstones tell the story of the persons whose grave it is, including a poetic description and events from their life.
5. The island of Procida, Italy.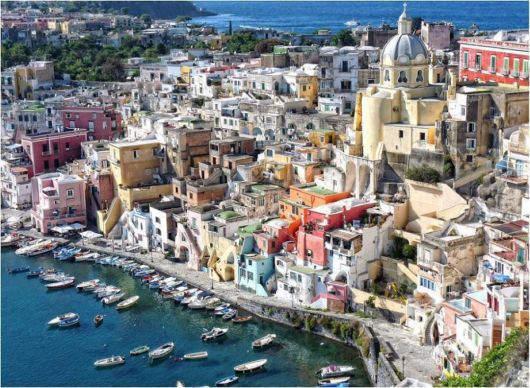 Part of the Flegrean islands, Procida is located off the coast of Naples in southern Italy with a population of just 10,000 people.
6. The Popeye Village, Malta.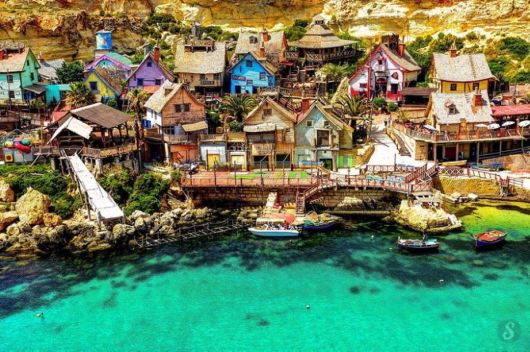 Popeye Village is a group of old style wooden buildings located at Anchor Bay, in the north-west of the Mediterranean island of Malta. It was originally built as a movie set in 1980 for the movie Popeye, but now serves as an attraction and museum to the public.
7. Litlanesfoss Falls, Iceland.

Located in Upphéraðsvegur, Iceland, Litlanesfoss is a waterfall that offers stunning views and a landscape like no other thanks to the surrounding basalt columns.
8. Rainbow Moutains, China.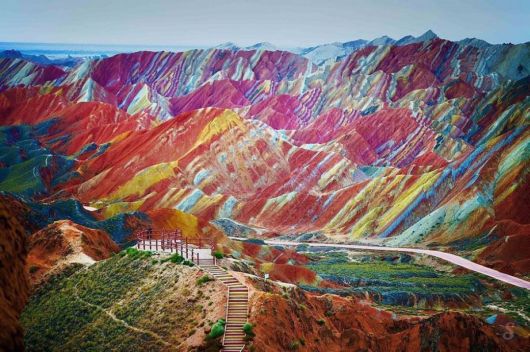 Located at the Zhangye Danxia Landform Geological Park in Gansu, China. Every year thousands of tourists visit the mountains for their spectacular rainbow like appearance, caused by various sedimentary rock layers being built up over 24 million years!.
9. The Cliff Restaurant, Italy.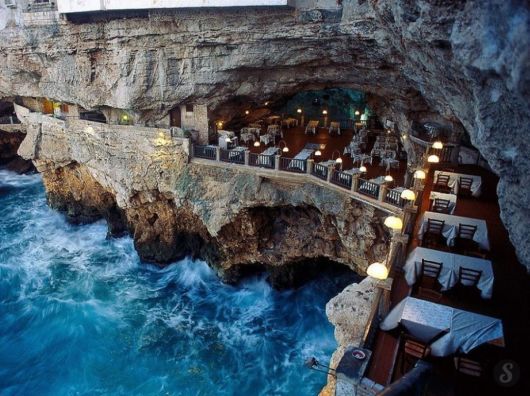 Surely one of the most incredible places you can go to have dinner, the Cliff Restaurant is built into a cave located in the region of Apulia, Italy.
10. The Chand Baori, India.
Located in In Rajasthan, India, this incredible structure dates from the 11th century and is thought to be one of the first baoris (wells) created to solve the problem of water shortages.
11. Bishop?s Castle, USA.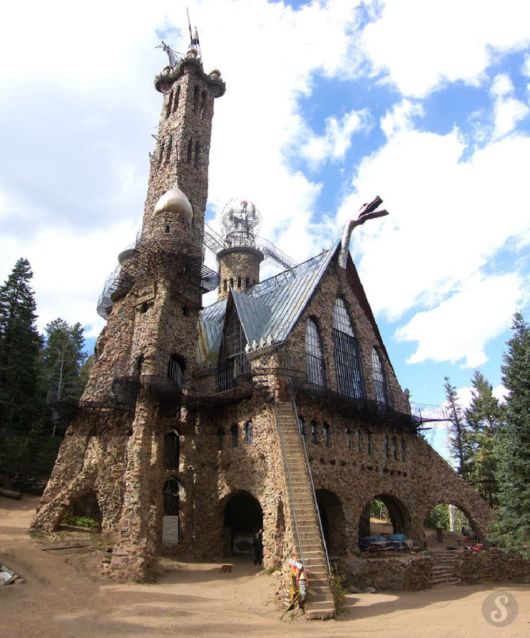 This really is an amazing feat of engineering. Located in the San Isabel National Forest in Colorado, there is this amazing medieval castle which took 40 years to build by a single man named Jim Bishop. He began working on the castle at just 15 years old.
12. A psychedelic salt mine, Russia.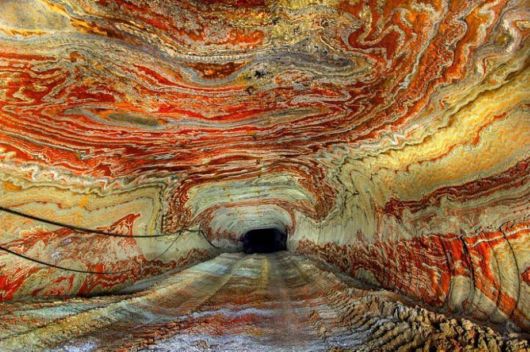 At the very centre of the now abandoned salt mine in Yekaterinburg, Russia. It has been a disused carnallite mine for over seven years.
13. Fervedouro, Brazil.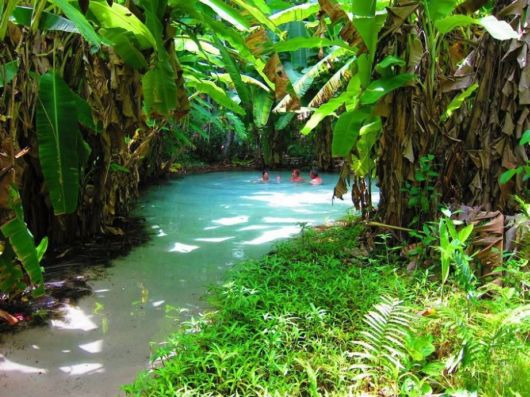 The natural white sand pool of Fervedouro located near the Mateiros village, Brazil. Just 8 meters in diameter the pool has crystal blue waters and beautiful white sand.
14. Cracow ghost medieval village, Italy.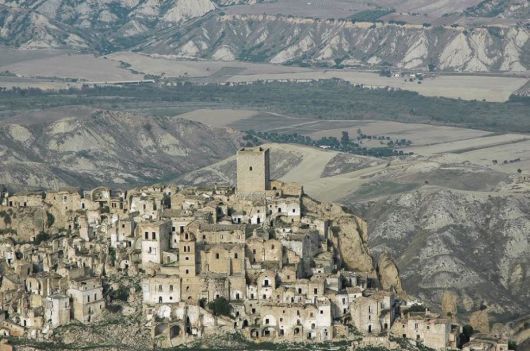 Cracow is an abandoned Italian town that is a popular tourist destination and has been used as a location to film movies.
15. To Sua Ocean Trench, Samoa.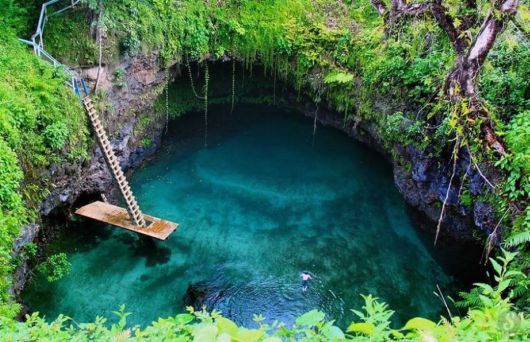 Located in the village of Lotofaga in Samoa, ?To Sua Ocean? is a small piece of paradise everybody should visit. The To Sua Ocean Trench is open to the public as a swimming area.
16. The village of Bagan, Burma.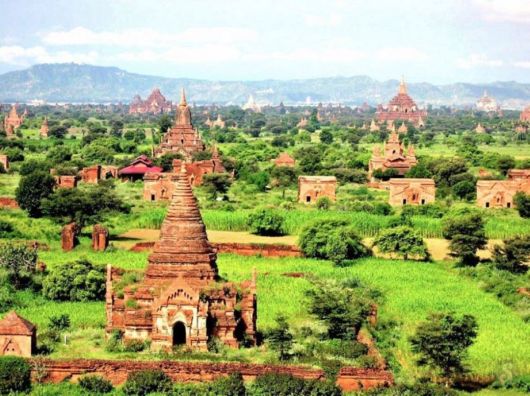 Located in the Mandalay Region in the central plain of Burma, the village of Bagan is a vast and impressive Buddhist archaeological site which spans nearly 50 square kilometers.
17. Agueda?s colorful Umbrellas, Portugal.
The very pretty and colourful streets of Agueda, a town in Portugal. Umbrellas of various colours are suspended in the shopping streets, creating fantastic shadow patterns.
18. Lake Natron, Tanzania.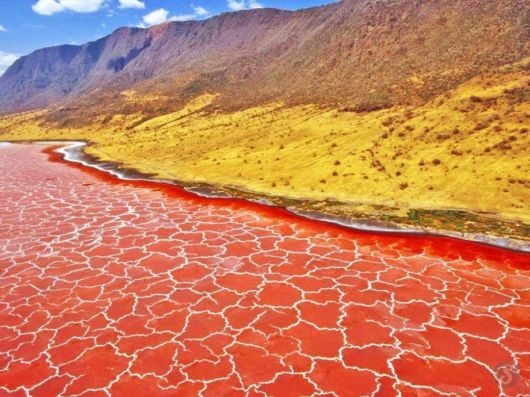 What has to be one of the most incredible natural occurrences in the world, Lake Natron is an alkali endorheic salt lake of tectonic origin found in northern Tanzania.
19. The Bastei Bridge, Germany.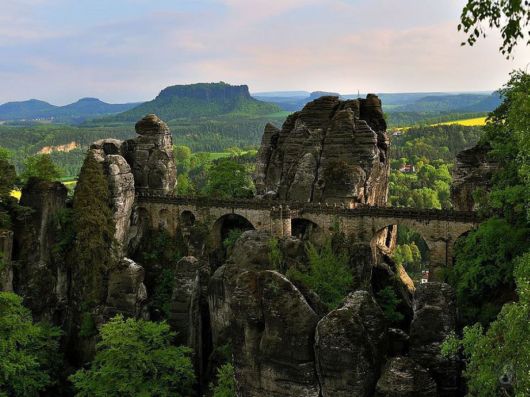 Located in the sandstone mountains of Saxon Switzerland Elbe in Germany. The Bastei is a rock formation that towers 194 metres above the Elbe River. The jagged rocks were formed by water erosion over one million years ago.
20. Leshan Giant Buddha, Sichuan.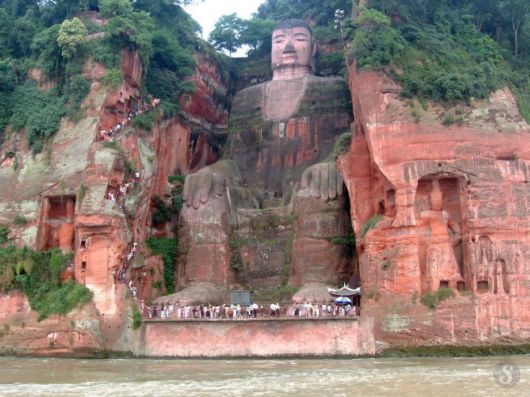 One of the most impressive statues in the world, the Leshan Giant Buddha is a monumental statue of Buddha that has been carved into the cliff of Mount Lingyun, Sichuan.
21. Alcazar of Segovia, Spain.
Built in 1120, this ancient castle is one of the best known in Spain. Alcazar of Segovia is a fortified castle, and because of its unique structure and location it was one of Walt Disney?s inspirations for the Cinderella castle.
22. Rocks tombs of Myra, Turkey.
The rock tombs of the ancient city of Myra which was once a leading city of the Lycian Union.
23. Fort Bourtange, Netherlands.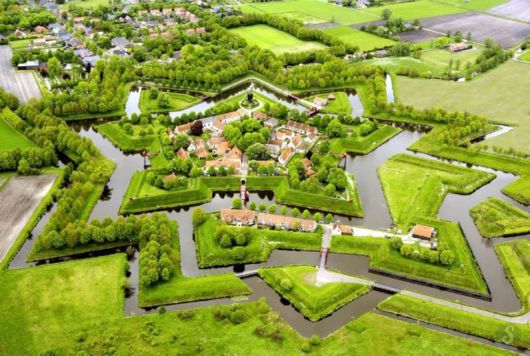 Fort Bourtange is a fortified fort designed in the shape of a star. Located in the village of Bourtange, Groningen, Netherlands. Built in 1593 under the orders of William the Silent.
24. Monastery Taktshang, Bhutan.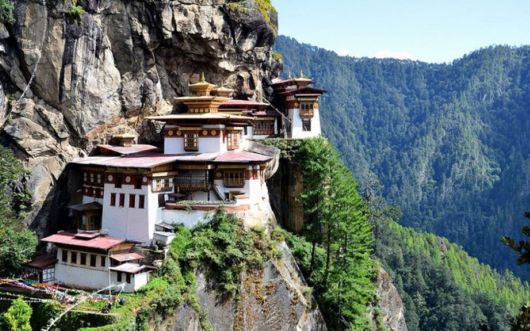 At an impressive 3,120 meters high and perched on the edge of a cliff, Taktshang is a Buddhist monastery in Bhutan.
25. São Miguel Island, Portugal.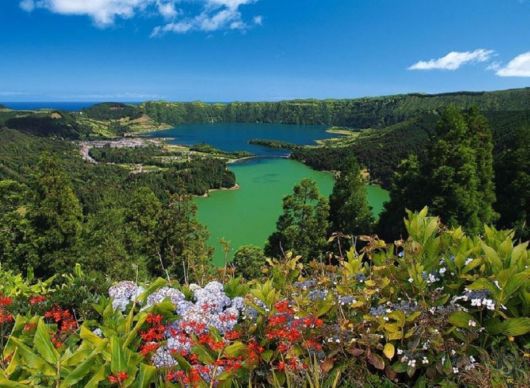 São Miguel is the largest and most populated island of the Azores archipel with an area of ​​744.6 km
26. Santa Maria dell?Isola, Italy.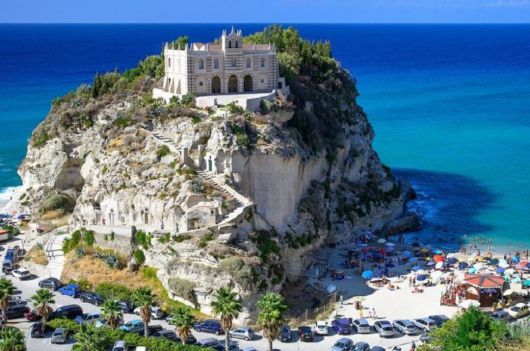 An amazing monastery, the Santa Maria dell?Isola is built upon a small rocky cliff near a beach that has amazing crystal blue waters, in Tropea, Italy.
27. Gardens of Marqueyssac, France.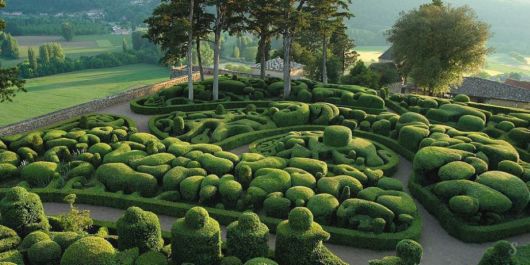 Located in an historic park that spans 22 hectares, the Gardens of Marqueyssac are part of the town of Vézac and are a must visit.
28. Labassin Waterfall Restaurant, Philippines.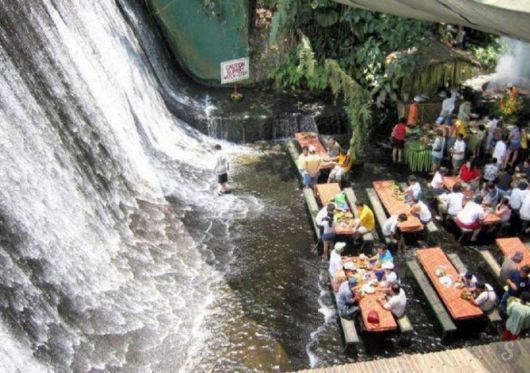 Probably the cleverest use for an artificial waterfall ever, the Labassin Waterfall Restaurant allows its guest to eat whilst their feet are in the water.
29. Nasir-ol-Molk Mosque, Iran.
One of the most impressive and colourful mosques in the world, the Nasir-ol-Molk Mosque is located in the province of Fars in Iran and was built between 1876 and 1888.
30. Lena Pillars National Park, Russia.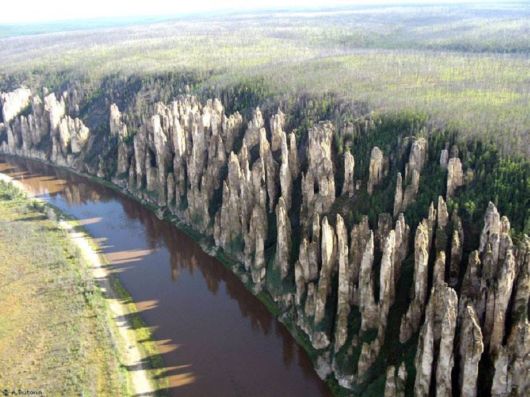 These amazing natural stone columns are located in Lena Pillars National Park, Russia. They are formed by a process of erosion and stand tens of meters high.
31. The White Temple Wat Rong Khun, Thailand.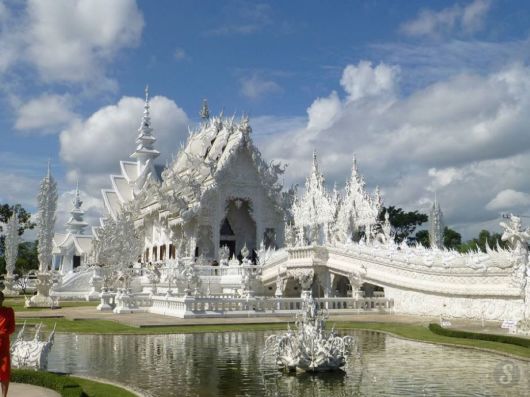 This incredible piece of design and architecture is a place of worship. The White Temple Wat Rong Khun is located in south of Chiang Rai, Thailand.
32. The Park Gardens by the Bay, Singapore.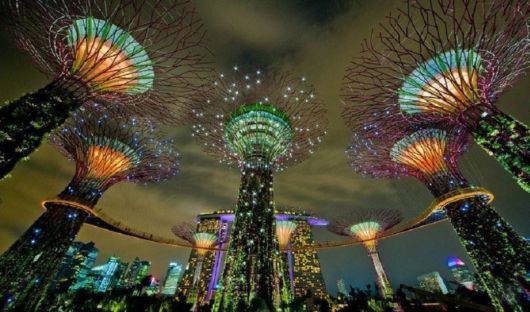 Offering amazing biodiversity and built for more than 625 million dollars. A giant park that measures 101 hectares and is made up of three gardens.
33. Mount Ai-Petri, Ukraine and Russia.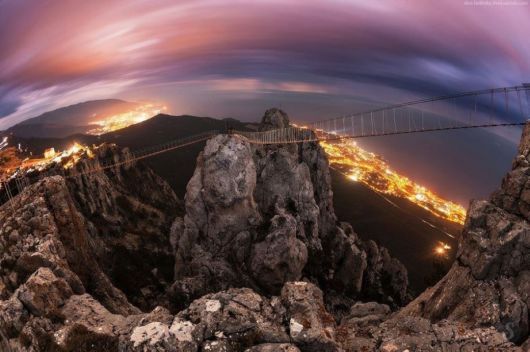 Mount Ai-Petri stands at an impressive 1230 meters high, and is located in the region of Yalta in the Crimea.
34. The Library of Alexandria, Egypt.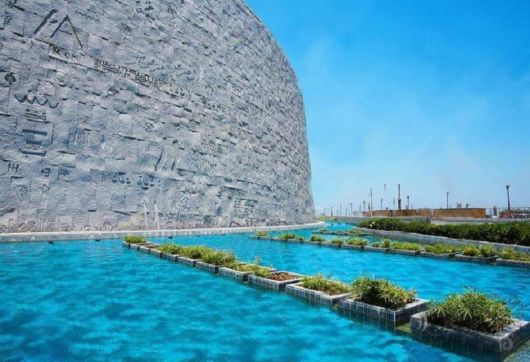 This amazing library was built in 1995 and cost $220 million. It was finally available for use by the public after its inauguration in October 2002.
35. Oasis of Huacachina, Peru.
Located in the Ica Region, in southwestern Peru the Oasis of Huacachin offers an isolated un-spoilt paradise. In 1999, only 115 people lived there.
36. The Marieta Islands, Mexico.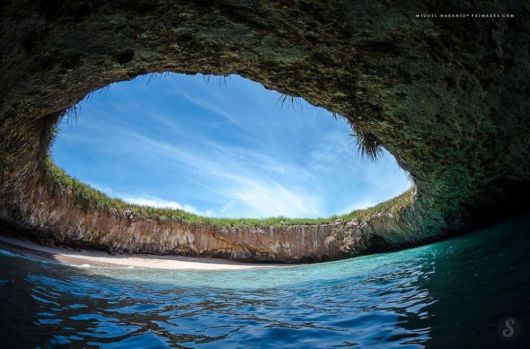 The Marieta Islands are an uninhabited chain of island off the coast of Nayarit, Mexico. Located in an old military zone, it is now protected as a national park area. This cove is thought to have been caused by a bomb.
37. Phraya Nakhon Cave, Thailand.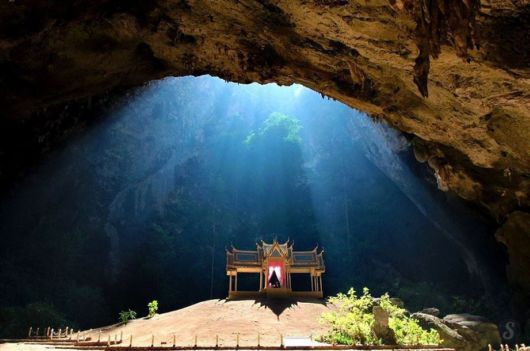 Another buddhist temple built into the middle of the Phraya Nakhon cave in Thailand. It is said to be illuminated by the light of heaven. And you can see why in this fantastic picture.
38. Pink Lake of Middle Island, Western Australia.
Discovered by a british explorer in 1802, the Pink Lake of Middle Island has amazing naturally occurring pink waters.
39. The Door to hell, Turkmenistan.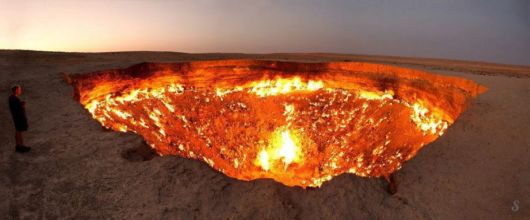 Known as the gate (or door) to hell, and located in Turkmenistan, the natural burning gas was lit by Soviet scientists in 1971.
40. Engulfed City of Shi Cheng, China.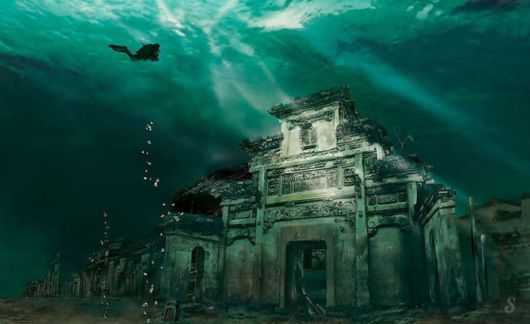 Looking like something out of a Hollywood movie, the city of Shi Cheng is located in Qiandao Lake. The city is 1300 years old and has been immersed under water for 53 years.
41. The Great Blue Hole, Belize.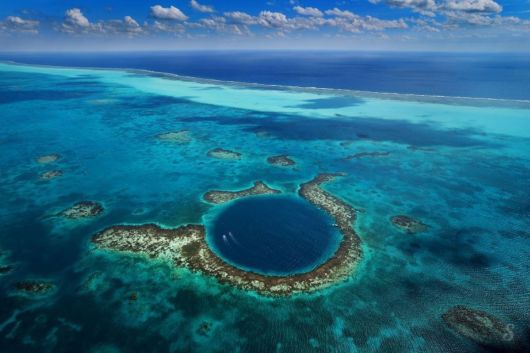 The Great Blue Hole is an underwater natural sinkhole / pit located just off the coast of Belize. It has a diameter of 300m and is 120m deep.
42. Mount Roraima, Venezuela.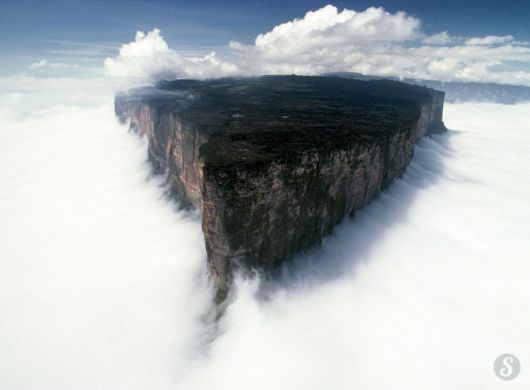 At 2810 meters high Mount Roraima rises above the clouds. Located in South America, this should be on everyones list of amazing places to go.