Natural phenomena – phenomena of nature, which is difficult to find a reasonable explanation. Looking for tons of sand on the French coast, it seems that this is a joke of some wizard: take a piece of the Sahara and move it here, in the waters of the Bay of Biscay near the Bay of Arcachon, neatly stacked on the border of coniferous forests sixty kilometers from Bordeaux.
In fact, the appearance of his biggest dune in Europe is obliged to natural processes. Namely river Lehr, which diligently for centuries carried sand in the ocean and leave them on the shelf, located directly opposite the current dunes. And the wind, in turn, also diligently include sand on the beach, a place where every year grew dune.
150 years ago, its height was small – only about 35 meters. However, stop the advance of failed sand – dune now adds an average of 4 meters per year, while some moves from side to side, and its height, depending on the wind changing from 80 to 107 meters.
In general, the Large dune stretches almost 3 km along the coast and another 500 meters deep pine forests, which, incidentally, came here at the behest of the individual – was planted in the mid-19th century as a measure of local drainage of wetlands.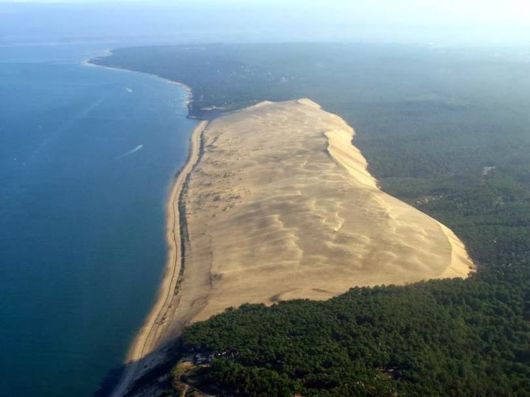 It is one the main oyster-farming regions in France; so try the ?Route des Huitres?, the route of oysters, where you will learn everything there is to know about them. Tired of the Ocean? Visit the lakes at Biscarosse, south of the inlet. It is a little paradise, formed some 4000 years ago, with white-sand beaches and warm waters (up to 28°C in the summer), great for aquatic activities or fishing. How about ending the day with a first flight in a ULM hydroplane?
All these activities, and many more, make the region very popular nowadays. But imagine how attractive this wonderful climate was to the rich and famous at the end of 19th century. It was a time when leaving the wet and humid regions of northern Europe in the winter was a must. And Arcachon was (and still is) a great alternative to French Riviera.