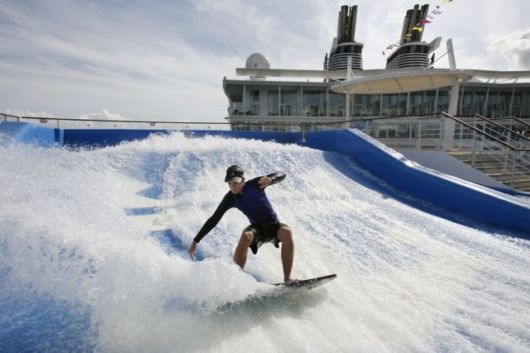 Five times larger than the Titanic, the $1.5 billion ship has seven neighborhoods,
an ice rink, a small golf course and a 750-seat outdoor amphitheater.
It has 2,700 cabins and can accommodate 6,300 passengers and 2,100 crew members.
It is a cruise ship in the fleet of Royal Caribbean International. At approximately twice the size of the RMS Queen Mary 2,
the ship replaces the Freedom-class cruise ships (also owned by Royal Caribbean) as the world's largest passenger vessel.[9]
The ship was completed and turned over to Royal Caribbean on 28 October 2009.
Two days later, it departed for its intended home port of Port Everglades in Fort Lauderdale, Florida, United States.
While exiting the Baltic Sea, the vessel passed underneath the Great Belt Fixed Link,
in Denmark on 1 November 2009 with less than 2 feet (0.6 m) of clearance.[10]
Its maiden passenger-carrying voyage is expected to take place on 1 December 2009.
The ship will operate year-round cruises to the Caribbean.