HAVE YOU THOUGHT OF A REAL RELAXING COASTAL RESORT SOJOURN??
Here are some special coastal resorts you may like to consider for your next holiday tour.
Kamalame Cay, The Bahamas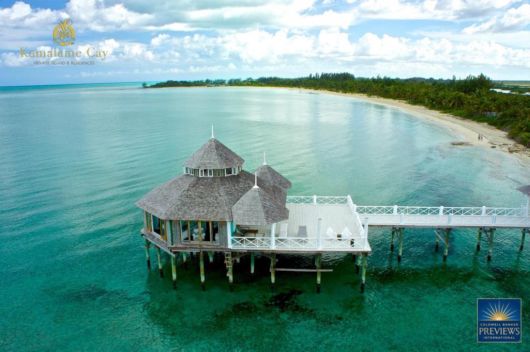 This private island is just a 15-minute flight from Nassau and offers an isolated sanctuary surrounded by crystal-clear water and shaded with rustling palms.
Stay: At Kamalame Cay Resort, you'll get as much (or as little) attention as you want from the staff. Grab a cocktail and stroll across the sandy path to the dock to catch a stunning sunset; 800/790-7971.
Eat: At the resort's Great House restuarant. Begin the day with a made-to-order breakfast with local fruits and freshly made Bahamian breads. Situated in a wraparound veranda, you'll enjoy gourmet cuisine in an elegant atmosphere.
Do: Discover the beauty of underwater life with a scuba expedition at the island's PADI rated Dive Centre. The centre offers all levels of certification for non-divers, snorkelers, and children. Diverse marine life and 100-foot visibility promises an unforgettable adventure.
Rosalie Bay, Dominica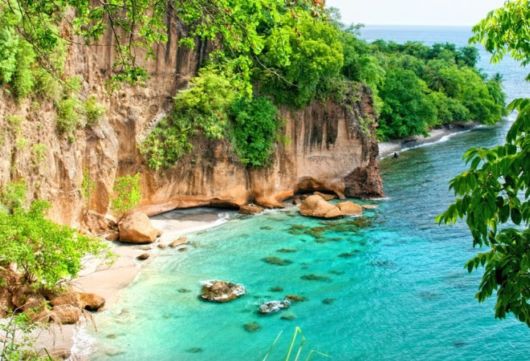 Set on the wild Atlantic coast of rugged, mostly undeveloped Dominica, Rosalie Bay offers a tranquil island escape 45 minutes from the capital city of Roseau.
Stay: The Rosalie Bay Resort features 28 guest rooms and suites with mountain, ocean, river, or garden views amid towering palms and coconut trees; 877/732-2864.
Eat: Zamaan Restaurant offers fresh ingredients from Rosalie Bay Resort's garden and authentic Dominican flavors. Enjoy your meal under the moonlight on their outdoor veranda.
Do: Lace up your hiking boots for an intense trek over moss-covered paths to Boiling Lake, the world's second-largest volcanically heated body of water.
Playa del Carmen, Mexico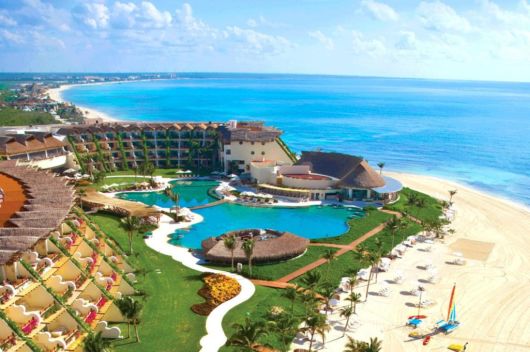 The exotic city of Playa del Carmen sits just outside of Cancun, with gorgeous beaches on the coast of the Caribbean Sea.
Stay: The Banyan Tree Mayakoba resort ensures privacy with your own plunge pool. Spacious villas seamlessly blend outdoors and indoors, with an open-to-the-stars tub; 800/591-0439.
Eat: Grab your significant other and experience a drifting dinner on the resort's Ixchel Dining Boat. Enjoy local and international cuisine prepared by an on-board culinary hoast as you drift down the Mayakoba lagoon.
Do: Take a day trip to the historic archeological sites outside of the city where you can explore preserved pyramids, ancient temples, and colorful murals.
Peter Island, British Virgin Islands

Located on one of the largest private islands in the Caribbean, Peter Island features a collection of five secluded beaches.
Stay: Peter Island Resort is the island's only attraction, but you won't be shorted on service. Enjoy luxurious villas and suites, a quietly attentive staff, and a spa surrounded by lush gardens; 800/346-4451.
Eat: Indulge in authentic Caribbean food and delectable desserts at the resort's Tradewinds restaurant. Don't miss the eatery's wine room, which features more than 300 exclusive selections.
Do: Sign up for the Sunset Loop, an exciting ride up the curvy mountain roads to one of the highest points on the island.
Curaçao, The Caribbean

This enticing island known for its gorgeous coral reefs is located in the southern Caribbean Sea, off the Venezuelan coast.
Stay: Visit Hotel Kura Hulanda Spa & Casino, which was actually once a slum. Now, the drastically renovated hotel features 80 rooms, each uniquely different; 877/264-3106.
Eat: Go global at the open-air Old Market, where vendors grill chicken, fish, or even goat for lunch. Seating is communal, so picnic tables are likely to be shared by government employees, cab drivers, and tourists.
Do: Head to historic downtown where boutiques line the streets selling duty-free diamonds, designer clothes, and Dutch goods.
Costa Alegre, Mexico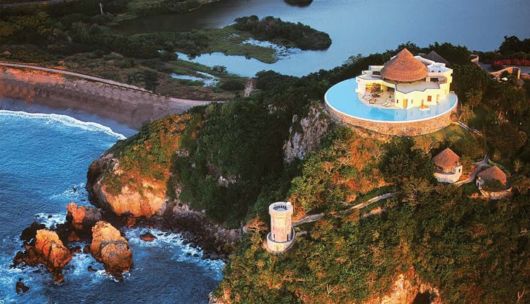 Located just below Puerto Vallarta and just above Cihuatlan, Costa Alegre translates to "Cheerful Coast."
Stay: Unwind at El Tamarindo, where you won't have to angle for beach space with only a few dozen guests and two miles of coast; 866/717-4316.
Eat: Try El Marino in nearby Manzanillo for fresh seafood and a stunning beach view.
Do: Arrange for a temazcal, an ancient purifying treatment involving a mud bath and sweat lodge on the beach.
Sandy Cay, British Virgin Islands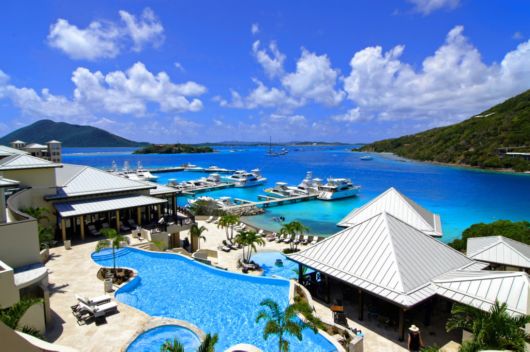 This small nature preserve in the British Virgin Islands is great for snorkeling and swimming, thanks to crystal-clear water and a shallow reef.
Stay: Sebastian's Seaside Villas, located about 4 miles from the island, offers beachfront accommodations with private balconies or terraces. Stroll the shore and enjoy spectacular sunset views; 284/495-4212.
Eat: Hit up Ivan's Stress Free Bar (284/495-9358), located on nearby Jost Van Dyke Island for seasonal BBQ every Thursday and great company from chef Ivan himself.
Do: Explore the white-sand beach, A home to endangered leather back turtles and snorkel in the waters around Sandy Spit.
West Snake Caye, Port of Honduras

Seventeen miles from the town of Punta Gorda, the four small Snake Cayes lie in the 160-mile Port of Honduras Marine Reserve, which boasts lush mangrove trees and endangered species.
Stay: The Wyvern Hotel in Punta Gorda is equipped with lush bathrobes provided in every room with tranquil Charlotte Harbor views; 941/639-7700.
Eat: For a taste of fresh, local cuisine, try Emery's (501/702-2929) in Punta Gorda. The open-air restaurant features a variety of dishes, with everything from stew chicken to whole fried snapper.
Do: Trek through towering mangroves toward the center of the island, where you'll find a small, serene lagoon.
Zimbali Coastal Resort, South Africa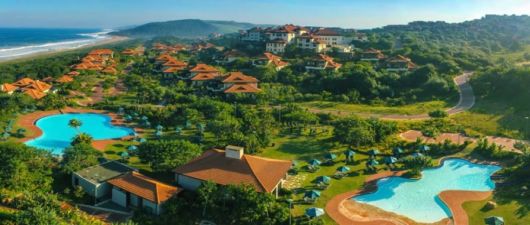 Fairmont Zimbali Resort, situated inside the exclusive Zimbali Coastal Estate, is a tranquil retreat offering the utmost in stylish comfort and unrivalled service. Located 5 minutes from the bustling holiday town of Ballito, 20 minutes from Umhlanga and 30 minutes from Durban, this beachfront North Coast hotel provides easy access to the province?s attractions. Situated 16km from King Shaka International Airport, the Fairmont Zimbali Resort is easily accessible.
Nora Beach Resort in Koh Samui, Thailand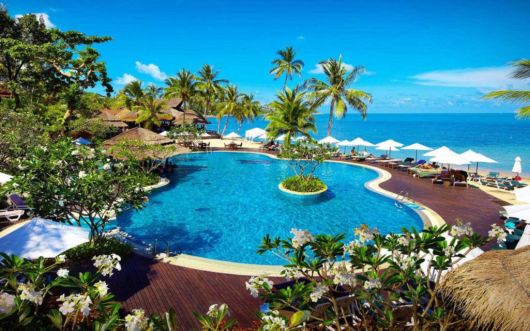 The resort enjoys a spectacular hillside setting, overlooking a secluded bay just north of the world-famous Chaweng Beach, in Thailand. Although only few minutes from the island's boutique airport and a short drive from central Chaweng, Nora is secluded and private, a little village within lush gardens.
Hayman Island Resort, Australia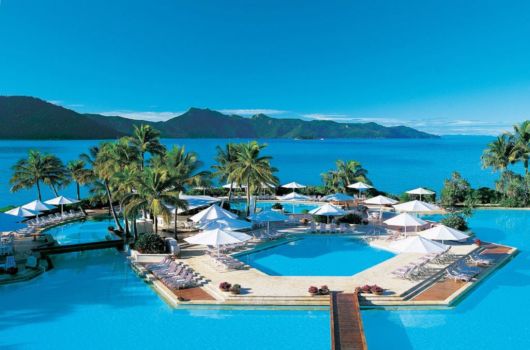 One&Only Hayman Island, located in the heart of the Great Barrier Reef, presents astonishing natural beauty, restorative peace, indulgence and adventure.
Located in the heart of Australia?s Great Barrier Reef, One&Only Hayman Island is the northernmost of the Whitsunday Islands off the coast of Queensland.
Within this private island resort, stylish elegance reflects the harmony of nature with beautifully appointed accommodation set against the backdrop of the Coral Sea.