Wood is a distinctive part of Russia's architectural heritage, especially in traditional villages in the North of Russia. For over a thousand years, until the 18th century, everything was made from wood including houses, barns, mills, princely palaces and of course, hundreds of churches. Starting from simple dome like structures, wooden architecture in Russia reached a degree of splendor to the point that some of these religious complexes were designed as fortresses of great beauty. The traditional wooden churches of the Russian North are particularly interesting. Working without hammer and nails, carpenters constructed such bizarre structures as the 24-domed Intercession Church at Vytegra (built 1708, burnt down 1963) and the 22-domed Transfiguration Church at Kizhi (built 1714), that still stand today.
None of the early wood churches have survived, but some remarkable cathedrals built during the early 18th century have weathered a storm of changes, ranging from harsh winters to the churches' abandonment during the years of Soviet Communism. Over the course of almost one hundred years, magnificent churches have been burnt down, rotted or been vandalized. Others remain in a state of tragic disrepair and neglect.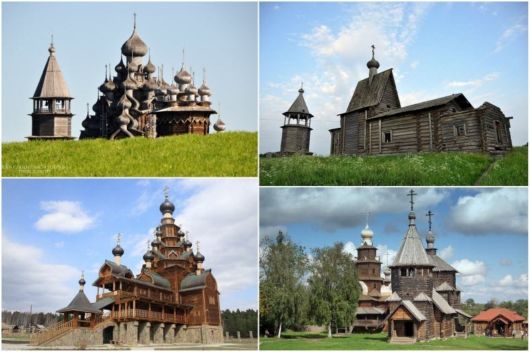 When famous artist and illustrator of Russian Folk tales Ivan Yakovlevich Bilibin, traveled to northern Russia, he came across the wooden churches of Russia and fell in love with them. Through his photographs, Bilibin drew attention to the lamentable condition of the wooden churches, and through his efforts and the sales of postcards, money was raised to restore the 300-year old churches.
Hundred years later, another photographer richard davies retraced Bilibin?s steps in northern Russia and brought back another series of wonderful pictures of these beautiful churches.
Today, we will visit 12 spectacular structures that braved hundreds of years of Siberian winter and other destructive elements.
The pogost of Kizhi (i.e. the Kizhi enclosure) is located on one of the many islands in Lake Onega, in Karelia. It includes two beautiful 18th-century wooden churches and an octagonal bell tower, also of wood, which was built in 1862. The jewel of its architecture is the 22-domed Transfiguration Church with a large iconostasis?a wooden screen covered with religious portraits. The roofs were made of spruce planks and the domes are covered in aspen. The design of this elaborate superstructure also provided an efficient system of ventilation to preserve the structure from decay. This massive church is about 37 meters tall and made entirely of wood making it one of the tallest log structures in the world. Not a single nail was used in its construction.
During the 1950?s, dozens of more churches were moved to the island from various parts of Karelia for preservation purposes, and today they together form a national open-air museum with more than 80 historical wooden structures.