Butterfly Valley, which is located near the town of Fethiye, south-west Turkey. The Butterfly Valley near Fethiye is a hidden gem of Turkeys Turquoise Coast. The south of Ölüdeniz and 30 km south of Fethiye, Faralya was known simply as the "village on the cliffs of the Butterfly Valley" until recently, when travelers start to take a deeper look to the village. The village itself is quite a pleasant sight to see, with its houses and gardens cascading towards the cliffs of the Valley. Deep, steep and accessible only by boat or via the Lycian Way walking trail, which is advised against. The Valley has only been visited in the last twenty or so years before that it was relatively untouched and unknown. Luckily due to the valley being inaccessibly it has kept intact and pure. Butterfly Valley is one of the most worth seeing places in Turkey. The valley lies in the foothills of the 2000 metre high Mount Babadağ and runs between soaring rock walls.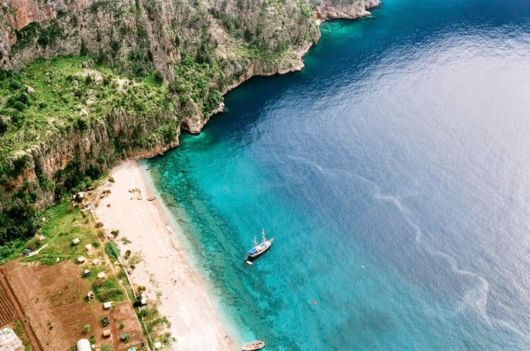 The valley is located at the base of Babadag mountain and is protected by the World Heritage Foundation. It gets it's name from the unique butterfly species, who have up until recently been the only residents in the valley for thousands of years. There are over 60 different species of butterfly in the valley some appearing in the day time and others only venturing out at night. There are many rare butterflies and for those who are enthusiasts there is a small museum located in the valley dedicated to giving more in depth information about the species that can be found there.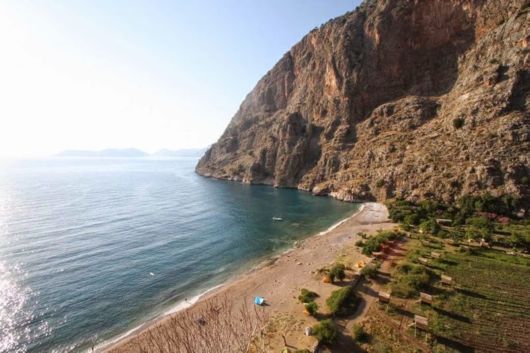 The untouched valley is lush green and has much vegetation, some of the land is being cultivated to produce fresh fruit and vegetable to feed the hungry travelers that are desperate to get away from the hustle and bustle of the nearby tourist areas. Many of those choosing to stay on the island are backpackers, who bring tents or stay in the tree houses provided. Many of the boat trips that leave daily from Oludeniz beach make a stop at Butterfly Valley. Visitors are asked to refrain from shouting whilst exploring as the butterflies are very sensitive. Also to preserve the valley by taking your litter away after your visit.