Fløibanen funicular railway in Bergen – one of the most famous tourist attractions in Norway. Funicular is located in the heart of Bergen, 150 meters from the fish market Fisketorget and Bryggen. Fløibanen Funicular quickly takes you from the city center to the top of Mount Floyen, at 320 meters above sea level.
Floibanen was officially opened on 15 January 1918. The idea to build transport to Fløyen was put forward in 1895 by John Lund, a member of the Norwegian legislature. Work to build Fløibanen started in 1914. The line was ready in 1918. Today the company is owned 44% by the municipality of Bergen, the rest spread on various private interests.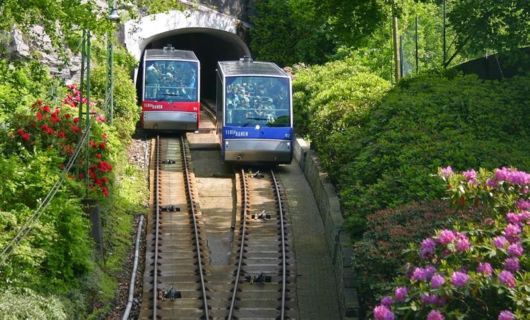 Two cars, each with room for approximately 80 passengers, operate between the center of Bergen and Fløyen throughout the year. The length is 850 m or 2,789 ft and the height difference is 300 m or 984 ft. Fløibanen is a narrow gauge railway, with a gauge of 1,000 mm or 3 ft 3 3/8 in. Each car is named and individually painted – Blåmann is blue, whilst Rødhette or equivalent to Little Red Riding Hood in English, is red. The cars were named by the winners of a naming competition.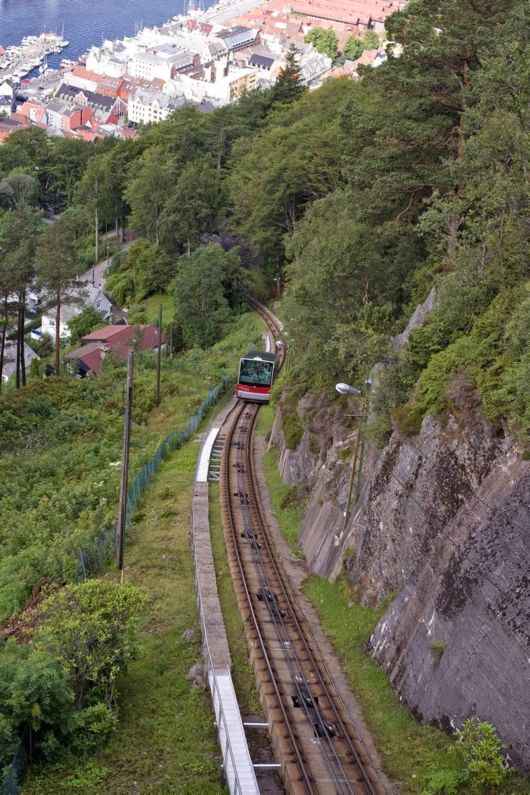 The trip takes approximately seven minutes with stops at all stations, and 3 min. 20 secs. non-stop. Service travel speed is either 4 or 6 m/s (13.12 or 19.69 ft/s) depending on traffic load. Typically, 6 m/s (19.69 ft/s) is selected when there are eight or more departures per hour, including two calling at all stations. The funicular operates a basic schedule with departures every 30 minutes from opening until 10 o'clock, then every 15 minutes until 20:30 when half-hour service resumes until closing.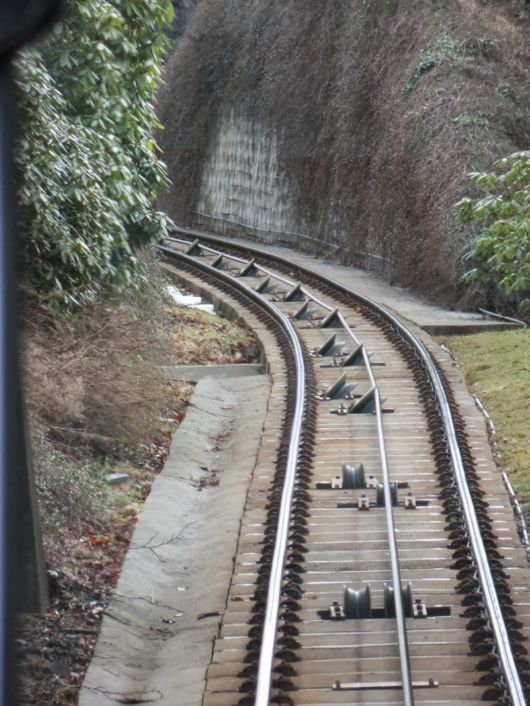 Bergen, Norway-Fløibanen Funicular to Mount Fløyen.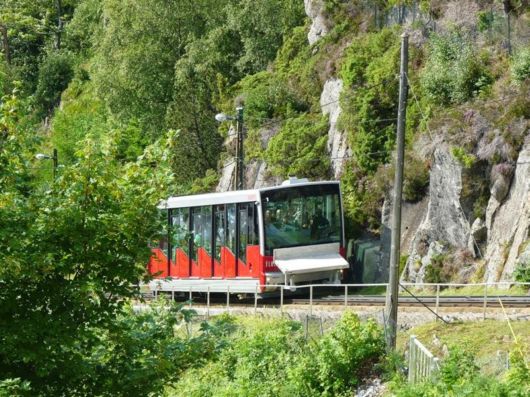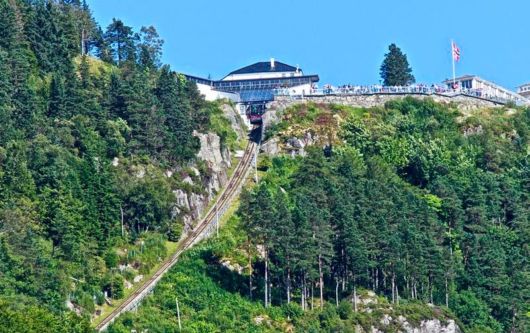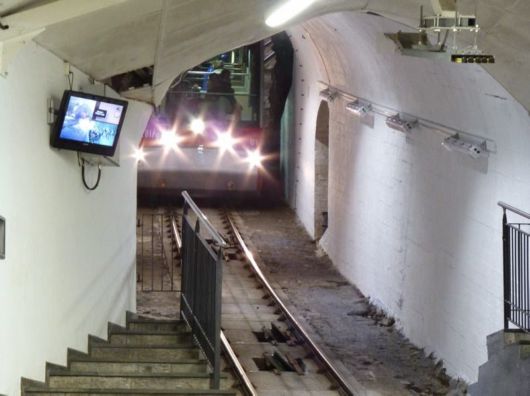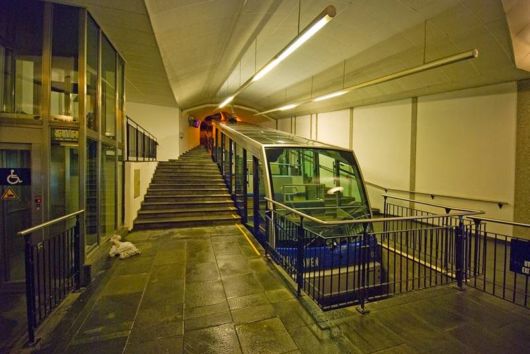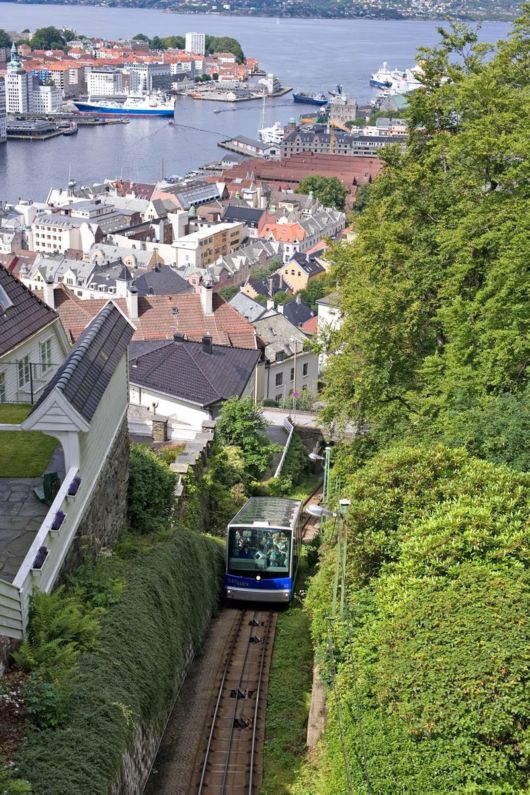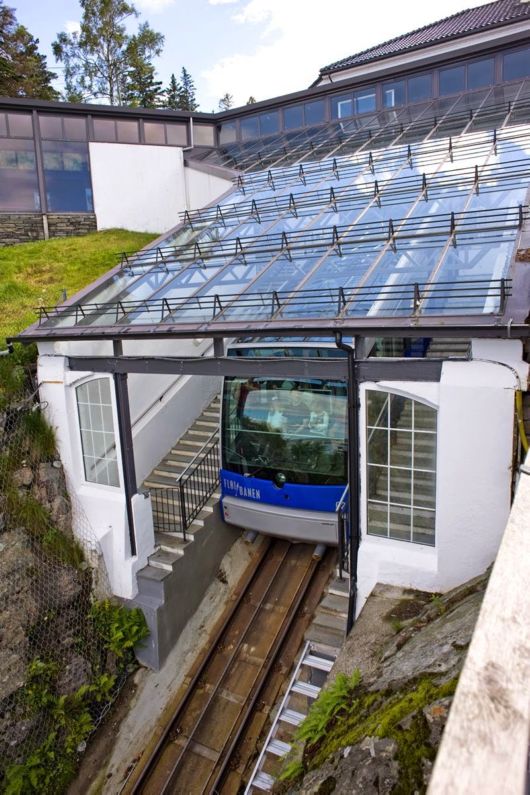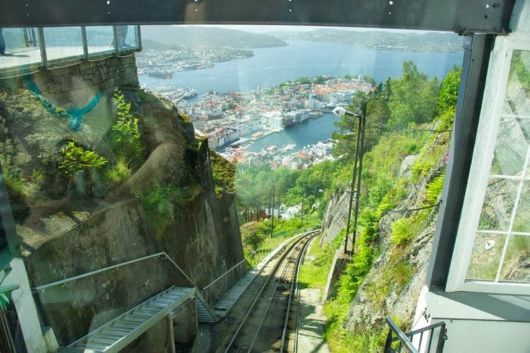 The funicular is fully wheelchair-accessible at the bottom and top stations only. Small, manual wheelchairs may be carried on and off the funicular by staff at the intermediate stations. Electric wheelchairs up to 900 mm wide enjoy full access to both the funicular and the facilities at Fløyen.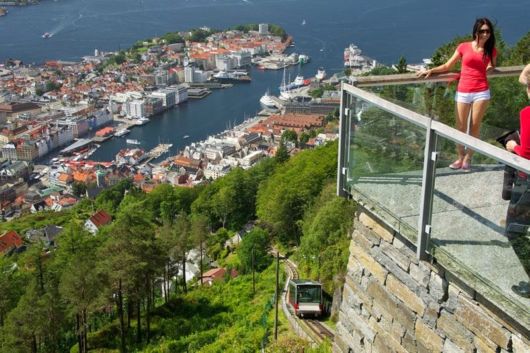 The Fløibanen funicular railway, this is the view from the top of Fløyen Mountain Bergen, Norway