The San Diego and Arizona Eastern Railway The Impossible Railroad
Eastern Railway San Diego Arizona extends to 235.61 miles of harsh desert landscapes and rocks. Many of the engineers of the early 20th century considered the project for the construction of this road utopian: too many difficulties met during the work builders. Today, much of the road is deserted, recalling the original grandeur of the Great era of railroads.
At the turn of the 19th and 20th centuries, during the great age of railways, every city on the western coastline of the North American continent for growth and prosperity needed a fast and reliable transport line support from the East. San Diego at the time was a small port city and business pioneers of the then decided that for the growth of the city they need a direct connection to El Centro in the east, to transport goods from the larger neighbor to the north – Los Angeles. Then it was proposed to lay railroad San Diego – Arizona.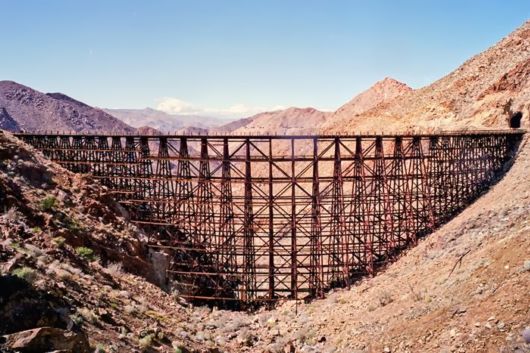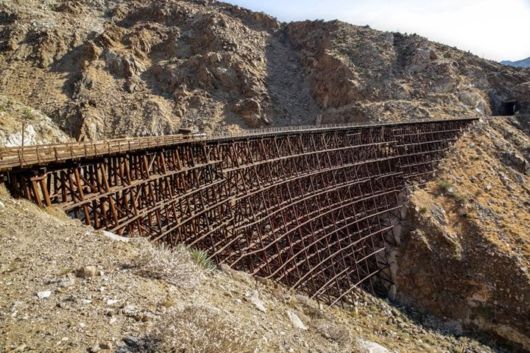 It took the construction of 17 tunnels, ranging in length from 290 feet to half a mile, and 20 trestles to complete the most mountainous eleven-mile stretch, but the railroad was finally completed in 1919.
Maintaining the Carrizo Gorge section with its numerous tunnels and trestles was a constant challenge, especially in this earthquake-prone country. When an earthquake collapsed one of the tunnels in 1932, the engineers chose an alternate route around the ridge. But the alternate route necessitated the construction of a bridge over a steep lateral gorge known as the Goat Canyon. The wooden trestle that was constructed here, remains to this day, the longest, tallest curved wooden trestle ever built in the United States. Over 600 ft long and 180 ft high in the center, the magnificent structure is an engineering marvel that very few has seen.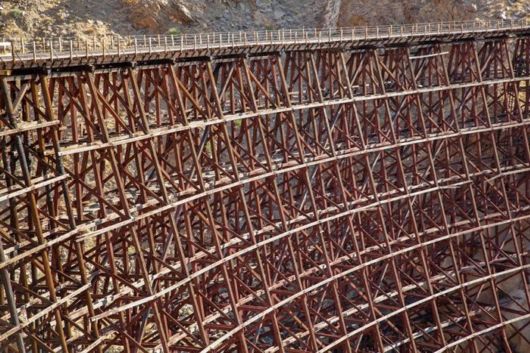 The last passenger train to travel the full length of the railroad left San Diego on Jan.11, 1951, but the railroad continued to ferry freight through the Carrizo Gorge until September 1976 when tropical storm Kathleen washed out the impossible railroad in numerous places. The damage to the section through Carrizo Gorge was so massive that it remains closed to this day. The abandoned railroad now attracts adventurist and railway buffs who try to follow the rails all the way from the high point in Jacumba down the gradient to Ocotillo in a spectacular journey of about 22 miles through a stark desert landscape, dotted with the efforts of railroad engineers to tame this wilderness, an effort that came to nought.