Have you seen this place 100 times, did you? Prince of Persia: The Sands of Time, Alexander, Gladiator, The Mummy, Kundun, The Pearl of the Nile, The Last
Temptation of Christ, Jesus of Nazareth – these and dozens of other Hollywood movies filmed here!
Ksar Ait Benhaddu>br< Ait Ben Haddou - Ksar (fortified town) in southern Morocco, 29 kilometers north-west of Ouarzazate. Since 1987 under the protection of UNESCO as a World Heritage Site.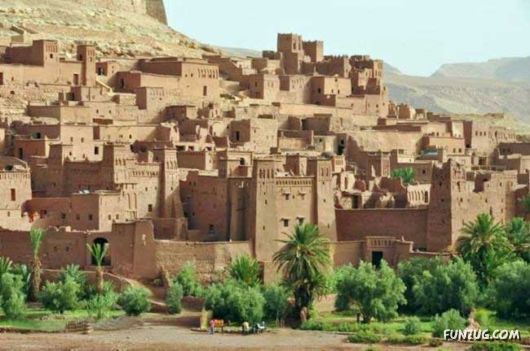 Ait Ben Haddou is located on the left bank of Ouarzazate on the hillside. The valley of the river passes through the wilderness river begins on the southern slopes of the High Atlas and subsequently lost in the sands of the Sahara. She ran along the caravan route from Marrakech through Zagora to Timbuktu. Ksar presumably originated in the XI century to protect the caravan route. After the trans-Saharan trade of importance was in decline, the population gradually moved to a new village on the opposite (right) side of the river. By the 1990s, was in Ksar ruinirovannom state, lived there only ten families. In recent years, is being restored, it is supposed to
turn into a tourist center of Ksar and place it in the galleries.
Ksar Ait Ben Haddou is one of the most typical examples of traditional Moroccan clay architecture prevalent in predsaharskoy area south of the High Atlas. All the houses are built of Ksara red-brown clay. Houses with flat roofs are located on the hillside terraces, the streets are horizontally connected by arches and narrow passages. In Ksar has four inputs, two free (far left and far right) and two toll. Free entry leads through a gate in the wall, while the charge passed through the home and belong to two families, one of the entrances to the museumis
located.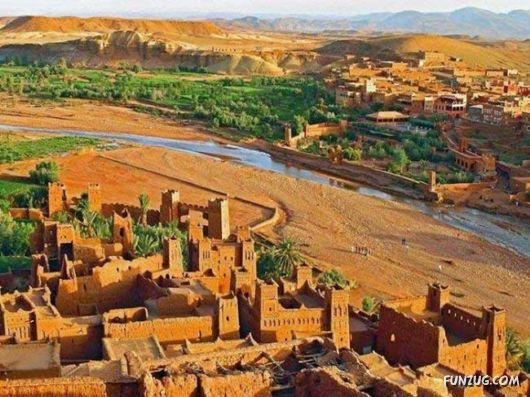 At the movies
Ksar was and remains extremely popular as a place of movies in varying degrees, using oriental subjects. So,
here were taken:
Lawrence of Arabia (1962) The Man Who Would Be King (1975)
Jesus of Nazareth (1977)
Time Bandits (1981)
Jewel of the Nile (1985)
The Living Daylights (1987)
The Last Temptation of Christ (1988)
The Sheltering Sky (1990)
Kundun (1997)
The Mummy (1999)>br> Gladiator (2000)
Alexander (2004)
Prince of Persia: The Sands of Time (film) (2010)