There are only fourteen mountains on Earth that rise to over 8000 meters (26,250 feet), and to climb any of them represents one of the biggest challenges known to man. The 8000m mark is so coveted because it is above this height that climbers enter the 'Death Zone'; the point at which oxygen levels are not sufficient enough to sustain human life. Of course this small fact has not stopped people from attempting to climb these wondrous mountains in pursuit of fulfilled dreams, iconic landmarks and the spectacular views of the world below that these skyscraping peaks offer. Here are the 14 eight-thousanders, along with some fascinating information about the peaks, and man's attempts to climb them.
1. Mount Everest (or Sagamatha/Chomolungma) (Himalayas – Tibet/Nepal)
Height: 8848 meters (29,029 feet)
First Ascent: 1953
8000ers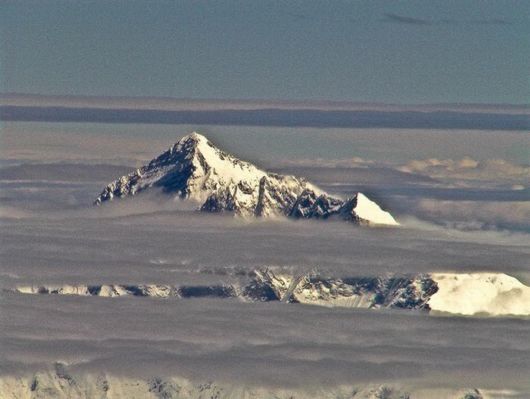 Everest is a world icon and comfortably the tallest mountain on the planet as of today. Climbing it was once the preserve of the most skilled and experienced mountaineers in the world, but capable and willing climbers can now hire guides and make an attempt on the summit. That does not mean the challenge should be taken lightly – many have perished on the mountain and decades-old corpses still line the route to the top. Nevertheless, climbing Everest is still seen as one of the most incredible acts of human endurance and appeals to many adventurous tourists who spend tens of thousands of dollars in an attempt to reach their goal.
2. K2 (Karakoram Range, Pakistan & China)

Height: 8611 meters (28,251 feet)
First Ascent: 1955
8000ers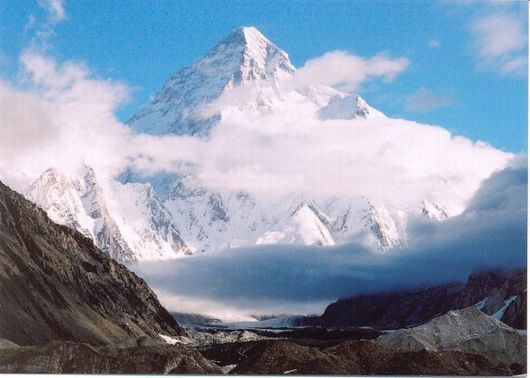 3. Kangchenjunga (Himalayas, Nepal & India)

Height: 8586 meters (28,169 feet)
First Ascent: 1956
8000ers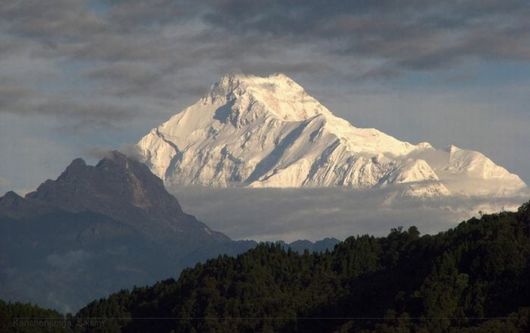 All fourteen mountains are still growing. Everest continues to grow at a rate of around 4mm a year, which is roughly the average for the rest of the top 10 tallest too, although there is one exception – Nanga Parbat. Nanga Parbat is the fastest growing mountain on the planet, and currently grows at a rate of about 7mm a year, nearly twice as quickly as Everest. This means that one day, it could conceivably become the tallest mountain on Earth if the current growth rates continue, but it will take a while – about 181,250 years to be precise!
4. Lhotse (Himalayas, Nepal & Tibet)

Height: 8516 meters (27,940 feet)
First Ascent: 1956
8000ers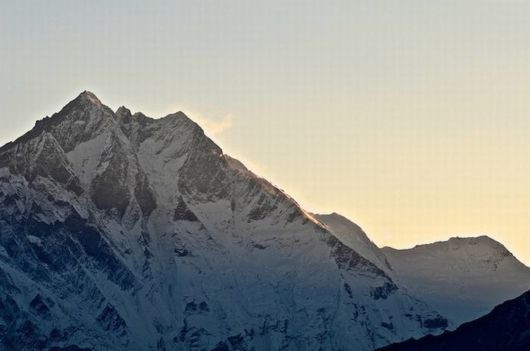 5. Makalu (Himalayas, Nepal & China)

Height: 8485 meters (27,838 feet)
First Ascent: 1955
8000ers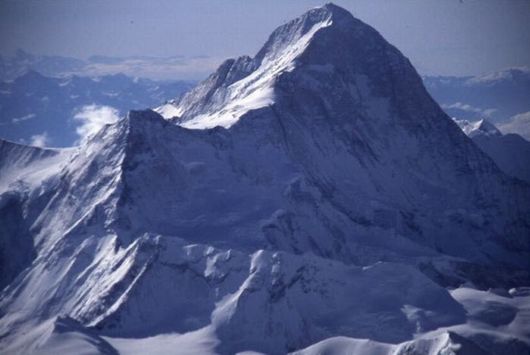 The first recorded attempt to climb an eight-thousander came in 1895 when Albert F. Mummery and J. Norman Collie tried to climb Nanga Parbat. The attempt failed when Mummery and two Gurkhas they had enlisted for the expedition were killed in an avalanche. It was another 55 years until an eight-thousander was successfully conquered (and recorded), when French climbers Maurice Herzog and Louis Lachenal summited Annapurna I in 1950.
6. Cho Oyu (Himalayas, Nepal & Tibet)

Height: 8188 meters (26,864 feet)
First Ascent: 1954)
8000ers
7. Dhaulagiri I

Height: 8167 meters (26,795 feet)
First Ascent: 1960
8000ers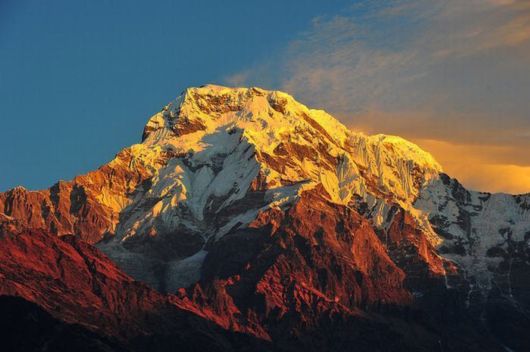 The successful ascent of Annapurna in 1950 triggered a series of successful climbs of the other 8000m peaks, including Everest by Edmund Hillary and Sherpa Tenzing Norgay in 1953. However, some believe that the British expedition led by George Mallory and Andrew Irvine successfully summitted Everest in 1924, before both went missing on the way back down. Mallory's body was not found until 1999, and his camera has never been recovered, so it's impossible to know if he and Irvine made it to the top. The last eight-thousander to be successfully climbed is also the smallest – Shishapangma, which remained unconquered for so long largely because Tibetan authorities would not grant foreign climbers the authority to attempt an ascent.
8. Manaslu (Himalayas, Nepal)

Height: 8156 meters (26,759 feet)
First Ascent: 1956
8000ers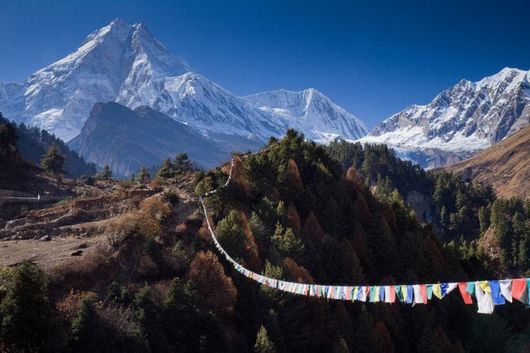 9. Nanga Parbat (Himalayas, Pakistan)

Height: 8126 meters (26,545 feet)
First Ascent: 1953
8000ers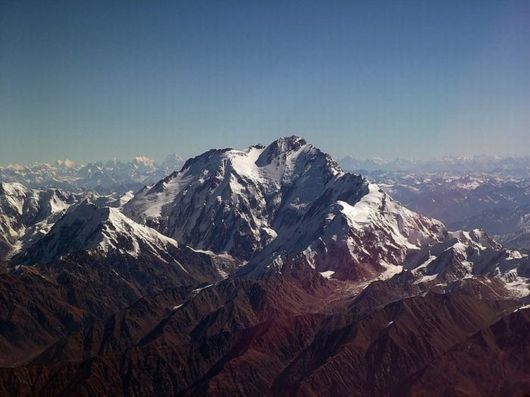 Legendary Italian climber Reinhold Messner was the first person to successfully climb all 14 eight-thousanders, completing the incredible feat in October 1986 when he reached the peak of Lhotse. Since he completed his challenge, he has never climbed another eight-thousander. Messner completed all his summits without the use of supplemental oxygen, an achievement not repeated for another nine years. A total of 33 climbers have now ascended all 14 mountains without bottled oxygen, while Phurba Tashi of Nepal has completed the most climbs with 30 successful eight-thousander summits to his name.
10 Annapurna I (Himalayas, Nepal)

Height: 8091 meters (26,545 feet)
First Ascent: 1950
8000ers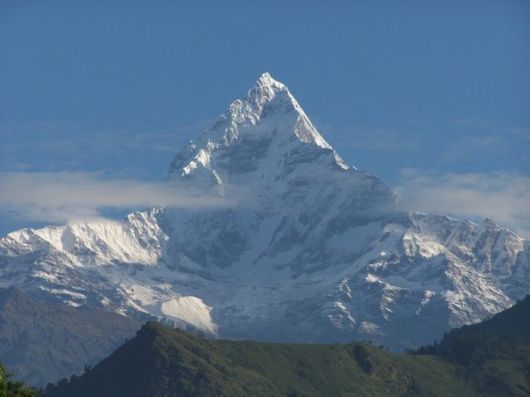 11. Gasherbrum I or Hidden Peak (Karakoram Range, Pakistan & China)
Height: 8080 meters (26,059 feet)
First Ascent: 1958
8000ers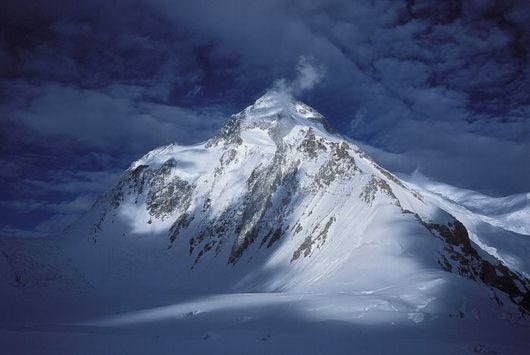 Height does not necessarily correlate with difficulty, although Everest does provide a huge challenge due to the amount of time a climber is required to spend in the Death Zone. That said, Annapurna I, the 10th highest mountain in the world, is often said to be the most difficult to climb and has a very low success rate, alongside an extremely high fatality rate, which was once upward of 40% but has now fallen to around 32%. Annapurna's difficulty comes from its glacial 'architecture', which includes huge ice cliffs, sheer sides and massive seracs that are often disorientating. K2, Kangchenjunga and Nanga Parbat (often referred to as 'Killer Mountain') are also notoriously difficult to climb, with heavy risk of avalanche and rock fall.
12. Broad Peak or K3 (Karakoram Range, Pakistan & China)

Height: 8051 meters (26,414 feet)
First Ascent: 1957
8000ers
13. Gasherbrum II (Karakoram Range, Pakistan & China)

Height: 8035 meters (26,352 feet)
First Ascent: 1956
8000ers
You don't have to climb these mountains to get a good view of them. There are plenty of opportunities for trekkers of all ages and fitness levels to spend some time in and around the ranges to get some spectacular views of the highest peaks in the world. One of the most special views is afforded by Gokyo Ri in Nepal, a 5,357m (17,575 ft) peak that can be ascended from the small, beautiful town of Gokyo in around four hours, From the top, climbers are afforded a magnificent view of a whole range of skyscraping mountains, including four of the eight-thousanders – Cho Oyu, Everest, Lhotse and Makalu. Thousands and thousands of tourists flock to Nepal, Tibet, Pakistan and China every year to marvel at these lofty, natural wonders.
14. Shishapangma or Gosainthan (Himalayas, Tibet)

Height: 8027 meters (26,335 feet)
First Ascent: 1964
8000ers