This is a list of the world's largest shopping malls based on their gross leasable area.
10. SM Megamall ? 4,220,000 square feet
SM Megamall is a huge shopping mall located in the Ortigas business district of Metro Manila, Philippines. It is one of the largest SM Supermall developed and operated by SM Prime Holdings, the largest mall operator in the Philippines owned by Henry Sy Sr. The mall has two buildings interconnected with a bridge and occupies a land area of approximately 21 hectares and has a total floor area of an estimated 392,000 m2 (4,220,000 sq ft), making it the second largest shopping mall in the country. The mall has a maximum capacity of 4 million people. It is as large as the Changi Airport Terminal 2 in Singapore.
09. Sunway Pyramid ? 4,276,945 square feet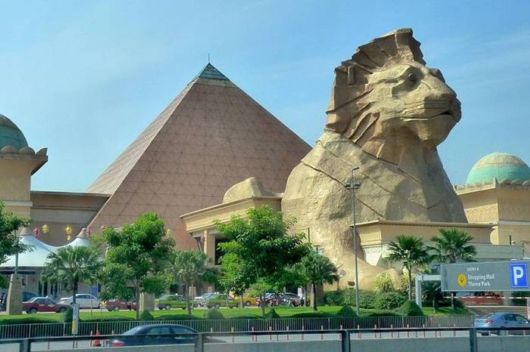 Sunway Pyramid is located in the heart of Bandar Sunway, Subang Jaya. It was opened in July 1997. One of the mall's most easily recognised designs is the Egyptian-inspired Pyramid with a lion "standing guard" at the entrance. The rest of the building is embellished in the monumental style, complete with pseudo-hieroglyphics decorating facades, along with numerous Pharonic statuaries. A monorail station connected to the Kuala Lumpur Monorail was originally planned to be built there. Construction began in early 2006, but was stopped and as of 2007 demolition is being considered.Its gross floor area of are totals 4,276,945 square feet (396,000 m²).
08 (a). Cevahir Shopping and Entertainment Center ? 4,521,000 square feet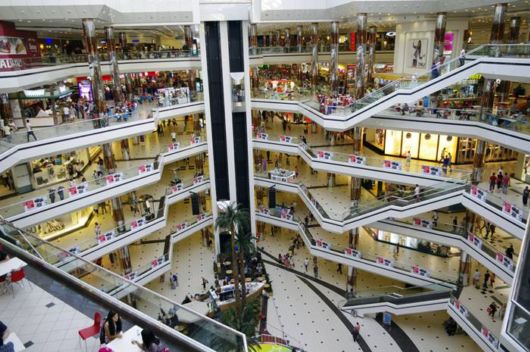 Istanbul Cevahir Shopping and Entertainment Center, also known as Sisli Kültür ve Ticaret Merkezi (Sisli Culture and Trade Centre) is a modern shopping mall located in the Sisli district of Istanbul, Turkey. Opened on 15 October 2005, Istanbul Cevahir was the largest shopping mall in Europe in terms of gross leasable area between 2005 and 2011, and is one of the largest in the world.
Istanbul Cevahir was built on a 62,475 m2 (672,000 sq ft) land plot at a cost of US$250 million. It has a total floor area of 420,000 m2 (4,521,000 sq ft) and a gross leasable area of 110,000 m2 (1,184,000 sq ft) for shops and restaurants. The six retail floors of the shopping centre house 343 shops (some of which are the first in Turkey to sell certain international brands); 34 fast food restaurants and 14 exclusive restaurants. Other facilities include a large stage for shows and other events; 12 cinemas including a private theatre and a cinema for children; a bowling hall; a small roller coaster; and several other entertainment facilities. The building's 2,500 m2 (26,910 sq ft) glass roof carries the second biggest clock in the world, with three-metre (10 ft) high digits. The car park has an area of 71,000 m2 (764,000 sq ft) and a capacity of 2,500 cars, spread on four floors.
08 (b). Mid Valley Megamall ? 4,521,000 square feet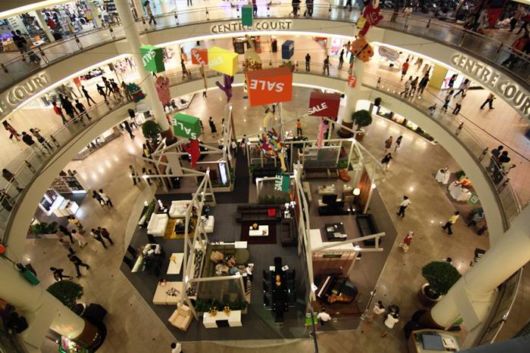 Mid Valley Megamall is a complex comprising a shopping mall, an office tower block, 30 offices, and 2 hotels located in Kuala Lumpur, Malaysia. It was opened in November 1999. The mall has 4.5 million square feet (420,000 m²) of total floor area, out of which 1.7 million square feet (158,000 m²) is leasable space.
It houses a 48,300 square foot (4,500 m²) convention centre and it is situated adjacent to a 646 room business hotel named Cititel Midvalley and 30 units of exclusive 11 storey signature offices. A second hotel, Boulevard, opened in mid-2005
07. Central World Mall ? 4,600,000 square feet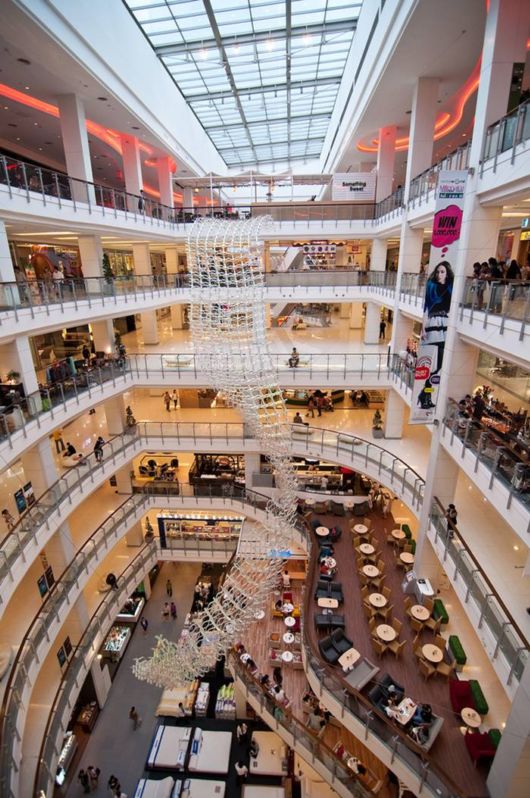 Central World is a shopping plaza and complex in Bangkok, Thailand. It is the sixth largest shopping complex in the world. The complex, which includes a hotel and office tower, is owned by Central Pattana. In 2006, after three years of design and renovation, CentralWorld was expanded to 550,000 square metres of shopping mall and 1,024,000 square metres of complex, topping nearby rival Siam Paragon in terms of size.
On 19 May 2010, CentralWorld was one of the many properties set on fire when the Red Shirts anti-government protesters were forcibly removed after months of demonstrations which included complete blockage of the Rachaprasong shopping district. The parts of the complex most affected were the Zen department store and its adjacent annex. A portion of the shopping complex reopened on 28 September 2010 after months of repair work.
06. Persian Gulf Complex ? 4,800,000 square feet

Persian Gulf Complex also known as Fars Shopping Complex is a large shopping mall located in Shiraz, Iran. It is the biggest mall in terms of the number of shops. The facility has space for 2,500 stores covering 420,000 square metres (4,500,000 sq ft).
Construction of the mall started in 2006 and was completed in 2011. The project was developed by Royal Star International, a Dubai-based construction group operating in the Middle East and Eurasia regions. Prior to its completion of the Fars Shopping Complex, Royal Star had completed 6 shopping malls, spread out across the region. These malls include Yazd Star, Qishm Star, South Star, City Center 1, City Center 2 and Shahr Star.
The complex includes the Burj Fars International, a 262-room hotel, an indoor and outdoor swimming pool, tennis court, convention centre and a helipad. In addition, there are two amusement parks at the mall, an outdoor amusement park called Iran Land, covering 37,000 square metres (400,000 sq ft), and an indoor amusement park covering 28,000 square metres (300,000 sq ft)with videogames, a bowling alley and a 3-story billiard hall. The mall also has six 240-seat cinema theaters. A 14,000-square-metre (150,000 sq ft) Carrefour Hypermarket is also located within the mall. The complex has four floors of parking space that can accommodate a total of 5,5000 vehicles.
05. 1 Utama Shopping Centre ? 5,000,000 square feet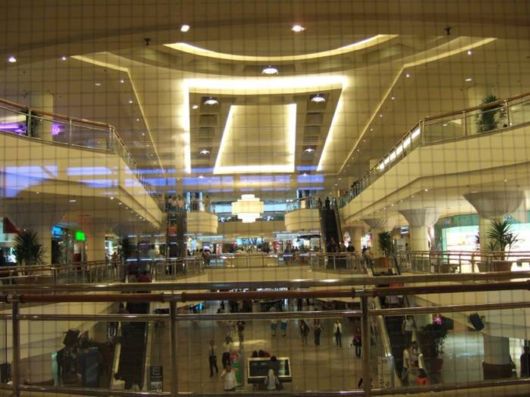 1 Utama Shopping Centre is situated in Bandar Utama Damansara, a township in the north of Petaling Jaya, Selangor and is also adjacent to the Taman Tun Dr Ismail township in Kuala Lumpur, the capital city of Malaysia. Its gross built-up area totals 5,000,000 square feet (465,000 m²). It is the largest shopping mall in Malaysia and the fourth largest in the world.
04. Isfahan City Center in Isfahan, Iran. 6,500,000 square feet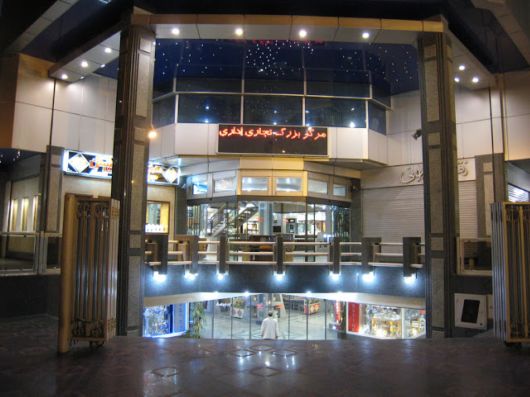 It is the largest shopping mall in Iran and is being built in four phases. It has a coverage of approximately 6,500,000 square feet, and includes a 5 star hotel (with 7 star standards), a shopping mall (including 7 cinema halls and more than 750 retail units), an international financial center (IFC), a world trade center (WTC), and an entertainment center with a cinema and a fair complex. The commercial center includes a hypermarket, a mall, shops, stalls, restaurants, and airline offices. The project is being developed by PRESTIGE LAND IRAN CO.
03. SM City North EDSA ? 5,200,000 square feet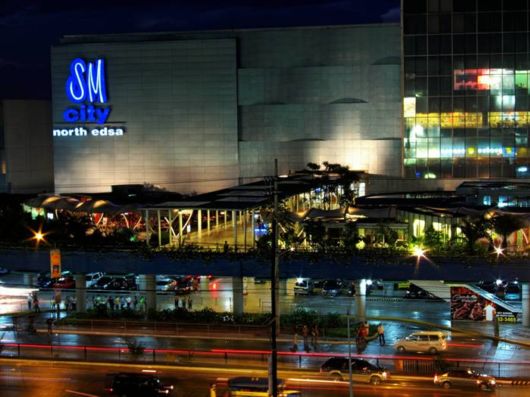 SM City North EDSA is a shopping mall located at the intersection of North Avenue and Epifanio de los Santos Avenue (EDSA) in Quezon City, Philippines. It is the largest shopping mall in Southeast Asia and third largest in the world in terms of leasable area (496,878 square meters). The mall is operated by SM Prime Holdings, a local company in the Philippines, and the biggest retail and mall operator in Southeast Asia. SM City North EDSA opened on November 25, 1985 with an original concept offered a variety of tenants and flagship stores. The mall's redevelopment began with the opening of The Block in July 2006, went into high gear with the launching of newly modernized Annex in December 2008, and the opening of the Sky garden in May 2009. The Car Park Plaza transformed into a lifestyle center on 2009. SM City North EDSA, a work in progress with the renovation of the City Center, and the development of the North Link. SM City North EDSA constructed at a challenging period in the Philippines' political history with a gross floor area of 120,000 square meters in 1985.
02.Golden Resources Mall ? 6,000,000 square feet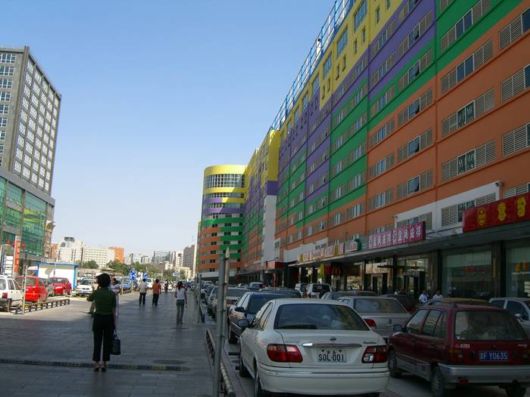 Golden Resources Shopping Mall, or Jin Yuan is a shopping mall located near the Fourth Ring Road in Beijing, People's Republic of China. The nearest bus station is which in English is Yuanda Road East. In English, the mall has earned the nickname Great Mall of China, owing to its total area of 6 million square feet (557,419 square metres) over six floors. At 1.5 times the size of the Mall of America, Golden Resources Mall was the world's largest shopping mall from 2004 to 2005.The mall was completed on 20 October 2004 after 20 months of construction and opened four days later.
01. New South China Mall ? 7,100,000 square feet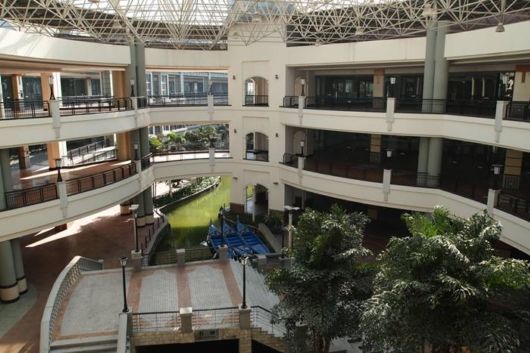 New South China Mall in Dongguan, China is the largest mall in the world based on gross leasable area, and ranked second in total area to the Dubai Mall. However, it is largely vacant. Unlike other "dead malls", which have been characterized by the departure of tenants, the New South China Mall has been 99% vacant since its 2005 opening as very few merchants have ever signed up.