Side streets are often small, narrow streets, usually with beautiful facades and balconies, which are covered with various flowers and vines. Mainly available only to pedestrians, they are a favorite place for tourists and photographers, because during the walk amazing photos can be taken.
1. Street in Antibes, France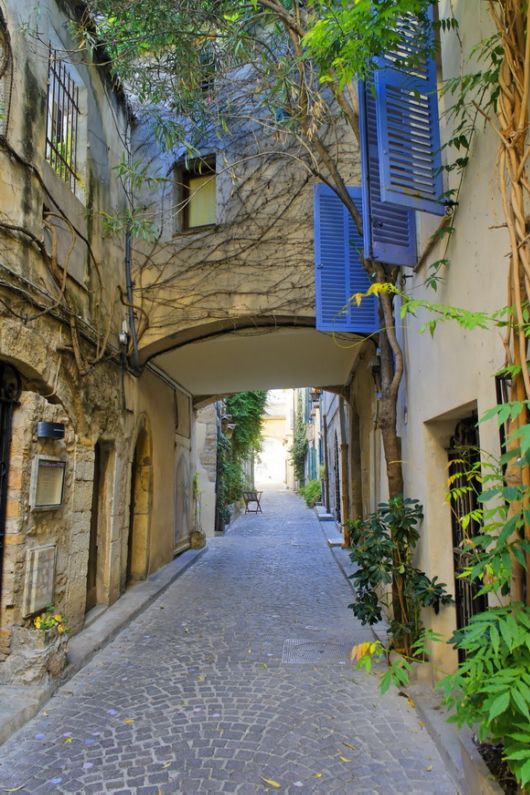 Antibes is a resort town in the Alpes-Maritimes department in southeastern France.
It lies on the Mediterranean in the Côte d'Azur, located between Cannes and Nice.
The Old Town section of Antibes has to be one of the most relaxed locations along the French Riviera. Fascinating street of Antibes (from picture), was lined with many art shops, local residences and made for a pleasant walk to say the least.
2. Street in Jerez, Spain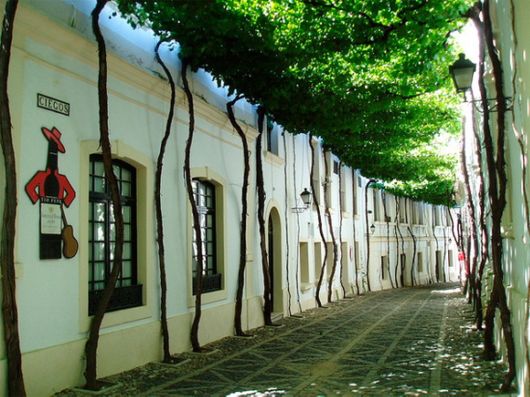 The economy of Jerez has traditionally been centered on the wine industry, with exports of sherry worldwide. This amazing street is located in the city of Jerez in the province of Cádiz, Andalusia.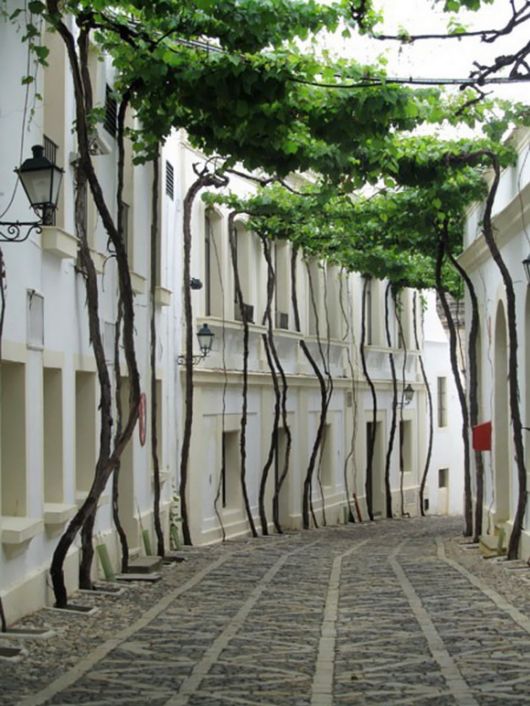 The trees are pinned back against the walls, with clean trunks, thereby allowing the canopy to form over the lane.
The street is located in the old part of the city. It is currently pedestrian walkway and is a part of a local winery.
3. Street in Eguisheim, France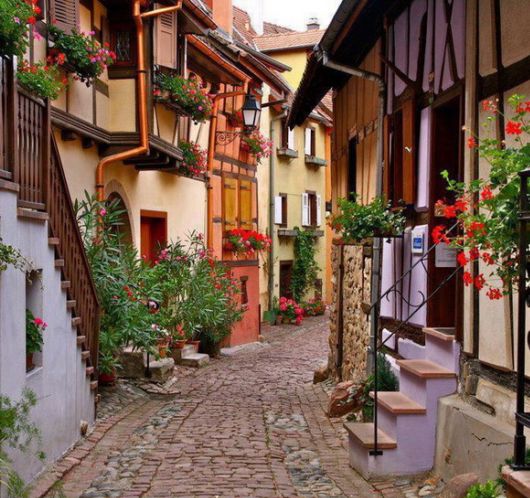 Eguisheim is a village in the Haut-Rhin department in Alsace in north-eastern France. The village is a member of the Les Plus Beaux Villages de France ("The most beautiful villages of France") association and is a very popular tourist destination.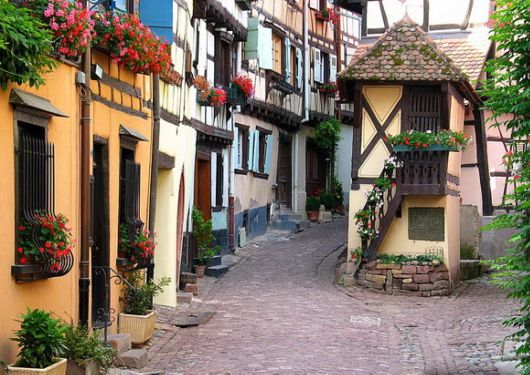 In Eguisheim, it is pleasant to stroll in the narrow streets in a warm luminosity that varies with the season and enhances the colourful palette of houses nestling up against its ramparts.
4. Street in Alberobello, Italy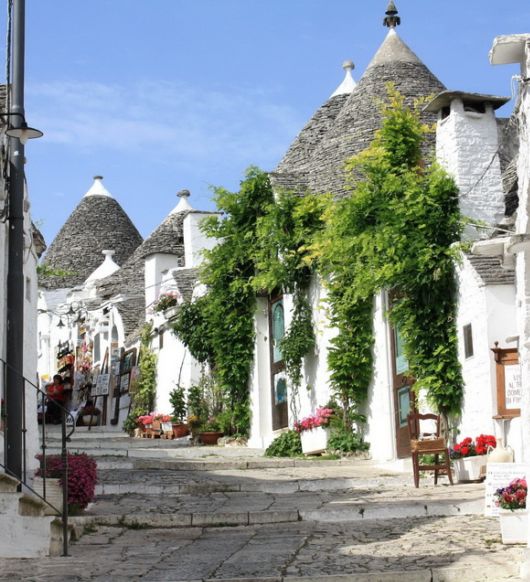 Alberobello is a town in the province of Bari, Puglia, famous for itscollection of Trulli, traditional dry-stone dwellings which are only found in the Itria valley.
Although there are many Trulli scattered around this region, Alberobello represents the largest collection of original buildings, many of which are still occupied, and has been made a Unesco World Heritage Site. This is just one of the many streets which are popular tourist promenades in Alberobello.
5. Street on Cunda Island, Turkey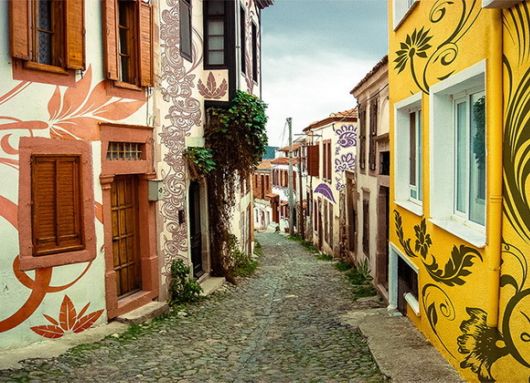 Street with houses whose facades are decorated with artistic patterns is located on the island of Cunda. It is a small island in the northwestern Aegean Sea off the coast of Ayvalık, part of Balıkesir Province of Turkey.
6. Venice Canal Street, Italy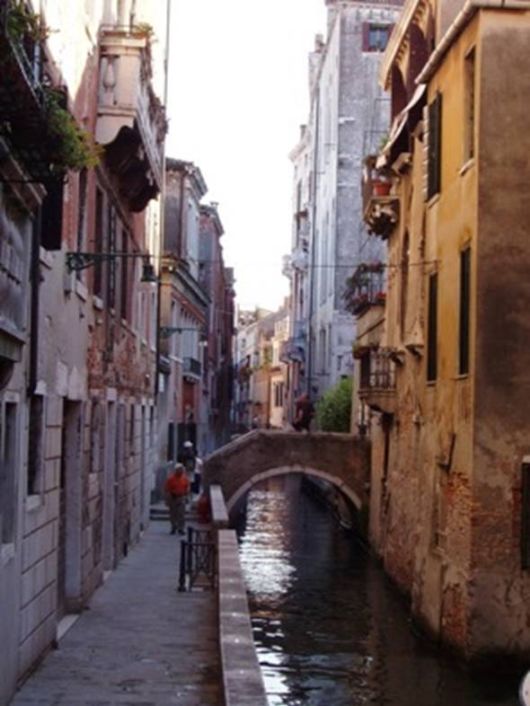 Venice is one of the most important tourist destinations in the world for its celebrated art and architecture. The city has an average of 50,000 tourists a day. It is regarded as one of the world's most beautiful cities. This street is one of the many streets lines with a canal in Venice and it is one of favorite places for walking tourists.
7. Street in Giverny, France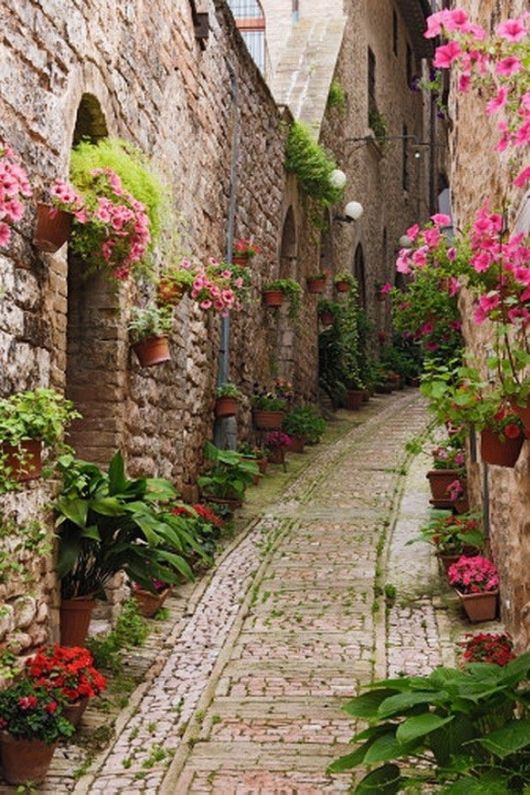 Giverny is a village in the Eure department in northern France. It is best known as the location of Claude Monet's (famous painter) garden and home.
Narrow street from the image above is a true floral park and therefore it is very pleasant to walk.
8. Lombard Street, San Francisco, USA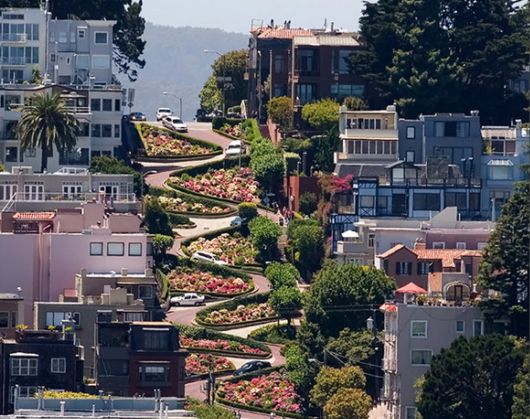 The street is famous for a small section near the top of Russian Hill, between Hyde and Leavenworth streets. Here the hill is so steep (27°) that it would be too dangerous for most vehicles, so between 1922 and 1923 this part of Lombard Street was transformed into a switchback with eight sharp turns.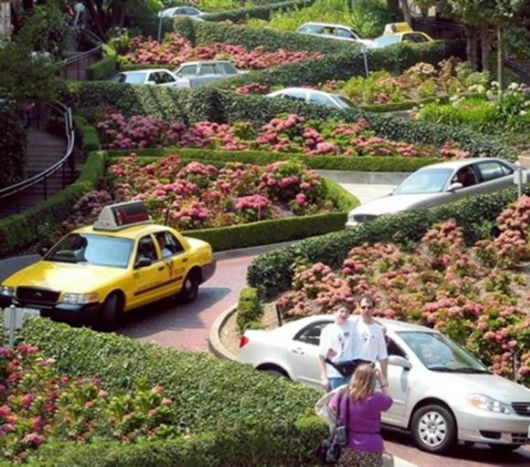 The crooked section of the street, which is about 1/4 mile (400 m) long, is reserved for one-way traffic traveling east (downhill) and is paved with red bricks. The speed limit in this section is 5 miles per hour (8.0 km/h).
9. Cherry Blossom Street, Bonn, Germany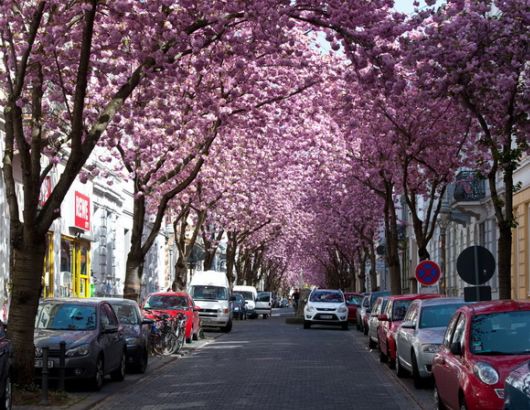 Cherry Blossom Street (Heerstrabe) is located in the German city of Bonn. It is a peaceful street over which, a series of beautiful trees of cherry blossoms droop. Spring becomes alive when the blossoms are in full bloom overhead.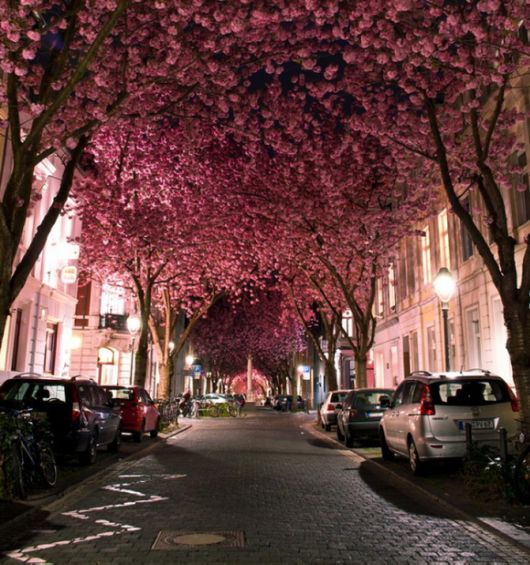 Two such roads in Bonn has cherry trees planted around but the mostly travelled is Heerstrabe. Cherry blossoms are said to last for 7- 10 days on average and it greatly depends on weather conditions.
10. Street in Orvieto, Italy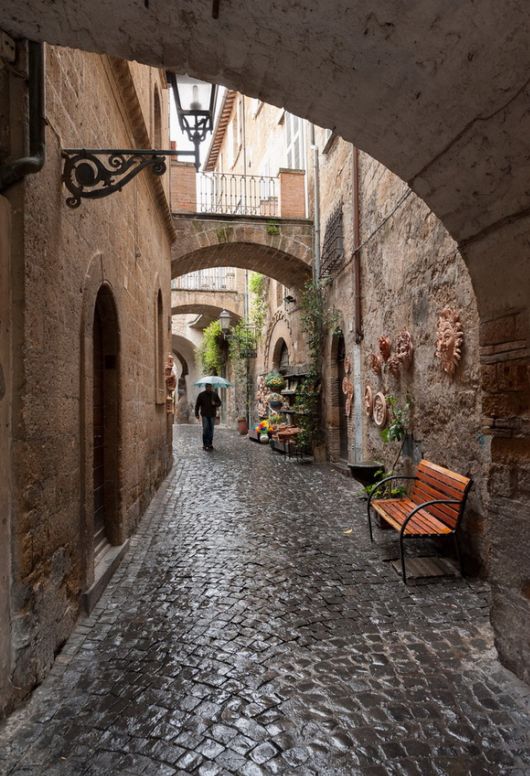 Orvieto is a city in Province of Terni, southwestern Umbria, Italy situated on the flat summit of a large butte of volcanic tuff. The site of the city is among the most dramatic in Europe, rising above the almost-vertical faces of tuff cliffs that are completed by defensive walls built of the same stone called Tufa.
This beautiful city is full of charming narrow streets, like this one in the picture above.
11. Acorn Street, Boston, USA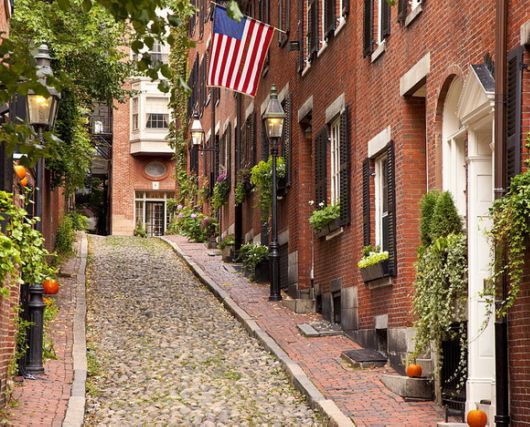 This famous street is located in Beacon Hill, a historic neighborhood of Boston. Acorn Street, often mentioned as the "most frequently photographed street in the United States.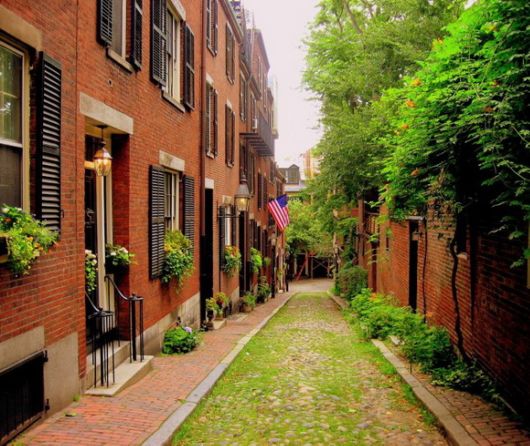 It is a narrow lane paved with cobblestones that was home to coachmen employed by families in Mt. Vernon and Chestnut Street mansions.
12. Fiskargränd, Visby, Sweden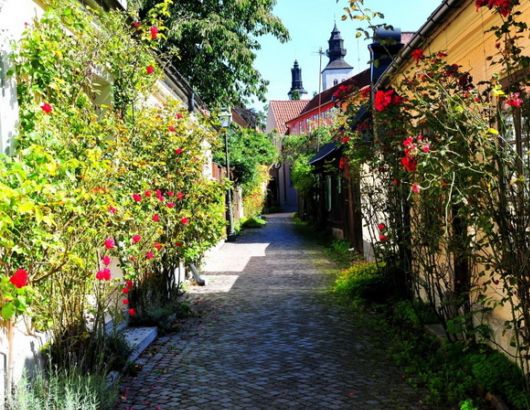 Fish Alley (Fiskargränd) is a street of Visby and it is one of the most photographed streets in Sweden. The area where Fiskargränd lies is popularly called "Fish root" from the 1600s onwards. Fiskargränd, adjoining neighborhood fishermen, has been used as a street name since the 1750s. Climbing roses, among other plants, were planted in the early 1940s.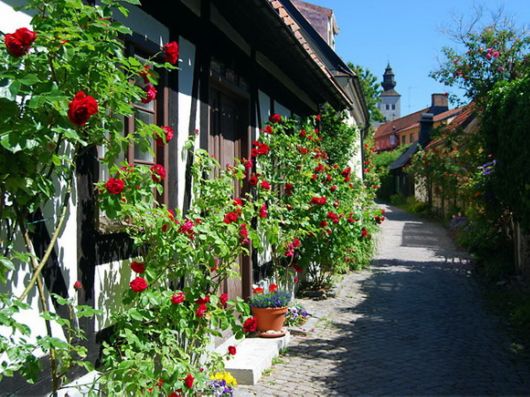 In December 2004 there was a citizen proposal that Fiskargränd be renamed to Rose Alley. The person wrote "that there are no fish there, but there are at least a thousand roses." The proposal was rebuffed by the Municipality of Gotland, which did not see enough reason to change the name.
13. Street in Frigiliana, Spain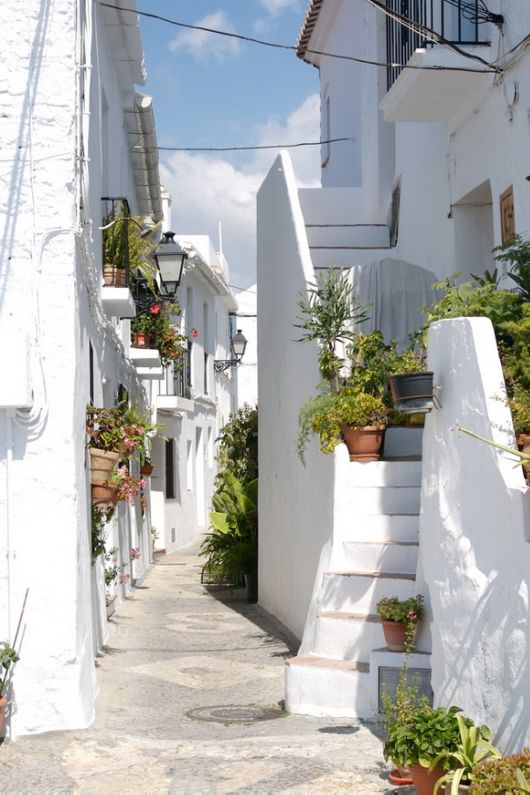 "White street" from the picture is located in Frigiliana – small, andalusian town. The town is made up of steep cobbled alleyways winding past white houses resplendent with flowers.
14. Street in Cartagena, Colombia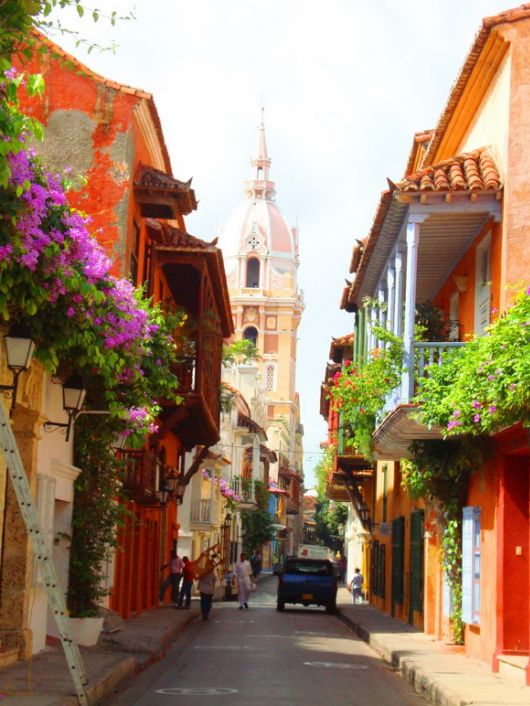 A beautiful street in the image is located in the old part of the city of Cartagena. Architecture is among the main attributes of Cartagena; the city has plenty of remarkable colonial houses and military buildings, plus modern tourist infrastructure, allowing the visitor the recognition of its historical development.
15. Rue Des Thermopyles, Paris, France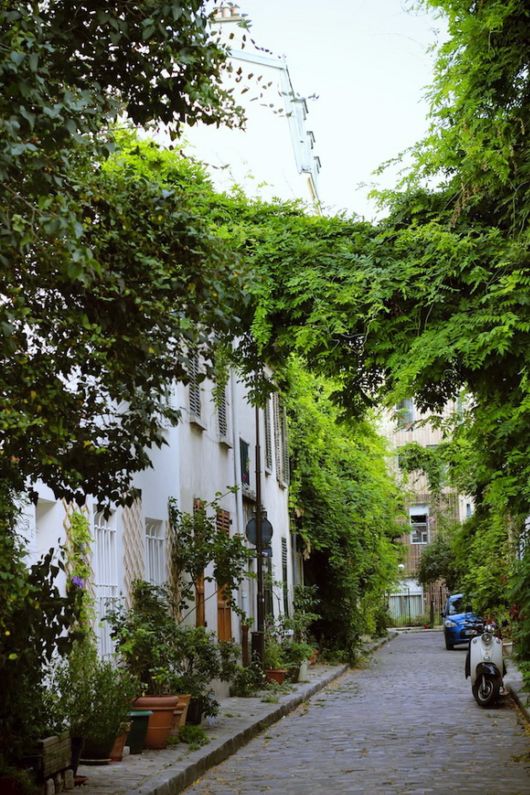 The Rue des Thermopyles is so-named because the street is as narrow as the pass where the legendary battle of Thermopylae was fought in 480 B.C.
The cobblestoned, plant-filled, cat-friendly Rue des Thermopyles, off the busy Rue Raymond Losserand in Pariss 14th arrondissement, is home to a number of artists and has an active neighborhood association.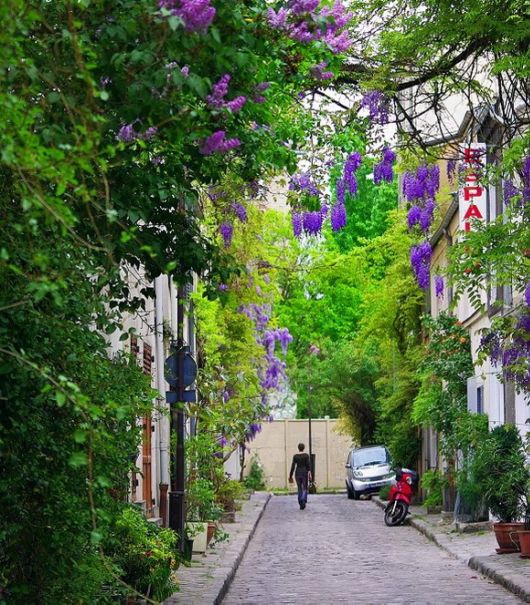 As you stroll through the picturesque pedestrian street, you might find books or furniture left out by the residents for passersby to take home. Many walls are covered with graffiti, including one piece by famous French graffiti artist Miss Tic.