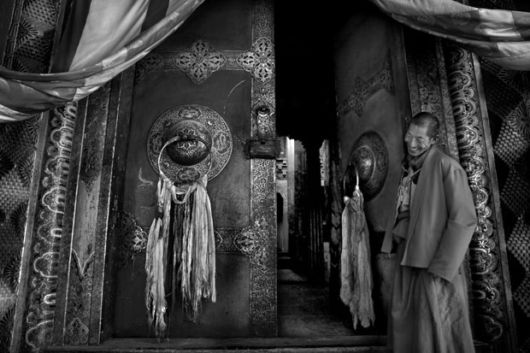 Overall winner, Travel Photographer of the Year 2010: Larry Louie, Canada. Opening of the temple door at a small monastery in the Tagong grasslands, Sichuan, China.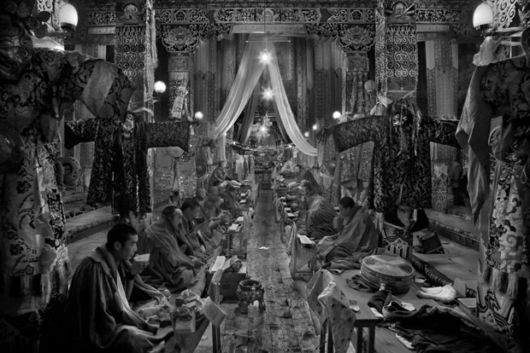 This series of images was taken in the Tibetan grasslands, which are now part of the Sichuan province in China. This was taken in October 2009, in the first week that morning services were allowed to resume. The local government had shut down all monastery activities due to the unrest in the area.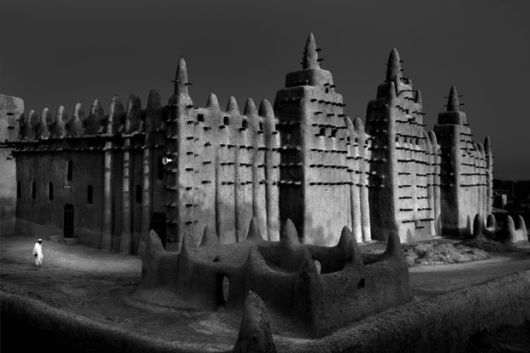 The Great Mosque of Djenne, one of the largest mud buildings in the world, has always been a great centre for Islamic learning and pilgrimages in West Africa. Although the current structure dates back only to 1907, the first mosque on this site was built in the 13th century.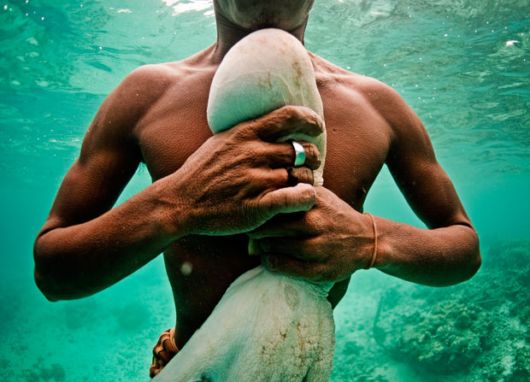 Winner, Encounters portfolio: James Morgan, UK. Jatmin, a member of the Bajau Luat and a highly skilled octopus hunter, carries a freshly speared octopus back to his boat in the waters off Sulawesi, Indonesia.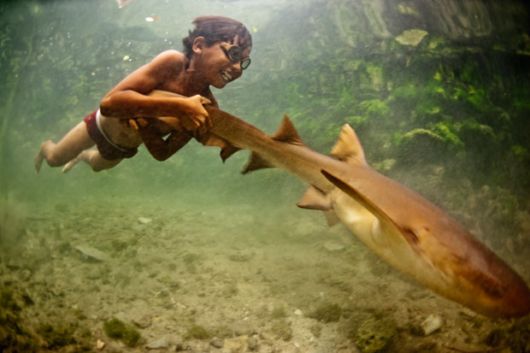 Enal is around 6 years old. He knows this shark well – it lives in a penned off area of ocean beneath his stilted house in Wangi, Indonesia. It is very rare for someone to have this kind of connection with a shark.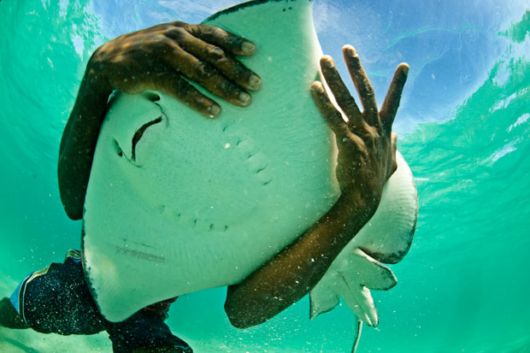 Contemporary marine conservation must incorporate an array of world views and cultural understandings of the ocean. Here an Antiguan freediver flaunts western scuba diving etiquette to pick up a stingray from the floor of the Caribbean.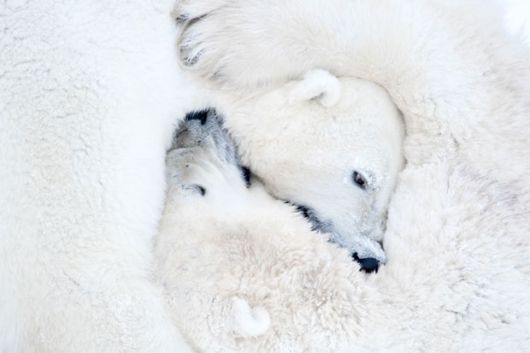 Judges' Special Mention, Encounters: Daisy Gilardini, Switzerland. I was in Canada's Wapusk National Park on a huge Tundra Buggy. It was a really moody day, cold and overcast. The bears love this kind of weather conditions and seem to be much more active than on bright sunny days. We slowly approached these two young males, which were totally focused on sparring.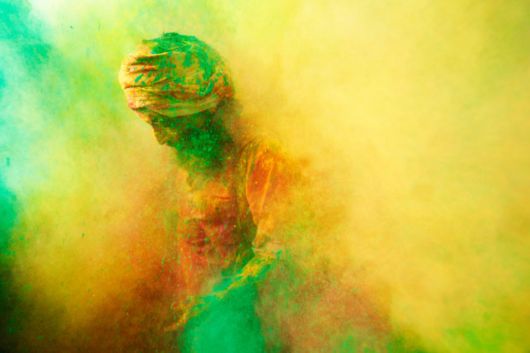 Judges' Special Mention, Encounters: Poras Chaudhary, India. A Sadhu making his way out of the cloud of colours during the festival of Holi in Kurukshetra, Haryana, India. He is returning after paying homage to Lord Krishna with which the festival begins.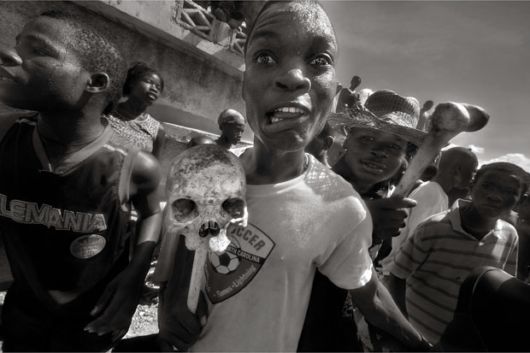 Runner-up, Encounters portfolio: Jordi Cohen Colldeforns, Spain. Fete Gede, the Feast of the Dead, is a time when Haiti's Vodouisants celebrate the ancestral dead who walk with them all their lives.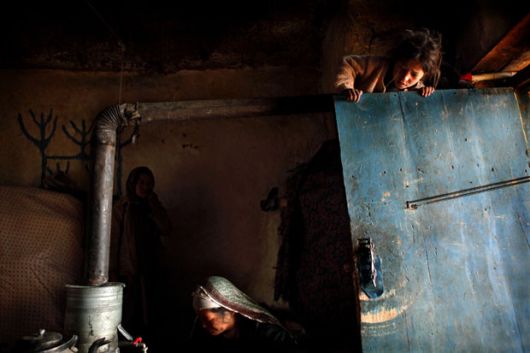 Best Single Image in an Encounters Portfolio: Alex Masi, Italy. Maryam, 38, is lighting the family's wood stove inside their cave while, Hamidah, 6, and her sister Fatemah, 12, are awaiting for tea in the early hours of the morning, in Bamiyan, Afghanistan, an area mostly populated by Hazaras.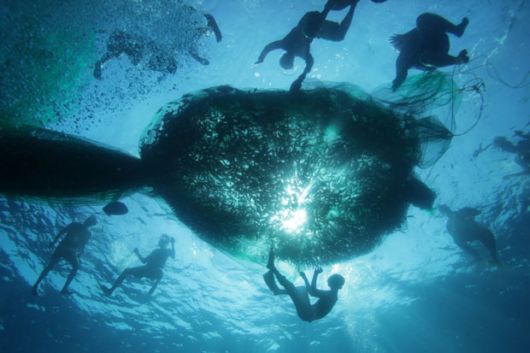 Runner-up, Amazing Places portfolio: Timothy Allen, UK. Pa-aling is a controversial method of net fishing practiced in the Philippines around the islands of Cebu and Palawan. Last year I travelled to Palawan with a BBC film crew to document this incredibly dangerous practice for Human Planet. We spent a week at sea with two pa aling boats, with men diving approximately three times every day. Groups of men dive to the ocean floor and set up a large purse-shaped net at the side of a reef, then arrange themselves in a line acting as a human barrier on the other side of the reef. The men then march slowly over the reef towards the net corralling all sea life into the jaws of the net.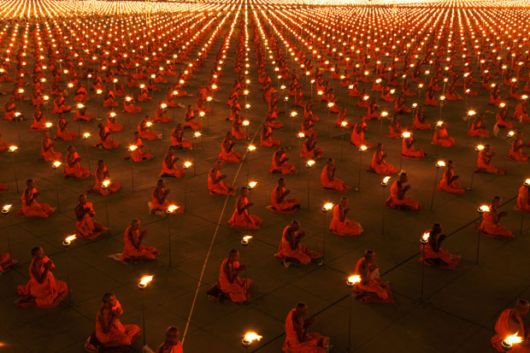 Commended, Amazing Places portfolio: Luke Duggleby, UK. The Buddhist Temple of Wat Phra Dhammakaya celebrates the Buddhist holy day of Makha Bucha with a mass candlelight vigil of around 100,000 monks and lay people. I set the camera to f8 and shot a 0.6 of a second exposure time being careful to find a balance between pulling out the details of the monks and not over-exposing the flames of the candles.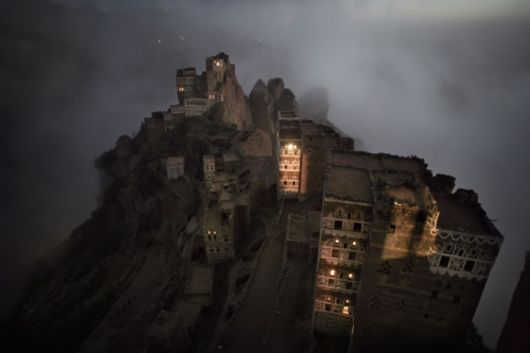 Winner, Best Single Image in Amazing Places: Matjaz Krivic, Slovenia. The photo was shot just after a sunset on the roof of a palace at Shugruf village in the Haraz Mountains of Yemen. It is an aerial view of the mist from the valley below rising towards the village. The light was amazing by it self – no extra lighting was used. The sun has just set (see the top right corner of the image) and mist has started to rise from the valley below. A minute after the photo was taken the village was in the thick cloud.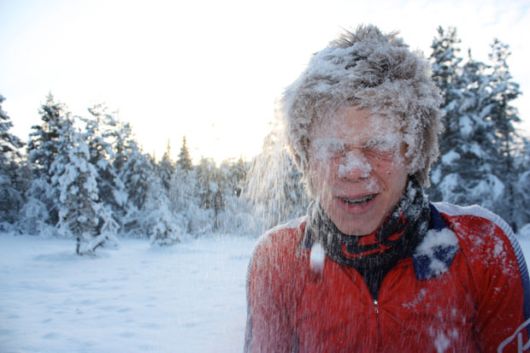 Winner, Young TPOTY age 15-18, and winner Young Photographers' Alliance Emerging Talent Award: Ivar August Bull, Norway (age 18). One of my classmates getting snow thrown at him in the lunch break we had on a cross-country skiing trip. The powder was so tempting that I just had to shoot some photos, while they were playing.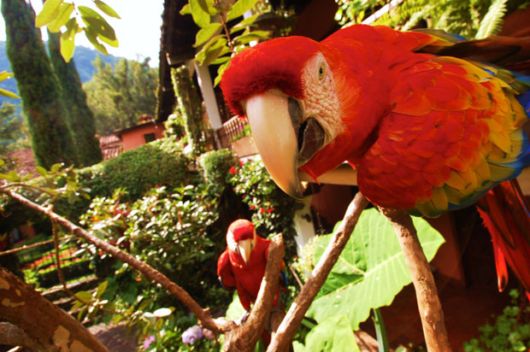 Winner, Young TPOTY age 14 and under: Chase Guttman, USA (age 13). Atop Lake Atitlán in Guatemala lies a valley of waterfalls and volcanoes crawling with squealing monkeys and colourful birds. This image was taken using a tripod to hoist my camera to tree level. As the birds became curious, they inched their way towards my lens just as my self timer went off.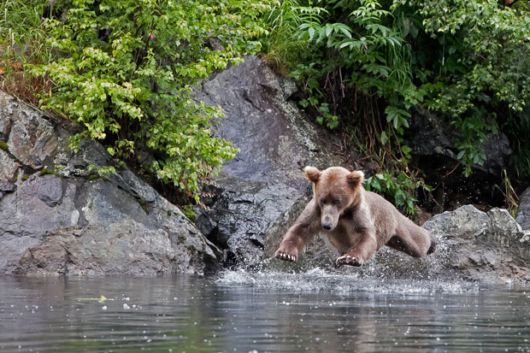 Winner, New Talent: Eric Kruszewski, USA. The United States has the second largest population of brown bears in the world, with about 95% of those living in Alaska. A resident bear population lives throughout this 171,000-acre Redoubt Bay Critical Habitat area.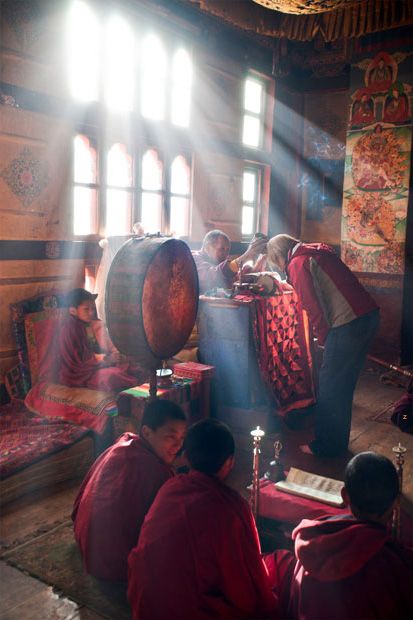 Runner-up, New Talent: Kim Walker, USA. Ura Temple, Bumthang Valley, central Bhutan. We were invited to participate in a private ceremony, and asked to arrive before sunrise. As we sat on the cold wood-planked floor in our socks and winter coats, we watched the young monks chant from Tibetan texts, play cymbols, horns, and drums during a Buddhist ceremony. One by one we approached the altar where the Lama bestowed a special protection from misfortune blessing on each of us. As we were blessed, rays from the rising sun illuminated the dark temple interior.
Highly Commended, New Talent: James Creswell, UK. Trinity Peninsula, Antarctic Peninsula. Humpback whales breed in warm tropical waters but every summer large numbers of whales migrate to the cold nutrient rich waters of Antarctica to feed. This whale is diving down to feed, raising its tail flukes above the water to help propel it down. Lucky tourists who are travelling to Antarctica on an expedition cruise observe the action.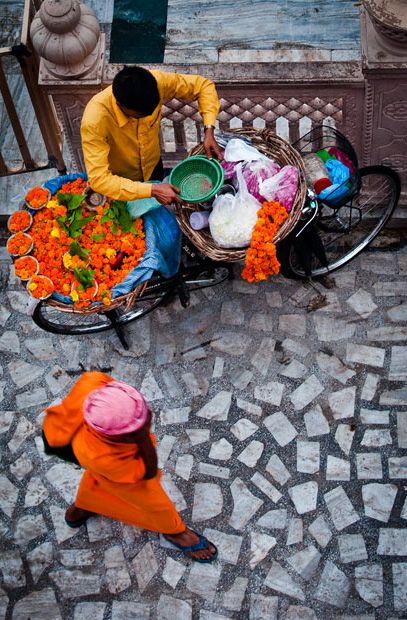 Winner, First Shot – Festival of Colour. Brian Powell, USA. I was staying at an ashram in Rishikesh, India, and like all days of my trip to India I rose early to explore. When I tried to leave the ashram, I found the gates locked; I was stuck inside for the best hour of light. I discovered a little-used passageway leading to the roof and after locating the man setting up his bicycle of flowers (offerings for sale to the devote Hindus), I waited for the right moment. When I saw the sadhu coming down the street with his hurried and powerful stride, I knew I had the perfect marriage of color, form, and gesture.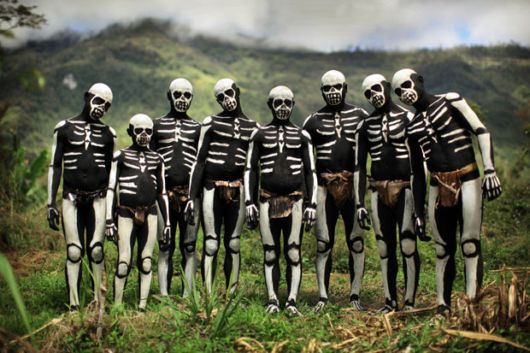 Highly Commended, One Shot – Adventures: Timothy Allen, UK. There is definitely no easy way to get to the centre of Papua New Guinea from the UK. At the last count my journey involved 4 planes and just over 30 hours of flying. This photo sums up perfectly how my mind and body felt. I randomly met these guys in the forest near a local singsing.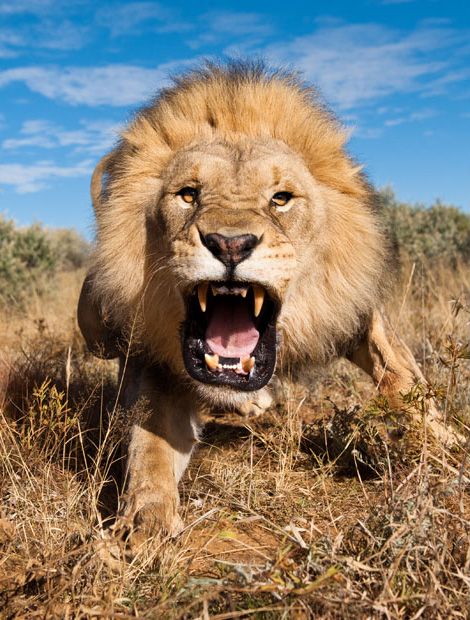 Commended, One Shot – Adventures: Marsel van Oosten, Netherlands. For this image I was in a vehicle in the Kalahari, photographing a pride of lions. I mounted my camera on a monopod and held it outside the car, upside down, to get a ground level perspective.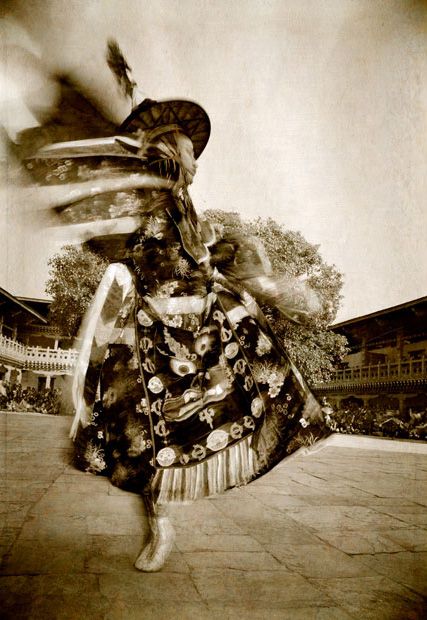 Winner, World in Motion portfolio. Richard Murai, USA. The most striking visual feature of traveling in Bhutan is the many monasteries, or dzongs, that serve as centers of worship and religious training. In each province the largest of these medieval citadels hosts annual regional festivals known as tsechu.