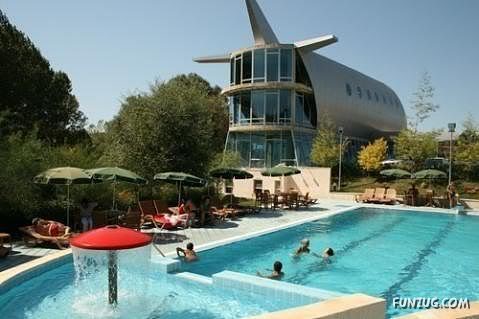 Even if the planet was disintegrating around us people would still use air travel to get around the globe, whether they?re wannabe tree-huggers or global warming naysayers.
For all its faults environmentally, flying remains the quickest way to travel, and in some parts of the world is the only option to cover long distances where public transport is practically non-existent. So, instead of telling people to stay at home ? which they won?t ? it?s better to provide greener travel options so they can do their bit for the environment should they want to. This means staying in smaller hotels, where there?s often a slant towards the personal touch, or large hotels that have worked hard to incorporate environmental practices.
And because so many long-distance flights entail a stopover, it seems only right to take a look at the flurry of airport hotels catering to the weary traveler. Here are our top seven of hip airport hotels from around the globe:
CitizenM, Schiphol Airport, Amsterdam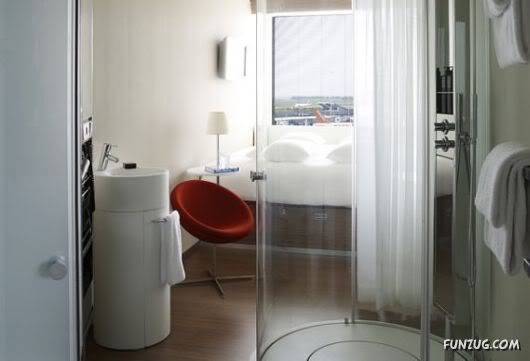 Located right next to Schiphol Airport, CitizenM ? short for citizen mobile ? oozes cool. Offering affordable but beautifully kitted out rooms, the hotel has a luxurious boutique feel without if affecting the bank balance too much. Each room is ergonomically designed, every inch of space is used without it seeming too claustrophobic. Both the shower and toilet are in the room but hidden within tube shaped privacy screen reminiscent of the beam-me-up-Scotty times. There?s also a plasma screen TV at the foot of the bed and Wifi is available for those who want to hole themselves away, though the ethos of this hotel is to come down to the lounge and meet other travelers. Doubles start at ?73 for room only.
CitizenM, Schiphol Airport, Amsterdam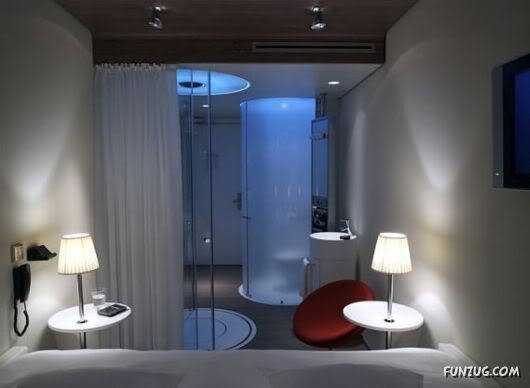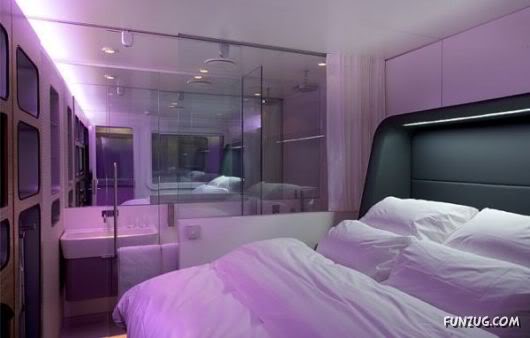 It?s a well known fact that space is precious in London, and those who know how use every teeny, weeny orifice they can find, so it?s no surprise to see a hotel for hobbitses in the metropolitan area. Inspired by British Airways? first-class suites and the boxy Japanese pod hotels, Yotel Gatwick is the brainchild of Simon Woordroffe, founder of the Japanese fast-food sushi chain YoSushi, and unlike many of the does-what-it-says-on-the-tin Asian sleep pods, Yotel is a designers dream. Designed by exclusive company Conran & Partners, the rooms are small but perfectly functional with a shower room and toilet, though claustrophobia sufferers may want to opt for the premium cabin where there?s slightly more room ? well, you can at least get the cat in there, not sure about the swinging of it though. Premium cabins cost from £40 for four hours; standard cabins cost from £25 for four hours, extra hours are charged from £6.50 per hour thereafter. There is also a Yotel Heathrow, London and Yotel Schiphol, Amsterdam.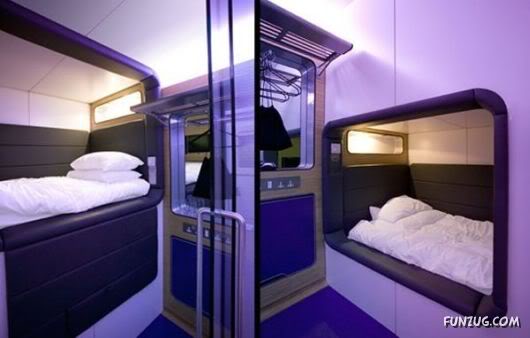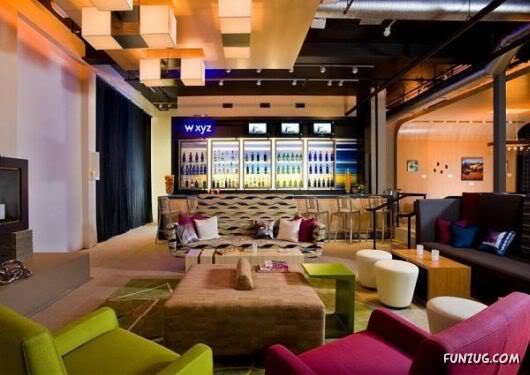 Taking North America by storm, Aloft are a new breed of budget luxury hotels from Starwood Hotels & Resorts. The high-design/low-cost brand of hotels offer a new, contemporary take on the average airport hotel. Swathed in vibrant colors throughout, Aloft hotels veer away from the usual corporate beige coloring of so many other airport hotels, making a stay there seem not so banal. With a nod to the sleek, clean designs of northern Europe, or as one reviewer put it: ?If Ikea opened a hotel, this is what it would look like?, Aloft manage to bring airport hotels into the 21st century, without the tantrums. Check out the interactive menu in the lobby restaurant or have a relaxing game of pool in the lounge before bedding down for the night. Doubles from $189, room only. A number of hotels are dotted across North America with one also in Beijing.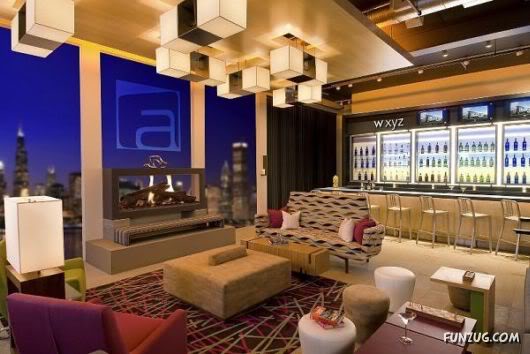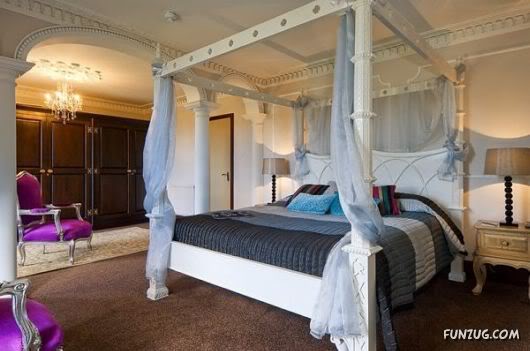 Although not in the airport grounds, Plush Hotel is the best place to stay if you want to escape the impersonal chain hotels that surround Bristol airport, and it?s very, very sexy. Nestled in the Somerset countryside, just over a mile from the airport, Plush is a small, independently-run boutique hotel that?s built up a loyal fan-base of customers over the years. Each room is luxuriously and uniquely decorated and offers guests the chance to unwind in the most beautiful setting overlooking the Mendip Hills. Prices vary according to which room is preferred and whether airport parking is included. A seven day airport package, which includes one night?s stay and seven days parking in the hotel?s exclusive airport car park, costs £129 ($182) per room.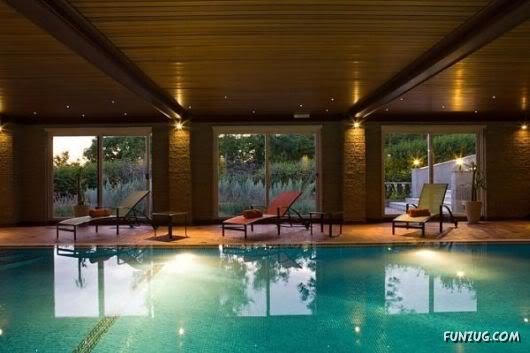 Jumbo Jet Hostel, Stockholm-Arlanda Airport, Sweden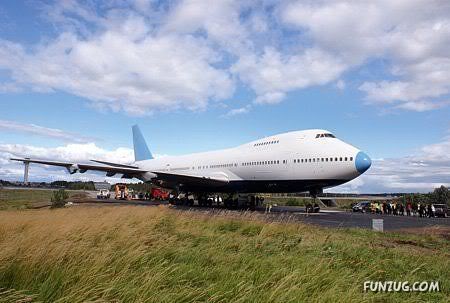 The first jumbo jet hostel opened its doors (or should that be gangway) just over a year ago to much acclaim. Created from the remains of an abandoned Boeing 747, the plane hotel is proving to be a big hit among travelers. It was 37-year-old businessman Oscar Dios that first thought of bringing the metal giant back to life, and he hasn?t looked back since. Able to cater for up to 72 people at any one time, the 25-room jumbo hostel offers a much more comfy sleep than is usual on a flight, albeit still in a small area. It might be the most comfortable night?s sleep you?ll ever have on a plane! And if you?re worried about it being hijacked and taking off in the middle of the night, the jumbo is securely fastened to the ground with concrete and steel fixtures. Prices start at 350 SEK ($43) for a dorm bed, with breakfast included.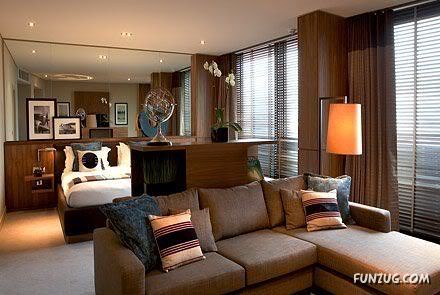 Possibly one of the most luxurious airport hotels available, the Aviator serves those who use the adjoining private aviation grounds at Farnborough airport, so it?s only frequented by those who have enough cash to splash. Rooms have been given the once over by interior designer Amanda Rosa, who has tried to get away from the usual airport hotel décor by sassing it up a little, although there?s still a touch too much beige and brown to give it the gold standard. And if you?re bored with the bland color palette there?s a Bose sound system and huge flat screen TV to keep you occupied. Doubles start from £95 for room only.