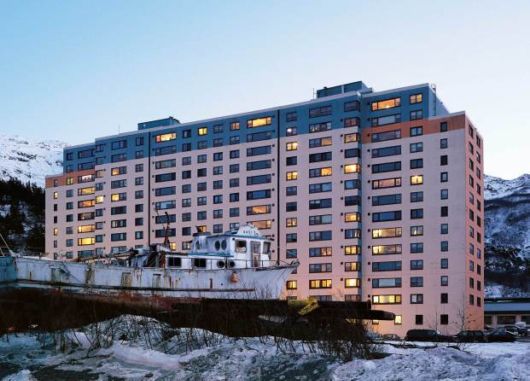 With a population of just 200 people the town of Whittier in Alaska is one of the most unique in the world, not only because of its extreme weather but because of how the residents live.
Begich Towers is a 14-storey high building built in 1956 that used to be an Army barracks, inside there is now a police station, health clinic, church and even a playground for kids. It might look like a slightly claustrophobic experience for some but when you scratch beneath the surface it?s a thriving community that comes together to help one another when the weather gets tough.
During the summer the town is visited by cruise ships and commercial fishers who bring thousands of visitors to its harbour. The only way that Whittier can be visited by land is through a long tunnel that also serves its purpose to transport children back and forth from school when the cold sets in.
In winter they experience up to 250 inches of snow and 60 mph winds occur frequently, with windows of businesses boarded up due to a lack of tourism the community comes together as one in this building.