Doggie Dumbo: He's the hound with the world's biggest ears that will make you believe he can fly
One look at Harbor the black-and-tan coonhound, and you?ll believe a dog can fly.
Guinness World Records has named him the possessor of the longest canine ears on the planet. His left one measures 12¼in while the right is longer at 13½in.
The breed was developed to hunt raccoons, with the long ears said to help by sweeping scents towards the nose.
World record: Harbor the coonhound has the largest canine ears on the planet, with the left measuring 12.25inches and the right 13.5inches
But Harbor has had a lifelong struggle with his colossal ears, frequently tripping over them as a puppy and rolling down the stairs.
Now though, the purebred has grown into his lengthy lugholes, which have made him a celebrity.
Owner Jennifer Wert, of Boulder, Colorado, said: ?Cars will literally stop in the street to take a closer look and get a picture.
?Most days I forget how oddly long his ears are,? added Jennifer. ?He?s a phenomenon in the world and he creates smiles wherever we go.?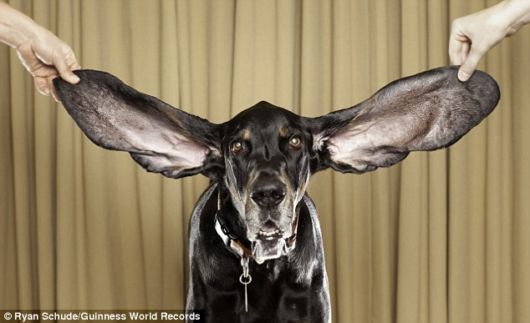 })(jQuery);