This beautiful "carpet" is created every year
in the Grand-Place in Brussels .
It's made entirely with fresh flowers – begonias.
What a breathtaking sight!
Isn't it wonderful that there's so much beauty in this world
and the computer enables all to enjoy it. We live in the best era. No one in the past had access to this technology revolution
BRUSSELS IN BLOOM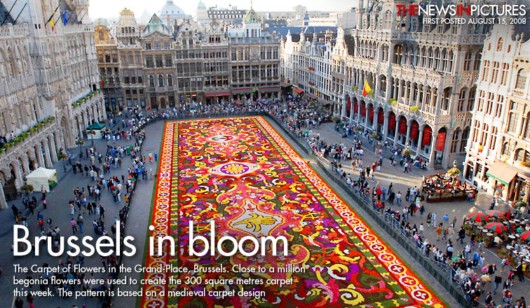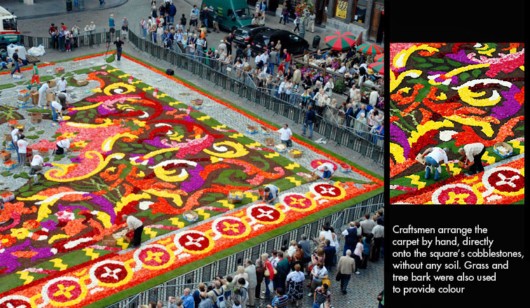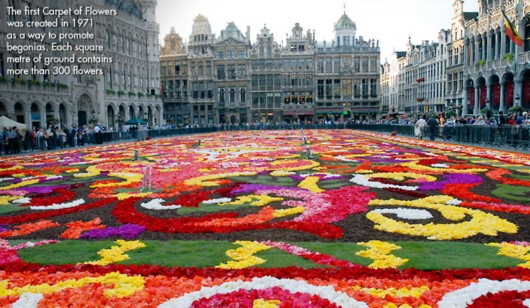 How's that for a flower garden?
Since 1971, it is the 16th carpet of flowers on the Grand Place in Brussels. In recent years, the flower carpet has become one of the biggest attractions of Brussels . This year, the flower carpet designed by floral architect Mark Schautteet is inspired by the tapestry of the French Savonnerie, which dates from the 17th century. 700,000 begonias flowers form a colorful motif on which appears the patron saint Saint-Michel and the iris of the Brussels Region. One hundred volunteers have brought flowers to the Grand Place. For the floral carpet of flowers to be perfect, the design is fully represented in size on a transparent plastic perforated to create a micro-humid climate which must keep fresh flowers and colorful. The official opening will be accompanied by music created specially for the occasion by the composer Gregory Dune.