William Windsor (known as Billy), a goat in the military, was a lance corporal in the 1st Battalion, the Royal Welsh, an infantry battalion of the British Army. He served as a lance corporal from 2001 until 2009, except for a three month period in 2006 when he was demoted to fusilier, after unacceptable behaviour during the Queens' birthday celebrationsWhipsnade Zoo while deployed on active service with the battalion on Cyprus. He retired to in May 2009.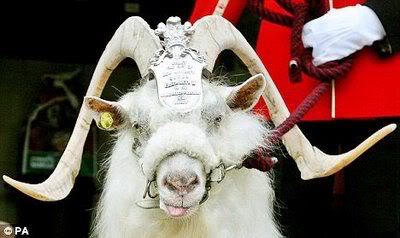 Biography
The tradition of having goats in the military originated in 1775 when a wild goat walked onto the battlefield in Boston during the American Revolutionary War and led the Welsh regimental colours at the end of the Battle of Bunker Hill.
Billy, a Kashmir goat from the royal herd at Whipsnade Zoo, was presented to the regiment by Queen Elizabeth II in 2001. He is said to be friendly and likes meeting people. The tradition is not new: since 1844, the British Monarchy has presented an unbroken series of Kashmir goats to the Royal Welch Fusiliers from the crown's own royal herd.
The royal goat herd was originally obtained from Mohammad Shah Qajar, Shah of Persia from 1834-1848, when he presented them to Queen Victoria as a gift in 1837 upon her accession to the throne. Billy is thus descended from the same royal bloodline as the original herd.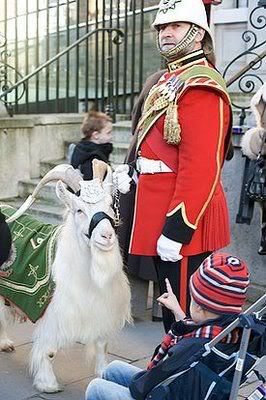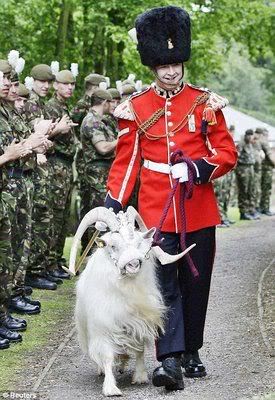 Military career
Billy's Army number 25232301 is not a mascot, but a ranking member of the regiment; since joining in 2001, he has served overseas, and has met royalty. His primary duty was to march at the head of the battalion on all ceremonial duties. He was present for every parade in which the regiment participated.He spent two and a half years in Cyprus while the battalion was posted there, and has lived in Chester since their return.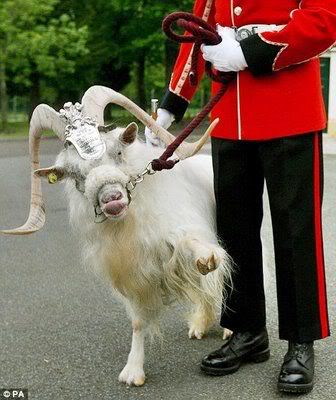 Goat Major
Billy had a full-time handler during his military service, Lance-Corporal Ryan Arthur, known as the Goat Major, who ensured Billy's welfare at all times.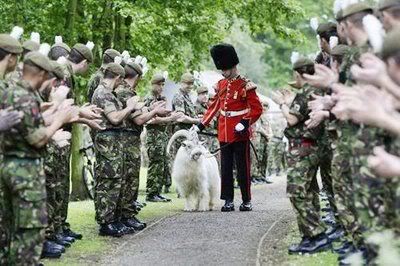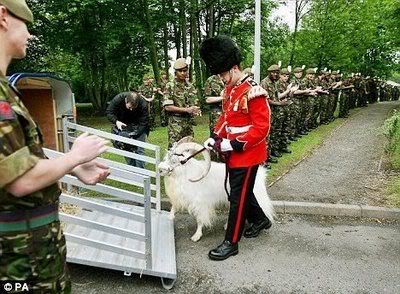 Retirement
Following eight years of distinguished service, Billy retired due to his age. On 20 May 2009, he was led into his trailer by the battalion's Goat Major in full ceremonial dress, including a silver headdress which was a gift from the Queen in 1955. Soldiers from the battalion lined the route from his pen to the trailer as he left the camp for the last time. Billy returned to Whipsnade Zoo in Bedfordshire where keepers say that he will have an easy life at the Children's Farm. His replacement will be chosen from a herd on the Great Orme in Llandudno in June.