From Marilyn Monroe's dress to Lennon's toilet, meet some of the weirdest and most expensive auctions ever.
1. Lennon's Toilet (£1,000)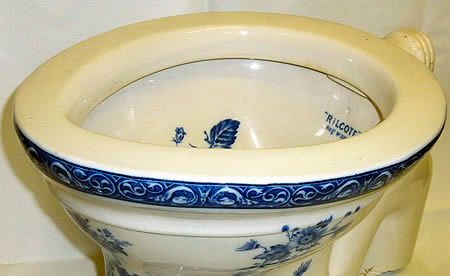 John Lennon's toilet is among the highlights of an auction of Beatles memorabilia. Bids are invited for Lennon's toilet from Tittenhurst Park, his Berkshire home between 1969 and 1972. Lennon told a builder, John Hancock, to keep the porcelain lavatory and "use it as a plant pot" after he had installed a new one. It was stored in a shed at Hancock's home for 40 years until he died recently. The toilet is estimated to fetch £750 to £1,000. The auction organizer, Stephen Bailey, said: "The toilet might be worth something, and it might not, but it is certainly one of the most unusual items we've sold."
2. 867-5309 Phone Number ($186,853)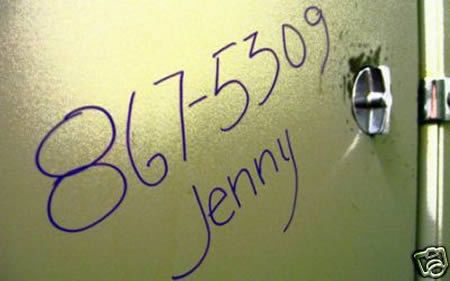 One of the most famous phone numbers in popular music is up for sale ? or at least, one version of it is. 867-5309, the titular digits of Tommy Tutone's 1982 hit, was listed in an eBay auction by New Jersey DJ Spencer Potter. Potter was not just selling the phone number, which would violate the telephone company's rules, but rather the DJ business to which the phone number is linked. He claimed he used to receive almost 10,000 calls each year, from curious "80s fanatics" hoping to have a word with Jenny, to whom the song is addressed. Of course, Potter's 867-5309 was not the only 867-5309 in existence. There are several 867-5309s across the United States (and the world) ? his was simply the one with a popular New Jersey area code. The ebay auction ended on February 9th (2009) and the winning bid was an amazing $186,853.09.
3. A Jerking Off Manga-boy Sculpture($13,5 million)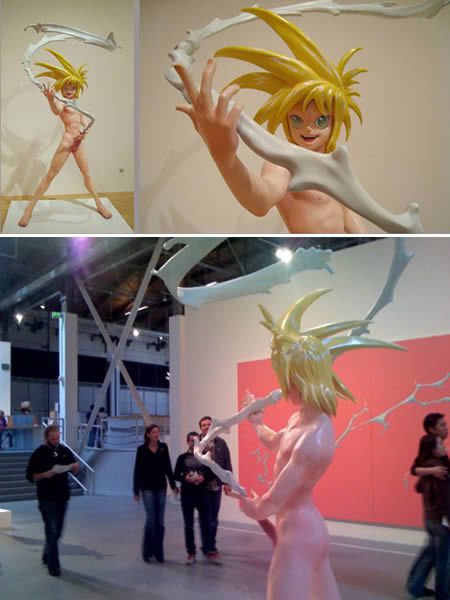 ?My Lonesome Cowboy? by Takashi Murakami, a life-sized sculpture of a bright-eyed anime manga-boy j**king off and whipping his j*zz into a gigantic lasso around his head at the Sotheby's Contemporary Art Evening was estimated to go for $3-$4 million, surpassed expectations and ended up with a $13.5 million closing bid. Add in the 11% house commission and you've got yourself a world-famous Murakami for a cool $15.161 million. The only question that remains? where to put it?
4. Churchill's Denture ($23,000)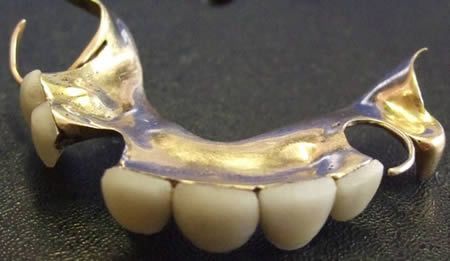 A pair of false teeth worn by Winston Churchill was sold at auction for more than $23,000 — on the same day that plans were announced to put the British wartime leader's archive papers online for the first time. Churchill, famous for his rousing speeches during World War II, had several sets of the partial upper dentures specially constructed to hide his natural lisp and accentuate his signature slurred diction. The former prime minister "lived in fear of losing his false teeth" and would always have a spare set to hand, entrusted to his private secretary. The set which sold for £15,200 ($23,700) — more than three times its expected price — was put up for sale by Nigel Cudlipp, the son of the dental technician who made them, Derek Cudlipp. According to Nigel, his father said he could always tell how the war was going from the distance Winston hurled the teeth.
5. GigaYacht ($168 million)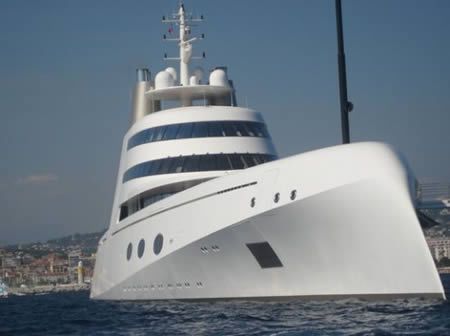 The most expensive item ever auctioned on eBay was a 405-foot yacht, appropriately named the Gigayacht. A Florida company named 4Yacht sold the monstrosity for a final purchase price of $168 million. To even acquire the boat, the seller had to make a onetime payment of $84 million (half the sticker price) to hold it for him. The Gigayacht was designed by former naval architect Frank Mulder, who has since designed an even more extravagant Gigayacht for sale on eBay. The new boat is lavish as they come, featuring fourteen multi-level VIP suites and a helicopter garage.
6. Marilyn Monroe's Dress ($1.26 million)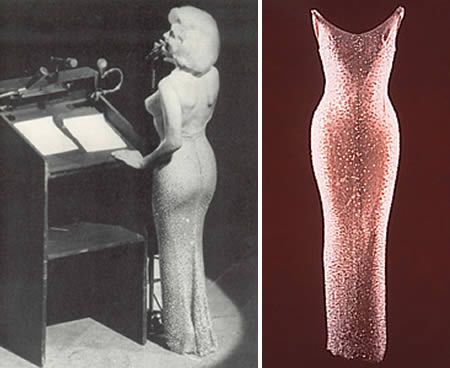 In New York the sale of a dress that screen legend, Marilyn Monroe, wore when she breathlessly sang Happy Birthday to President Kennedy in 1962 broke records by fetching more than $1m at an auction. The flesh-coloured dress, so tight she had to be sewn into it, had been expected to attract the highest bid when it went under the hammer at the end of the first session of a two-day auction at Christie's of her personal belongings – and it did. It originally cost $12,000, and the final bid of $1,267,500 easily broke the previous record for a dress sale at an auction which had been the $225,000 paid for an ink blue, Princess Diana gown that was sold two years ago. The dress, which has become a part of 20th Century American history, was worn by the glamorous star just three months before she died as she serenaded to the young president who was later assassinated. It was sold to New York dealers, Gotta Have It! Collectibles. Company co-owner Robert Schargin said afterwards he thought it was worth $3m. "We really got the bargain of the century," he said.
7. World's Biggest Gold Coin (£2.68 million)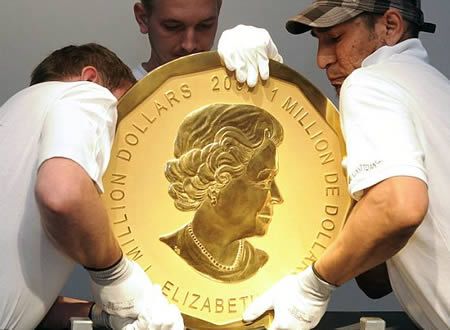 A Spanish precious metals trading company bought the world's largest gold coin for £2.68 million, its exact material worth, from the estate of an insolvent investment firm at a rare auction in Vienna. The 220.5 lb piece, one of only five Canadian $1,000,000 Maple Leaf coins the Royal Canadian Mint has ever produced, was snapped up immediately in a written bid from ORO direct, a gold trading company based in Madrid. There were no counter offers in an auction room packed with more journalists than potential buyers. The auction was ordered by the administrator of Austrian investment group AvW Invest, which filed for insolvency after its owner and chief executive was arrested on suspicion of fraud, breach of trust and other charges. AvW had acquired the coin in 2007, joining an exclusive club of owners including Queen Elizabeth, who is also displayed on one side of the coin, two unidentified investors in Dubai and one who is so reclusive even his or her residence is unknown. Its purity is 99.999 percent, the purest type in the market.
8. Edward Scissorhands' scissor hands ($16,000)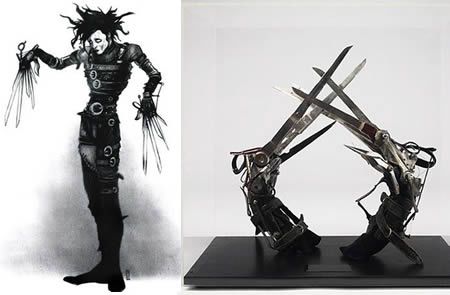 During a Christie's auction of entertainment items, Edward Scissorhands' scissor hands was one of the top earners, selling for an astounding $16,000! The prop, composed of steel, leather, painted rubber and foam-latex, was only expected to garner $5,000! The scissor hands were created and designed by Stan Winston.
9. A Meteorite Collection ($1.4 million)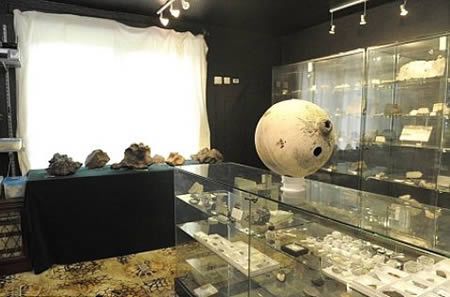 At first glance, it looks like a rather uninspiring collection of rocks. But these stones can truly be described as out of this world ? and look set to net their owner an astronomical sum. Scots meteorite hunter Rob Elliott is thanking his lucky stars after auctioneers put a $1.4 million price tag on his stockpile. The former electronics engineer is selling 170 meteorites from his 1,000-strong collection after spending the last 13 years scouring the world for examples. Tonight Mr Elliott, 48, said that it was time for someone else to enjoy the fruits of his labour.
10. A Black Watermelon ($ 6,000)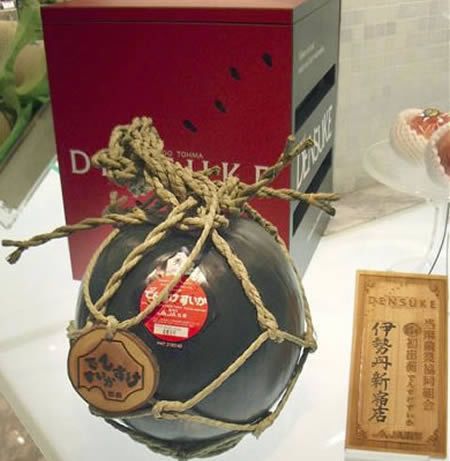 A black jumbo watermelon auctioned in northern Japan fetched a record $6,100, making it the most expensive watermelon ever sold in the country – and possibly the world. The 17-pound premium Densuke watermelon, one of only 65 from the first harvest of the season, was purchased by a marine products dealer who said he wanted to support local agriculture. The fruit is grown only on the northern island of Hokkaido. In a country where melons are a luxury item commonly given as gifts, the watermelon's hefty price tag follows another jaw-dropping auction, where a pair of Yubari cantaloupe melons sold for a record $23,500. For seasonal, high-end fruits like the Densuke watermelon and the Yubari cantaloupes, Japanese buyers are often willing to pay top prices at auction for the prestige of owning the very first ones of the year.