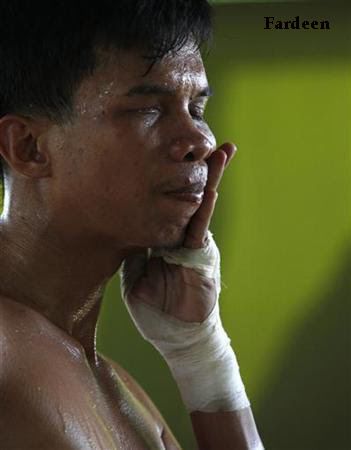 Sujet Salee is a 29-year-old Thai boxer who fought his way to becoming a champion, despite being blind, since birth.
Sujet began his boxing career in October of 2008 and since ten has won 5 fights and drew once. He fights against other boxers, who are blindfolded to even the scales. According to his trainers, Sujet Salee has an edge over his opponents, because of his heightened remaining senses. As soon as he makes contact with his opponent he begins attacking, often knocking him down with an elbow hit.
The blind champion's father was a Muay Thai fighter, and, in spite of his handicap, Sujet wanted to walk in his footsteps. At first, he admits he didn't think he could handle it, but after years of training, he has become a season fighter, able to fight anyone in a match of blind Thai boxing.
Cherdchai Sangketkij, owner of the boxing camp where Sujet Salee trains, has been blind for 20 years, and understands Sujet's desire to succeed. He hopes, one day blind, Thai boxing will become a national sport for the blind, and not be perceived as a violation of the rights of the handicapped.